Growing up in the UK, our family holidays were spent traveling to European countries such as Spain, Italy, France, and Switzerland. Everything is just so darn close in Europe. I suppose this is where my love of travel and adventure originated. Fast forward to marriage and children, and the first thing we did at their birth was to apply for dual citizenship. We did this not only to get into the shortest possible immigration line when traveling (this totally works!), but to also give them the opportunity to live and travel in a country other than the good ole US of A should they choose.
My whole family lives in England, so from birth we have made the 10hr flight with small children almost every year to the UK. However, wanderlust is in all of us, we are an extremely active family, and have travelled to many countries that include: Cambodia, Peru, India, New Zealand, Vietnam, and Morocco, to name just a few. In fact, Sebastian was only 5 years old when we took him to India. For fun we love to travel… believe it or not, it's relaxing for us when our little family unit is on a long haul flight to somewhere that is off the grid. When we get off the plane in a foreign country, sometimes they do not speak English, but that doesn't matter…we love exploring different countries and different cultures. For some, that might sound like a nightmare, but for us it's an adventure, and makes us appreciate home so much.
This past Christmas we were planning to visit the UK to spend time with our family and then head onto Jordan. Petra is on our bucket list and after much research, we felt safe taking our family there. Alas, it wasn't meant to be. After a terrorist attack on December 18th, we were a little skeptical about going there, but when the US Embassy issued a warning alerting US citizens to avoid travelling to Jordan on December 23rd, we reluctantly made the decision to abort the trip.
So now we had 6 extra days open, with no plans. We looked into various European cities to visit, but with such last-minute notice and holiday travel, it didn't make sense for us to leave the UK. So we didn't. Instead, we decided to spend the time driving around the areas of the UK that are often overlooked. It was actually quite liberating to have no hotels booked and no itinerary planned.

Our first stop was York. Tom proposed to me at the top of York Castle in 1996, so we made the boys indulge us and help re-enact the proposal at the top of the castle… much to their humiliation. We climbed up Clifford's Tower and made them take pictures. Nothing much had changed in 20 years except for my eyebrows, a couple of kids, and I discovered the Brazilian Blowout hair technique!

York has an incredible history, and York Minister is one of my favorite cathedrals in the world. It is a magnificent, gothic building with many different sections all beautifully decorated with many stained glass windows.
Our second stop was Stratford-upon-Avon, a medieval market town in England's West Midlands, and is famously known as the birthplace of William Shakespeare. The River Avon runs right through the town and there were quaint shops and teahouses everywhere. We headed to the Royal Shakespeare theatre to try to buy theatre tickets for that evening. We were in luck, and managed to score 4 tickets to see "The Tempest." We were thrilled to have that opportunity, and hurried back to our hotel to freshen up, and hit one of the local pubs for some supper.
The pubs are incredible places to eat, especially for families, as they are very reasonably priced, and serve the local delights all day such as fish and chips, steak pie and chips, gammon and chips, or a ploughman's lunch. Of course it's best washed down with a nice Scrumpy Cider or Marston's Pedigree on tap. After dinner we headed to the theatre, and spent the next three hours lost in an amazing production. It was such a fantastic experience and one we will always remember.

The next day we woke up, had a full-English breakfast and headed to our next stop, Bath. Bath is a town situated in the countryside of southwest England, and is known for its natural hot springs, 18th-century Georgian architecture, and the Roman Baths.
The Roman Baths were constructed around 70 A.D. as a grand bathing and socializing complex. It is now one of the most preserved Roman remains in the world. Julian wanted to bring his swimmers and take a dip in them, but alas this is not allowed now. We instead picked up an audio guide and listened to fascinating commentary as we slowly made our way around the site.  After our tour, we were able to take a sip of the spa water in the Pump Room, which is included in the admission price. This water contains 42 minerals, and is believed to have healing powers… this is a unique opportunity to get a real taste (literally!) of Roman Bath.

We then hopped in the car and headed to Bristol, which is where we planned to spend two nights. Bristol is located in the South West of England, and was once a centre for heavy industry, but over the last few decades, Bristol has reinvented itself as a hub of culture and creativity. Bristol is quite 'edgy' and is covered with graffiti; most famously there are pieces of art created by 'Banksy' once of the most famous street artists today, who was born in Bristol.

It's also a hot debate in Bristol whether the graffiti is art or vandalism. What do you think? We walked around checking out the street art, and made our way to Gloucester Road, where we ate some amazing Jamaican food in the local restaurant Rice and Things.
We woke the next morning to drizzle and wind. This was our day to visit and climb Cheddar Gorge, and since we probably wouldn't be back in that part of the UK for a while, we decided to put on our raincoats and brave the weather. We are so happy that we did.

This is Britain's largest gorge, and the stunning cliffs rise 450ft to the stalactite caves. Our 3-mile hike started with having to climb over 300 steps to reach the Lookout Tower.  This is the highest point overlooking Horseshoe Bend and The Pinnacles, and then you descend to Black Rock Gate. We are all pretty fit, but the slippery mud and rain, made the conditions a little treacherous. However, we had a fantastic time, and can only imagine how gorgeous that would be on a warm spring day.   We were all tired, hungry, and wet. After our hike in the rain, we visited a quaint coffee shop in the Village of Cheddar for, you guessed it, cheddar cheese!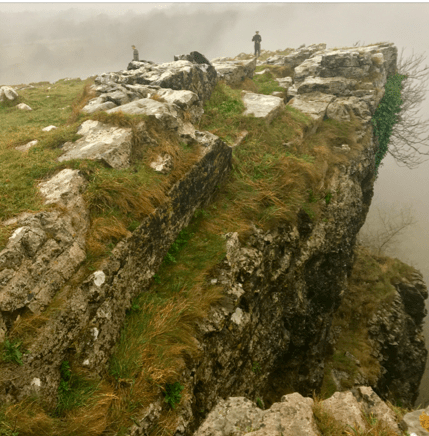 We left Bristol the following day and began to make our way towards Heathrow airport. We planned to stop at Stonehenge on the way. Stonehenge has many different meanings to people today. It is a wonder of the world, a spiritual place and a source of inspiration. Again it was very cold, and windy with drizzle, but we didn't let that stop us.  
In order to visit Stonehenge, it is recommended that you book your visit online to reserve your time. We were all excited to visit another wonder of the world, but I'm not going to lie, we all found it a bit underwhelming. (Sorry… just keeping it real). Maybe it was the weather, maybe it was because it was the end of our trip, or maybe we were expecting more…but we walked out to the stones, took our pictures, and decided to leave pretty quickly. There was a cool exhibition in the visitor's center, but again we were all ready to hop in the car, drive to our Heathrow Airport hotel, and prepare for the 11-hour journey back to Los Angeles.
Reflecting on the past 6 days over dinner that evening, we were all thrilled to visit some of the lesser traveled spots of England. It was fantastic to experience the local culture, countryside, and avoid the fast city pace of London. So would I recommend this to others traveling to England…. Heck yes! It really is a beautiful, charming, scenic area, and chock-full of history.
So since we didn't get to Jordan, we have just booked our summer vacation to visit Doha, Nepal, Bhutan, and India. If you'd like me to share those family travels with you, leave comments below.
In the meantime, travel as much as you can, as far as you can, as long as you can. Life is not meant to be lived in one place!