Paris is the city for lovers… Au contraire mon ami, we had a blast with the circus… read more about our trip…
So my kids wanted to go to Paris… not to sound spoiled, but I have been there a bunch of times (being a Brit), and didn't feel the need to visit quite so soon, but non-the-less, we decided to add-on Paris during our trip home to the Motherland.
Since we'd be visiting in February, we packed for the worst weather scenario, and we were not disappointed by the biting cold and harsh weather. We hopped a local flight from East Midlands Airport to Charles de Gaulle, which I think is my least favorite airport in the whole world. It's the combo of haughty attitude, horrible terminal lay out, and lack of great services…however, it's also the biggest hub for flights into Paris, so we sort of had to deal with the devil.
Our next challenge was finding the most efficient way to our hotel. The easiest way, would be to take a taxi from outside the airport, pay the special 'tourist rate' to the unfriendly taxi driver, who then spends the whole journey snickering at us for being so stupid.  So I'm going to suggest you take the other way. It sounds intimidating, but honestly, it was not that big of a deal, even with my circus in tow. We took the RER train (signs are everywhere from your airport terminal) and bought tickets to the Gare du Nord. This is the Central station in Paris, and here you leave the RER and pick up the Metro line, and with a quick swish of your credit card, you can be within 500 meters of any hotel in Paris. The whole process took about an hour (granted slightly longer than the taxi ride), but at a fraction of the price … just 9 Euros per adult ($11 USD). Not only that, you have that immediate immersion into the life of a Parisian, leering stinky Metro riders and all!
After settling into our hotel a couple of blocks from the Arc du Triomphe, we were ready to see some sights.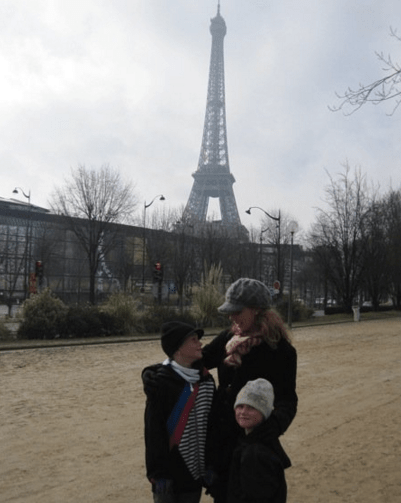 OK, if you go to Paris, you simply must see the Eiffel Tower. If not, your friends will think you are weird. Frankly though, you can see it from almost any vantage point in Paris. You won't find the best view of the city at the top (we opted to take the elevator to the 2nd floor). It is, however, an immense sight due to its amazing architecture and sheer size. It is HIGHLY recommended that you pre-purchase tickets online before you arrive. (Unless of course, your idea of a good time is waiting for three hours in a line that snakes from the Eiffel Tower, all the way down the left bank!)

This Piece de Resistance does not disappoint. We've all seen it in pictures and on TV, but that first glance of huge glimmering steel structure, was pretty breathtaking.
One thing to note when traveling with the circus, is that they seem to be a magnet for street vendors. There are packs and packs of them in Paris, selling everything from miniature Eiffel Towers, fake Prada purses, to bongs in the shape of rather large penises (which were a huge hit with the circus!) As with most countries, it is best to avoid speaking with these fine people, unless you plan to make a purchase, or happen to like being followed by dodgy looking men with back packs….
After checking out Paris from 115 meters in the air, we decided to walk the 2.4 miles down the left bank to the Notre Dame (much to Hot Hubby's dismay!) When we travel, he's a fan of taking the Metro from A to B, but I on the other hand, feel that I'm missing out on something if we travel underground at 50 mph. We have agreed to disagree on this one, and seem to trade off. Regardless, the walk was pleasant, passing by the Musee d'Orsay, Jardin des Tuileries and the Ile de la Cite!

When we arrived at the Notre Dame, with red chapped faces from the cold, the French Gothic architecture made it seem almost whimsical. Naturally the boys were intent on locating the hunchback and discovering where he might have been hidden after all of these years…
After admiring the stained glass windows, listening to our own echoes in the grand cathedral, dodging the Moroccan vendors and avoiding the pigeon poop outside, we worked up quite an appetite.


Obviously France is known for it's Haute Cuisine, but we've found that it's just not practical or worth the expense when traveling with the circus, so we headed to our trusty street vendor. Seriously, we have had some of the best meals from street vendors on our many travels, although you obviously have to choose very carefully!   A jamon and fromage baguette, piece of pizza, two chocolate croissants, beer (cause you can drink on the streets in Europe!), Fanta and large Nutella crepe, was our meal from heaven!
Another huge hit with the circus was the Musee du Louvre.

I didn't realize how many boobies and penises were actually there, until I visited with my giggling children. After checking out Venus de Milo, we headed to the Mona Lisa. "Mom, I think she's thinking about Pokemon's" – Julian age 6, "No Julian, I bet she's thinking about soccer!" – Sebastian age 9…
Dinner that evening was an interesting conversation of why artists didn't cover up their subjects, why do French people answer in English when Mom (who used to be comfortably fluent in French !) speaks to them in French, and what does champagne taste like. I didn't have great answers for the first two questions, but I had the best answer for the last question. "Taste it sweetie"… that's right, I confess, call me a bad mom, but I let my 6 and 9 year olds taste champagne for the first time.  I mean really… what better place to taste champagne for the first time in Paris, with the one girl who will love them for ever, and will never ever leave them! "Yum, Mom, I can see why you drink that stuff, it tastes good" – Sebastian – age 9. Sigh… I knew that my boys had great taste…

So to conclude, Paris is magical for all ages… we just appreciate different things on different trips… the classic sights of the Sacre Coeur, Eiffel Tower, Louvre, Seine, Notre Dame, Champs Elysees and Pantheon, are all fun, doable and exciting when traveling with my circus, as long as you stop for ample Nutella Crepes and Vin Rouge along the way!
Au Revoir, a bientôt mon ami – and I hope that you take your precious circus to experience champagne in 'the city of love' some time soon!