We had 48 hours in Hong Kong on our way to Cambodia, and wanted to be sure we hit the ground running with a productive plan.  Hong Kong is such a mixture of old and new, east and west, it makes for a fascinating city visit with delicious dim sum, floating islands, and an incredible skyline. It's a full assault on your senses with the bright lights, noise, and the most memorable smells, (some amazing and some rather ghastly). Here are our top five things to do in Hong Kong: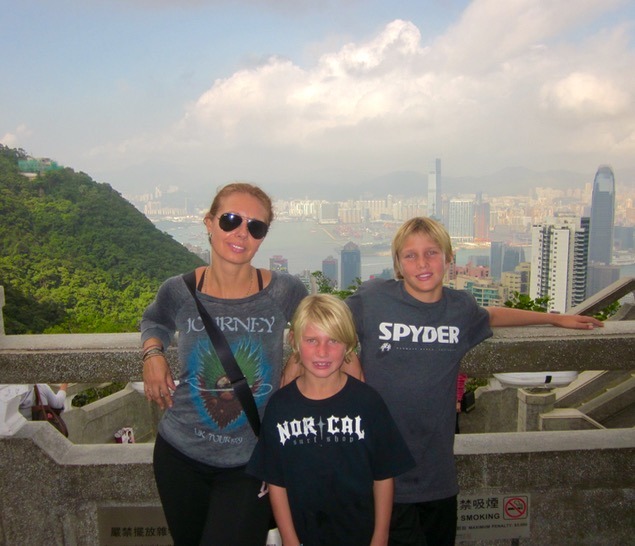 Visit Victoria Peak
Taking the train up the peak is good fun, very steep with incredible views, but it's VERY crowded with long lines. I'd highly suggest getting there as early as possible in the morning.  Once you get to the top of the peak, there are more levels to climb (via escalators) and so many restaurants at the top to choose something delicious to eat. There are all kinds of ticket combos.   For the best views, get the Tram + Sky Terrace combo ticket.  The view of the city below is fantastic, and despite the fog (due to the humidity) we were able to see the whole of Hong Kong and take some incredible pictures.
Take Star Ferry to Kowloon Peninsula
Since 1888, the Hong Kong Star Ferry has been connecting Kowloon, Hong Kong Island side and Tsim Sha Tsui.  It's a ten minute ferry ride and we paid about 50c per person for a breathtaking view of the best skyline in the world direct from the water.  The ferry is a great way to take in the Hong Kong skyline, both by day and night (without breaking the bank). Grab a seat by the window for the best views and lovely  breeze.
Temple Street Night Market
Temple street night market is pretty famous in Hong Kong.  If you like the hustle and bustle with lots of bargains, then you'll love this place (be sure to bring cash as you do have to barter).  We ate at one of the restaurants on the side of the markets, and our traditional cantonese food and four beers cost about $30 for four people, and we couldn't even finish all of the food.
With full tummies, we headed to the stalls packed with electrical goods, fake bags and clothes, pirated CD's and interesting looking food.  The boys haggled over stuff they didn't even want, we bought some treasures, and enjoyed the hot evening.  It was incredibly hot and humid but a great atmosphere. These markets are open until midnight,  so there's plenty of time to eat and shop.
City Hall Maxim's Palace, Hong Kong
If you are in Hong Kong and you want a traditional dim sum experience, this is the place to go.  City Hall Maxim's Palace was recommended to us by several people including locals. After a tricky time finding this location (there are several Maxims), we took a number and didn't have too long of a wait for our table (they do not take reservations and there's always a line and looooong wait).   The dim sum comes around in carts and you have to be quick to call over the lady (who is typically old and non-English speaking) who pushes the cart if you want the dishes in her cart! There is a huge variety so wouldn't suggest getting more than 1 of the same dish. Wait to check out the others.  This was literally the best dim sum we have ever eaten, and well worth the wait (TIP: ask for a window seat for incredible views of the harbor)!
Hong Kong Park
Hong Kong Park is a slice of peace and tranquility amongst the hustle and commercial buildings.  The park offers a quiet oasis amongst the bustle and is full of beautiful flowers, trees, peaceful ponds, and is very relaxing.  The conservatories are tucked away at the back and there's a huge aviary full of incredible birds.  We walked through this park on the way to Victoria Peak Station.  It's worth a visit just to get some green quiet times in a busy city.