Our traveling circus has a rule to never visit the same place twice. Why would we???? There are so many places to see, and so little time… however, the minute we stepped onto the sandy beach of Tavarua island, we knew our souls would need to return again and again.  
It is the most beautiful, magical, enchanting, and super fun place you will ever find. Read why this heart shaped island in the South Pacific stole our hearts forever!
Tavarua is a tiny heart-shaped gem among the hundred of islands that comprise the Fijian Chain. It's home to the most well known and consistent waves in the world, Cloud break and Restaurants. The exquisite beauty, limited accommodations (it only has 16 private bure's that sleep a maximum of four people) and the most beautiful people inside and out, make this one of the most special places in the world. In fact, I hesitate to even share because it's so special, but if I had one wish for you my dear reader, it would be for you to experience the warm loloma you feel the moment you step foot on this island.
It isn't easy to get there (but the most magical places never are… that's why they're so magical)!  We flew from LAX to Nadi (the international airport in Fiji), took an hour bus ride to the boat dock, and a 30 minute boat ride to the magical island.
1.  Bula!  Vinaka!  The warm welcome when you arrive on Tavarua island  
When you arrive at the dock, there's a smiling group of burly Fijian's ready to hoist all of the bags and surfboards onto small boats to take to the island.
After we waded through shallow water,  we climbed into the boats waiting to transport us to paradise.  The excitement was contagious with the salt spray in our face, and the sun on our backs, as we jetted closer to the beautiful heart shaped island.
We arrived to the whole staff, boatmen and owners, singing, clapping and welcoming us to their happy place.
It truly is the sound of heaven…. and fighting back tears of joy, we jumped out of the boats, greeted the staff and gave hugs and smiles all around.


2.   The Peaceful Private Bures
Our home for the next week was a spacious bure filled with Pure Fiji products. We had a large front deck to store and prep our quiver of surf boards for an epic week of surfing, and the room was serene and peaceful.  
One tip is to always zip up your surf bags once they are emptied.  The island is home to many deadly sea snakes, (seriously you wake every morning to snake tracks around your bure) and the last thing you need is a friendly squatter in your surf bag!  Good news is they're not aggressive and can't bite you since their jaw is too small.  They are incredibly beautiful and we seemed to have a mutual understanding to leave each other alone and all will be cool.
3.  World famous surf breaks
I have to confess I suck at surfing. It's so freaking hard to stand up, however I give it my best effort every time. There's something about the timing of when to paddle ferociously to catch the perfect wave, at the perfect moment… and timing when to pop up onto your board so effortlessly, that I seem to screw up every single time.

In my mind I look like Kelly Slater effortlessly dropping into Cloudbreak, but the reality is that I look nothing like that (picture a walrus trying to shimmy into a leotard). Regardless, I feel the stoke each time I attempt surfing, and sometimes even get the timing down and ride that perfect wave to heaven!
My boys on the other hand visit Tavarua to surf primarily.
There are three boats that leave the island each day to visit local surf breaks where the waves are pumping. The boatmen know exactly where to go each day and decide whether world famous Cloudbreak, Rights, or perhaps Restaurants will have the perfect waves for that day.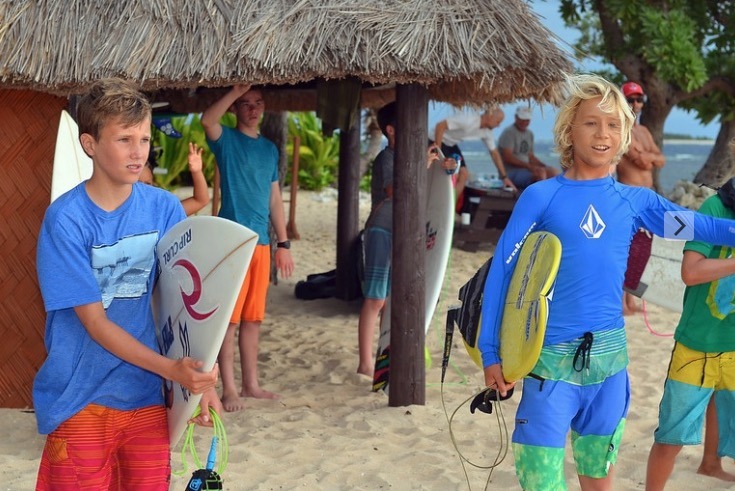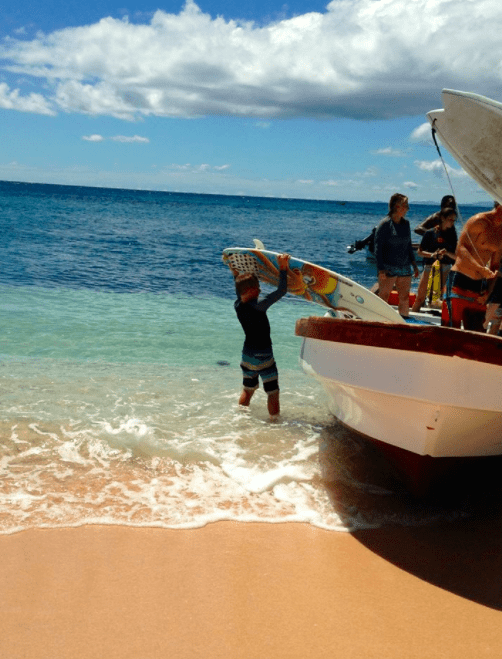 Most boatmen are professional surfers, all are highly skilled watermen, and are the kindest people.
They help out with the boards, are always in the water to give a push if needed into that perfect wave, and surf with my boys to give pointers on their surfing technique.
Most importantly, we feel safe in their hands.  Regardless of which surf spot you hit, you return to the island starving hungry, sun-kissed, exhausted, and with the best stories of the epic waves that you just shared!

4.  The most incredible sunsets you will ever see in your life
Regardless of what time you wake up, there is never a bad view on the island. I like to help get Sebastian out on the 5.30am boat, have a cup of coffee watching the sunrise, then meet for 7am yoga on the deck.
The views change each hour, and seem to get better and better until the sky explodes with the grand finale sunset, taking your breath away!
Thennnnnnn you get to wake up and do it all again the next day.
5.  Stand-up paddling around the island
As an amateur surfer, there are many other island activities to keep me occupied like: snorkeling, boating excursions, treks to the sandbar, paddle boarding, walking around the whole island, tide pool scoping, shell hunting, or just chilling in one of the many hammocks for some true relaxation time.  
There are even tennis courts on the island and a small gym filled with various workout equipment.  Tavarua really has it all, and you can be as active or as relaxed as you choose.
6.  The Kava ceremony
The Kava ceremony is held every Thursday night, and is a spiritual and cultural experience to honor Chief Druku, the island, and to show thanks. Each group presents a kava root to the chief and other offerings.  Local Fijian food that has been slow cooked all day is served, and we're treated to a ceremony of traditional singing and dancing.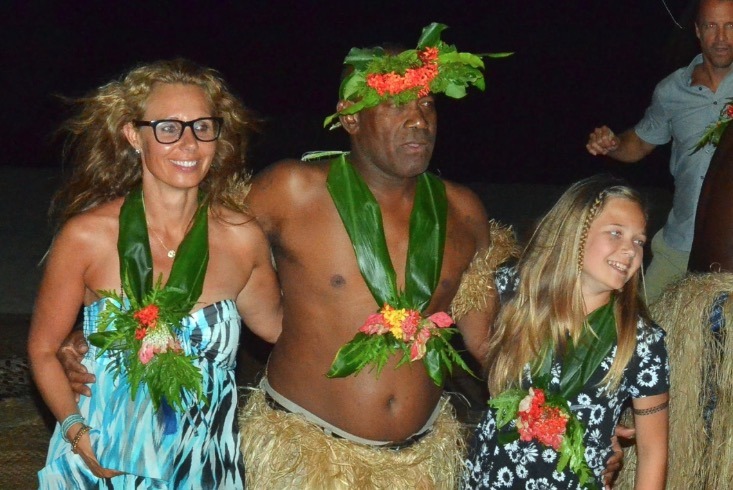 The Fijian's decorate the island, lay out the mats, and prepare local food for guests. We sit in a circle on the mats cross-legged, and  the Chief of the island, whose family owns the island, (RIP Chief Druku I feel so blessed to have met you and shared Kava with you ♥♥♥) says the prayer.
After the prayer, everyone is served Kava (even the kids!), which is a mildly intoxicating drink (crushed up plant root that is mixed with water) that tastes a little 'rooty' (is that even a word?!?) and earthy. It's definitely an acquired taste and numbs the tongue a little bit and relaxes you. It's served in a coconut shell and your option is 'High Tide' (a full shell of Kava) or 'low-tide' (half a shell of kava). I think the Fijians enjoy seeing the faces of tourists as they try and casually drink 'High Tide' Kava! The evening is steeped with tradition, history and respect, and sadly as Chief Druku is no longer with us, we cherish our memories of the times we were treated to his infectious smile at these special island ceremonies.
7.  Day Trips from the island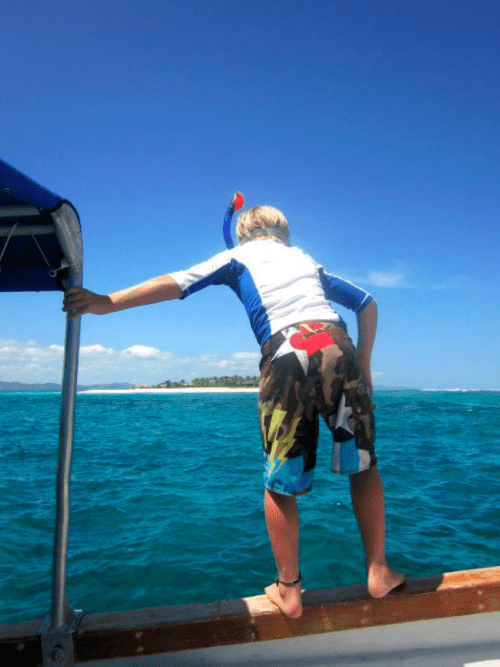 If you happen to feel as though you want to explore other islands, there is ALWAYS a friendly boatman ready to drive you (for the small fee of a cold beer)!  Namotu is Tavarua's closest neighbor,  Cloud 9 (floating bar in the middle of the South Pacific) is a short boat ride away, and snorkeling at the Tavarua Sand Bar are some of our favorite places to visit.
There's also a fishing boat leaving the island most days if you love to fish, and my absolute favorite treat is when the boatmen catch huge fish and bring them to the kitchen for the Fijian staff to prepare fresh poke and sashimi for dinner!
8.  The Island is Spiritual and a great place to clear your mind
Five days before our Tavarua trip in 2015, I was unexpectedly diagnosed with breast cancer. It was obviously devastating and scary.  What upset me the most was my boys would be scared, disrupted, and would have to miss out on this magical annual trip because of mom's dodgy breasts. After meeting with doctors and determining it was a slow growing cancer, my doctor advised that a week wouldn't change anything and I should go, relax and return a week later prepared to fight for my life. (Cool… no problem, I'll get right on that)!!!!    Hot Hubby and I considered all options and decided to follow her advice. So with two ugly tumors growing in my body, my mind and emotions spinning, and with a very real fear I was going to die, we proceeded with our planned trip to this amazing island. I'll never forget when I arrived and first saw beautiful Jamie (who seriously is a goddess disguised as the island owner) who welcomed me back to the island with a hug and asked how I was doing… I burst into tears and said "not great, I have cancer" and we cried together!  I didn't want to be 'Debbie Downer' and ruin everyone's trip, but I obviously had a LOT on my mind.
Regardless, I spent the week laughing, meditating, crying, talking, reflecting with my tribe, negotiating with god, watching my boys have the time of their lives, and embracing the beauty of my surroundings. I felt loved, supported, and extremely blessed (which is totally weird since my boobies were trying to kill me).
As the week progressed I felt gratitude and energized to fight this thing, and I somehow felt at peace and knew everything would turn out the exact way it was supposed to.
We're often asked what our favorite place is we've visited, and it's so hard to answer… there are the city trips, the wonders of the world, the exotic trips…. BUT…. If you had one place to visit in your lifetime and asked me where to go…. I'd absolutely tell you to RUN not walk to our heart shaped heaven, Tavarua Island!
Happy Long Life!!!