We visited Delhi India for the final leg of our summer 2017 adventure. It felt as though we'd been on the road for ages, yet we were all eager to see what Delhi had to offer. We checked into the hotel and walked around the local neighborhood looking for food (see a pattern here)!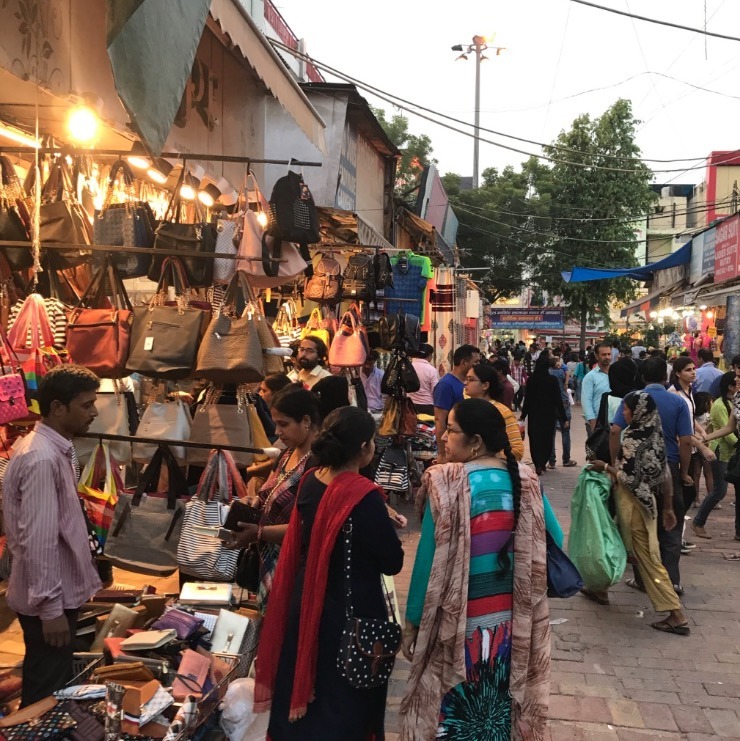 That evening we decided to take a tuk-tuk ride to an area of Delhi where there was a bazaar (outdoor market place) and a bunch of restaurants. The ride was so much fun! We all squeezed into the back of the tuk-tuk and headed out.
We drove about 2 inches from every vehicle around us, the horns were honking, and we were weaving through the traffic. Super fun. We walked around the Bazaar for a while, and then decided to eat at a Chinese restaurant. I know it's pretty random eating Chinese food in Delhi, but as much as we all love Indian food, we had literally eaten curry for breakfast, lunch and dinner for over two weeks straight, and we just felt like a change. We justified it since we'd been eating local food our whole trip. It was a delicious change, and afterwards we found a beer shop, bought a couple of cold ones, and took our trusty tuk-tuk back to the hotel to relax, watch a family movie in our big bed, and you guessed it…drink a cold beer.
The next morning we were recharged for our tour of Delhi. We started at the Jama Masjid of Delhi, which is one of the largest mosques in India. It was huge and interesting to see the prayer rooms and the separation of women and mens praying areas.  
We managed to attract quite a crowd as we hardly blended in. In fact, in India many people would stop and want to take pictures of us, particularly the boys, since many of them have not seen blond-haired blue-eyed surfer boys in the flesh.

After the mosque we took a rickshaw ride around Old Delhi and the Chandi Chwock market area. It was hustling and quite a feast for all five of our senses…. especially our sense of smell!
Later in the afternoon we visited New Delhi and stopped at Raj Ghat ,  a memorial dedicated to Mahatma Gandhi. It's a black marble platform that marks the spot of Mahatma Gandhi's cremation. The memorial is left open to the sky while an eternal flame burns at one end. It really is a peaceful area in the middle of the hustle of Delhi, and quotes from Gandhi are scattered around the gardens on concrete slabs.
Our final stop on this amazing adventure was Qutub Minar. This is a minaret that forms part of the Qutb complex which is a UNESCO World Heritage Site.
This is also the tallest brick minaret in the world and it stands at 73m tall. We had fun exploring and taking pictures, but we were fading.
The countless days on the road, adventures, stifling heat and humidity, were finally beginning to take their toll, and Julian said "mom, I'm actually looking forward to going back home tomorrow." I told him I was too. We headed back to the hotel, packed our bags one last time, made sure our precious souvenirs were wrapped carefully and prepared to head to the airport with full hearts and special memories.

The flight home was loooooong. We flew 4 hours from Delhi to Abu Dhabi, and 17 hours from Abu Dhabi into LAX. When we arrived our ankles were swollen, we were tired of airplane food, we were tired of watching movies, and we were all ready to settle back into our life in Los Angeles.  As we unpacked and unwrapped each souvenir, we chatted and reminisced about where we found each treasure.  We washed and folded laundry, and when we all climbed into bed that night, we were tired, happy, content, and filled with precious memories to last a lifetime.
Should you visit Delhi India?
So was a long trip…. Yes for sure… but would we do it again or recommend it to you…. Absolutely!
We will always have Nepal, Bhutan and India, and those fantastic memories that we all shared together will be with us all forever.
What country do you dream of visiting with your family?