Trekking to a camp site in the middle of the Sahara Desert via camel, and sleeping in a tent under the milky way in dead silence,  was one of the most memorable and magical experiences ever.  Definitely the highlight of our Morocco trip and was literally the stuff movies and dreams are made of!
We drove from Fez over the Atlas Mountains to Erg Chebbi, a small town on the edge of the Sahara located about 5 miles from the Algerian border.
We stopped to buy turbans on the way.  This wasn't just to make our pictures look really cool (although they did add a little flair I must admit), but our trusty driver, Khalid, warned us it may be 90 degrees during the day, but in the Sahara the temperature drops VERY quickly.
From Erg Chebbi, we picked up a dune buggy to drive to Merzouga where we'd choose our camels. Of course the boys loved every minute and our driver didn't need much encouragement to catch air as he drifted over the sand dunes, on a wild ride through the desert!
We arrived and picked our camels for the 90 minute trek to the campsite.  I was expecting quite a relaxing ride, but it was actually quite strenuous.  My camel seemed to be in a mood, and I was lodged precariously in between two humps, squeezing my inner thighs for dear life.

          It would often turn its head to look me in the eyes as if to say "don't try any funny business sister!"   Regardless, I fell into the rhythm of big, jerky camel strides, as I swayed forwards and backwards and side to side squeezing my thighs for dear life.  It was quite a workout!
The dunes began to change color as the sun started to lower in the sky, and the incredible views took our mind off the discomfort.
After about 60 minutes of walking through the dunes, we finally spotted what looked like a collection of tents in the distance. It seemed almost like a mirage.
The sun was setting, it was definitely getting cooler, and we parked our camels and began to hike a huge sand dune to watch the sun set over the dunes.
It was the most impressive sunset we have ever seen.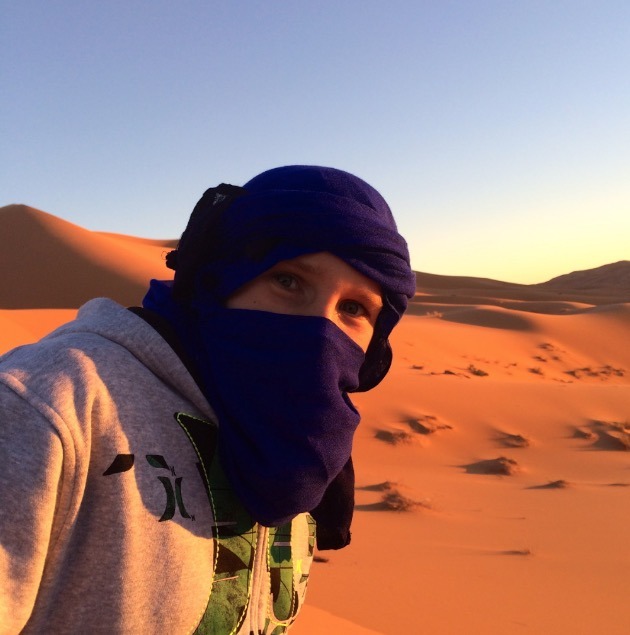 As the sun hit the horizon, the sky literally exploded with color. The lights bounced off the sand dunes to share the most incredible shades of yellow, pink, orange, deep red, and finally a dark brownish glow.  Amazing!  
Once the sun set, I realized we'd better get back to our campsite pretty quickly.  It would be very easy to get lost with zero light, and there wasn't a single sound for miles.  The only light was from the fire and candles back at our camp.
We climbed down the dune, headed back to the campsite, and set up our beds for the night in our modest tents.   The tents were very basic with thick heavy Berber blankets for us to sleep on, and also to lay on top of us for warmth.  I'm pretty sure the linens aren't changed every day like the Four Seasons Hotel, so tried not to think about who slept in them the night before!
We closed the 'door' to our tent in the hopes of keeping warmth inside, but it was absolutely freezing.  We added more layers of clothes, and made our way to the communal tent for dinner.  There were about 16 guests total in our camp, from all over the world.
We could smell the tagine cooking from the top of the sand dune, and we were eager to put some food into our cold tummies. We sat cross-legged on the ground, eating tagine, couscous, veggies, and drinking sweet mint tea.
We shared stories, and after dinner we lit a campfire, and sat around talking and laughing. Our guides played traditional Berber music and we all sang, played instruments and enjoyed the moment.
As the fire died down it was time for bed.  We were all freezing cold at this point.  We slept in layers of clothes (including hats and gloves) and cuddled for maximum body heat in the same bed.
Julian stuck his little hands in between my legs for extra warmth.   The 'bathroom' was a separate tent for the whole camp, and was basically a hole in the desert floor with a make-shift bucket for a sink and mirror surrounded by tarp.
We decided to use this facility as little as possible, instead we'd shower properly the next day in a hotel.  We cuddled under the stars and stared up at the milky way.  The stars were so bright as we were in complete darkness, and it was strangely silent (except for the odd camel fart much to Julian's delight).  

There was practically zero light pollution and we could see every planet and star of the milky way so clearly.  We felt a million miles away from humanity, and huddling together looking up at the stars in the Sahara Desert is one of our most amazing experiences together.
The next morning we were woken at 5.30am.  We were warned it would be a brutally cold morning, but it would be worth it.  We drank lukewarm weak coffee, ate rusks, and packed our backpack ready to trek on our camels.  It was seriously freezing.
Poor Julian said he couldn't feel his fingers and toes (neither could I for that matter) so I told him to write the alphabet with his toes inside his double layers of socks and shoes. His face was pink and the snot was almost freezing to his face.
We set off for Merzouga, clung to our camels in the freezing cold and darkness for about 40 minutes (and I'm not going to lie… I was miserable and wondered why the heck we decided to do this in the first place)…. then we stopped.
Our guides obviously knew this spot, and we stared over the dunes to witness the most spectacular sunrise.
 It was very slow to rise, and I was surprised to feel the temperature immediately rise, as we watched the magical show courtesy of mother nature.
We were amazed by the different shades of yellow, orange, pink and red, and very slowly the temperature became more bearable.  
It was almost more spectacular than the sunset!  
After taking the most incredible pictures, we made our way back to Merzouga for a tasty traditional breakfast, hot coffee and HEAT!
Some pointers for the Sahara Desert:
Be sure to pack plenty of warm clothes.  It can get super cold at night, think below freezing temperatures. Bring a hat, gloves, sweaters, warm socks, jacket, and lots of layers.
Try to avoid visiting the dunes in July and August because the winds are brutal and almost unbearable to explore the dunes, not to mention the extremely hot temperatures during the day.
There are many companies offering to take you camping in the Sahran Desert.  Be sure to choose a smaller campsite for a more intimate experience.
Be prepared to be off the grid with no cel service.
Be sure you've got your 'song' to share with the other campers!
Bring extra batteries for cameras and cel phones if you are using that for pictures.  There is nowhere to charge your devices until you get back to Merzouga and it would be a total bummer to run out of juice for the grand finale sunrise!
Would you take your family camping in the Sahara Desert?