Lhasa, Tibet, is one of the most interesting places we have ever visited.  We have all seen the oppression from the Chinese government on TV, but to see and witness it first hand was fascinating, if not a little unsettling. Throughout Lhasa you feel the presence of the Chinese government everywhere.

Religion is the most important aspect of Tibet's culture and for the Chinese government, religion in Tibet is a political and security issue. The Chinese government and communist party officials (think young soldiers carrying AK-47's on every street corner and surrounding every religious monument) controls all aspects of how Tibetans practice their religion and live on a daily basis.
Monasteries are required to fly Chinese flags and have portraits of the leaders of the Communist Party.  The mention of the 14th Dalai Lama is strictly forbidden and our tour guide was very fearful and would not even utter his name.  Tibetans face harsh punishments for any mention of the 14th Dalai Lama.
Taking photographs of Chinese soldiers is strictly forbidden, and there was a very clear understanding that we must not test this under any circumstance.

Lhasa is not a big city, and it's very accessible via foot. The Tibetans are incredibly friendly and inviting, and nowhere on earth can you find such a beautiful blend of spirituality, art and raw natural beauty.  Be sure to allow time to acclimate to the altitude and bring lots of sunblock regardless of the month you are visiting as the sun is extremely strong.
Here are 5 sights you must see in Lhasa Tibet:

1.  Potala Palace (the highest place in the world)
The Potala Palace is a symbol of Tibet. The stunning white and red building complex, set against grey mountains, clouds and blue sky nestled in the Himalayas, is an image that is familiar to everyone.

Potala Palace is the former winter home of the Dalai Lamas, and the 14th Dalai Lama was the last to live there prior to his exile in 1959. It towers over Lhasa, almost keeping a watchful eye over the city.  No building is allowed to be higher than the Potala Palace in Tibet.
Today, it is a museum, nobody lives there, but inside there's a collection of various buddhas, shrines, and stupas, each with its own deep meaning to the people of Tibet. There are many Tibetans praying at the buddhas, lighting yak-butter candles, and leaving money to help maintain the palace. This is truly the essence of Buddhism in Tibet, and Buddhism is incredibly important to the vast history and culture of this area – about 95% of people in Tibet are Buddhist.

The Chinese government limits the number of visitors to the palace each day (2300 per day) and they limit visiting time to one hour per group.  This is heavily regulated by armed soldiers at every checkpoint.
The palace sits at a whopping 12,139 feet (3,700 meters) above sea level, the 13-story stair climb to get there was a bit tiring (especially at high altitudes!)

2.  Jokhang Temple
Jokhang Temple is the most sacred temple for Tibetan People.  Pilgrims travel from all over Tibet to their spiritual focal point.  This large temple is located in the middle of the old city. It is said to be the most important pilgrimage for believers. They lay on the ground face down, stretched out at the temple entrance in prayer, and circle the building complex several times in a clockwise direction.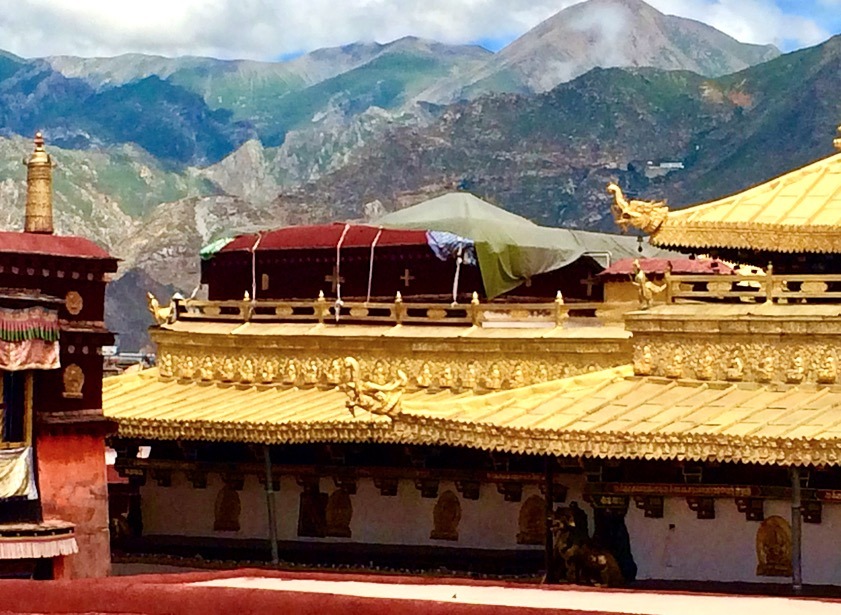 Tibetans and foreigners from all walks of life visit the intensely beautiful chapels that come alive with the hum of prayers and chanting.  The temple is filled with Buddhist history, statues, relics and yak butter candles.  The views from the roof of the square below and surrounding mountains are simply fantastic.
However it's hard to ignore the Chinese government with guns drawn around this spectacular monastery.

3.  Barkhor Street
This street is next to Jokhang Temple and is bustling with Tibetan daily life. We shopped for souvenirs, ate local food and joined the pilgrims as they circled clockwise around Jokhang Temple rolling prayer wheels.
It's an incredible experience to watch the local people interact with each other.

4. Sera Monastery
Sera Monastery is set in a gorgeous location, on the side of a mountain with meditation huts dotting the hillside.  The courtyards surrounding the monastery are used by monks who are debating Buddhist scripture, doctrine and philosophy.
This tradition is accompanied by vigorous dramatic gestures and hand clapping.  It looked a little chaotic and random, but apparently the monks follow a strict set of procedures and rules. It is fascinating to watch!   
They become more and more animated, while challenging each other forcefully and cheerfully, slapping their hands and thighs to punctuate their debate. The monks are highly respected and extremely passionate about their country.
5.  Drepung Monastery
Drepung Monastery, built in 1416, was once Tibet's largest and most influential monastery, with over 10,000 monks. This monastery is about 7 km outside of Lhasa.
 Today, Drepung houses about 700 monks and attracts pilgrims and visitors from around the world.
Drepung Monastery, has incredible views of Lhasa, and was home to several Dalai Lamas  (1-5) before the fifth Dalai Lama built Potala Palace.

We had to walk slowly, taking time to adapt to the high altitude of the mountain. It was tough with headaches and we had difficulty breathing. Be sure to bring plenty of water to fight altitude sickness.  It is famous for its burial stupas (the 2nd, 3rd and 4th Dalai Lamas are buried there and for the sacred throne of the 14th Dalai Lama (the actual Dalai Lama).