We had our usual Tuesday night kid activities, then Hot Hubby and I had date-night.  It felt strange and almost like the 'Last Supper'.  I'd spent five weeks bravely working out logistics and I'm not gonna lie, it was terrifying to face such a massive surgery knowing my body would never be the same again. I was quite proud of my hardly perfect, yet natural body…. but it also felt great to know I was finally getting that f-ing cancer cut out of my body.  It's a strange feeling walking around for 5 weeks knowing you have cancer growing in your body.  Hot Hubby told me I was beautiful no matter what, we cried in each other's arms, and prayed the surgery would be successful.
Double Mastectomy Day
The morning of the surgery started great.  I walked at 6am with a BFF.   I needed to see the ocean, breath fresh air, and clear my head before I filled it with mad drugs.  I showered, took my valium and amend to prevent post-surgery nausea (HA…like that worked!?!) and attempted to bedazzle my arms with some fancy flash tattoos a kind person sent me.  Since you can't wear jewelry for obvious reasons, she said it made her feel less bare.  I have to admit, it did dress up that gown, hairnet and bearpaw sock quite a bit.  I should note it's probably better to bedazzle before you take your valium rather than afterward… my lines were not quite straight, I had a few dodgy tattoo attempts, but overall I felt a little more like myself.
Hot Hubby had my bag in the car and was ready to go.  It was a beautiful sunny day,  we drove listening to Bob Marley, I closed my eyes, felt the wind in my hair, and Hot Hubby held my hand.   I just sort of felt ok with everything.  Now, that quite possibly could have been the valium kicking in, too.

Check-in was easy, and everything was on schedule.  I did pre-op vitals, the nurse inserted an IV, and dream surgeon arrived to mark me up.  She was so precise writing measurements to the nearest millimeter on my chest.   She was smiling, reassuring, and so calm and confident, I had no problem at all putting my life in her hands.  There was a slight delay for the operating room, then it was showtime.
I have to admit, this is the part that scared the crap out of me.  Hot Hubby leaned over and gave me a kiss, telling me how great I'd do in there.(tearful of course.)  Then I was all alone on the trolly being wheeled through the corridors.  It felt like forever to reach the operating room.  I was fighting back tears, felt very alone, and was scared to death. Everything is sterile and pure white behind the operating room doors, people are busy, and there's lots of shiny silver equipment and bright lights.  Once I reached my operating room, the porter hit the button on the wall, and the doors opened to a cold and scary looking room.   This was it.  Showtime.  There was no turning back, I really had to get the cancer cut out and it was time to lose both of my breasts.  Dream Team surgeons were in the OR behind scrubs, masks etc., and the anesthesiologist was already putting a 'little something' into my IV.  The last thing I remember my surgeons were holding my hands watching over me, waiting for me to drift off into la-la land.
As Hot Hubby wrote in a previous article, it was a loooong two-part surgery. Almost 9 hours.  Probably more scary for him than for me. I don't remember being in the recovery room, I just remember bright lights and being surrounded by beeping machines and a flurry of activity around me.  I've never felt such panic, fear, and devastation, it's hard to put into words. I remember seeing Hot Hubby through fuzzy eyes and asking him if everything went to plan, and he said it all went amazing with no problems or complications.  That part was over.  Hot Hubby went home to be with our boys, and returned the next morning.

Day One Post-Double Mastectomy
I was in and out of a drug induced sleep all night and lay having an out of body experience.  The pain was unbearable but I had a little button to press for immediate pain relief which seemed amazing to me.  However, I was so nauseous and dazed, I'd sometimes forget to press it.  I remember nurses putting ice chips in my mouth but I'd forget to chew, and wake up coughing as ice chips sat in my throat.  I was not in a good place at all.  I was instructed to not move my arms for the next 4 days, not that I wanted to as the pain was a 10.  Nine hours of anesthesia in my body was taking a horrible toll and I felt absolutely hideous.  Fortunately, Hot Hubby realized I was not in a good place, and arranged for a tag team of BFF's to be with me around the clock to manage my care. My BFF team was amazing and charted my medication, had the nurses help with my nausea, sat and watched me sleep, and worked on my respiration so I didn't develop pneumonia.  I am forever indebted to my amazing village. There was a perky nurse with amazing skin, and I remember her saying, "I know you feel terrible right now, but we're going to have you walking a little by the end of today and I might even get you in a chair."   I looked at her adorable skin and cute ponytail and wanted to zap her with my instant pain relief machine to make her stop smiling.  She needed to stop those thoughts immediately.  There was no f-ing way I was going to get out of bed and walk around that day.  She was super sweet by the way, but I was feeling terrible.
My head was spinning, I was throwing up every 10 minutes, and a lovely but severe nurse walked into my room.  She introduced herself as the director, and said, "I'm not sure if you've heard, but the RN's are going on strike tomorrow for the next 5 days.  Don't worry though, we'll have a traveling nurse team, but I wanted you to know!"  WTF!?!?!?   My BFF said I looked at her and said, "I need my bag, I'm going to throw up" and proceeded to vomit.  They needed to ween me off the supersonic painkillers I could push on demand, but to transition to other painkillers I needed food in my stomach as the medication would make me even more nauseous.  Such a cruel dilemma. They offered cream of wheat, tomato soup and other hospital delights…  yuck yuck yuck.  I slowly managed to transition my pain meds.  I still had the 'press for relief' back up, and gradually over the next few hours, the anesthesia started to leave my body, the nausea started to subside and I slowly began to feel as though I might not be trapped in this vortex of hell, vomit, pain, and nausea forever.
My surgeon was texting Tom the whole time (how great is that to know I can reach her at any time!?!) and I began to feel a more human.  I was pissed (pardon the pun) when they took out my catheter because that meant I'd be forced to get up to use the bathroom. Plus the fluids pumping into me from my IV were not helping with my bladder. I quickly figured out my plan.  I'd press the magic pain button two minutes before I needed the bathroom, then I'd ask the nurses to help me to the bathroom, and be back in bed before the magic pain relief wore off.  By the time my evening BFF showed up, I was beginning to feel better and continued to improve by the hour.

Day Two Post-Double Mastectomy
And…Nurses Strike, Day 1.  I woke in moderate pain (thanks to my amazing 'round-the-clock meds) and wondered what the heck the noise was.  There seemed to be a loud boom box and it sounded like a street party.  I figured I must be dreaming, or the drugs were making me loopy, but nope… my VIP suite was overlooking the lovely rose garden, which had now turned into a raging picket line full of chanting, striking, nurses with signs!  Are you f-ing kidding me!?!  I was feeling more coherent and could not believe the timing of this!
My plan was to have Hot Hubby manage my care, and get me the heck out of there as soon as possible.  I was given medication on a regular basis, the muscle relaxants made me sleepy, and I spent most of the day dozing and visiting with friends. Enter the two 'traveling temp nurses'.  I really tried to be openminded, but when the first temp nurse walked into my room and said, 'when did you last have your pain meds should we give you some more?'…. I did get a little snarky and told her, "I apologize, but I've had rather a large surgery and have been in a drug-induced coma for three days, and if I had to guess it might be in my records, so you might want to check there."
I don't want to bag on nursing staff because they do work so hard, but it was unfortunate to be in a fantastic hospital after a major surgery, with people who were not familiar with the equipment, and the facility.  The good news is that I only threw two nurses out of my room during the strike!
The boys came to visit me and I even managed to get out of bed for a while and shuffle to the window with them.
Day Three Post-Double Mastectomy
Nurses Strike, Day 2.  Enter Priscilla.  Priscilla is a goddess.  Priscilla was amazing. Priscilla was my savior.  Priscilla was 6 months away from completing nursing school, and was the most caring person I've ever met.  She was young, beautiful, and when she asked if she could take the air compressors off my legs, since they'd been there for 4 days, to give my legs and feet a wash, I seriously wanted to kiss her, cuddle her, and adopt her. She was so kind.  She washed me, brushed my hair, brushed my teeth and made me feel human.  She prepped me for discharge home and even let Julian help her wheel me to the car. Legally she had to do it, but she could see that he really wanted to be a helper, so she let him put his hands on top of hers.  Jules is smart though, maybe he had a crush on Priscilla and saw the opportunity to hold her pretty hand.  She was so amazing and I told the Director at discharge they would be foolish not to hire her asap as she was the most caring person there.
Day Four Post-Double Mastectomy
I was so ready to settle into my own bed.  The boys and Hot Hubby had the house cleaned, my room was all set, and they could not have been more attentive.  We were all relived to have me home, the surgery behind us, and prepare for me to seriously recover. I had 6 drains to manage, and everyone pitched in to help empty, measure, and log fluids as needed.  It was a full group effort.  Hot Hubby was a flipping rock star.  He is very often in the dog house, but he was so amazing I told him I hope he doesn't get cancer, because there's no way I could ever live up to this care. (I'd have to hire Pricilla!)  We all had the best sleep we'd had in a while, and the minute the boys woke they came into my room to lie with me. They learned to navigate the drains, tubes, and began to tease me again.
Day Five Post-Double Mastectomy
Big Day!  I showered for the first time since surgery…. Hallelujah! It's the little things that made me happy and just using my conditioner and my own body lotion felt like I'd died and gone to heaven.  I went to see my reconstructive surgeon for a post-op appointment and she said I was healing nicely and removed two of my drains.  It was very painful as they were suctioned into my body, and there's no graceful way to remove them other than a hefty tug.  I made a note to take my pain meds before my next drain removal appointment.
I was ready to rest, heal, and relax in bed.  I set up my command central with necessities, and it seemed every time I dozed off, there was another gorgeous card, flower arrangement or a lovely bottle of champers arriving (hmmmm do my friends know me or what!?!)
The outpouring of love and support for our family was incredible.  We all have so much happening in our busy lives, and to have so many friends carve out time to stop by for a hug, send a card, bring food, visit, or just drop off fruit, was so appreciated.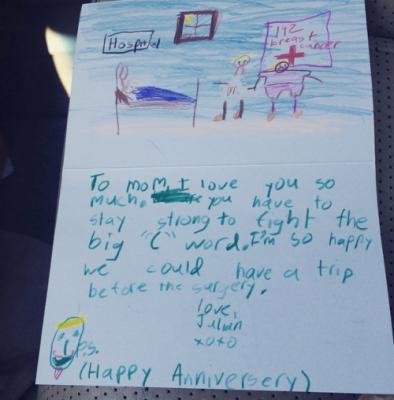 Have you had to recover or help someone recover, from a major surgery?  What do you think is the most difficult part?