Chile is unlike any other country we have visited in South America because of its natural beauty, pleasant climate, diverse landscape and clean air.  We flew into Santiago and had four full days to explore before flying onto Easter Island.   Read why it ought to be on your travel wishlist.

Plaza de Armas (Santiago)
Plaza de Armas is at the heart of Santiago and is the epicenter of this vibrant city.   Hands down the best place for people watching in Santiago! There's always some diverse entertainment on offer, and while we were there we saw mime artists, acrobats, violinists and other buskers.  It's the heart of the city and we sat and enjoyed a nice glass of Chilean red wine at a cafe on the edge of the square.
We were there at Christmas and the plaza was bustling with carol singers and people shopping for gifts.  The plaza was beautifully decorated with eclectic art pieces.  The Christmas trees in the picture above were made from old dolls and shoes.
Metropolitan Cathedral (Santiago)
This is a beautiful Spanish Metropolitan cathedral.  The Cathedral dominates the Plaza de Armas, and is an impressive sight.  The inside of the Cathedral is ornate and beautiful. It is not particularly large and was quite dark inside, however the alter and ceiling are beautiful.  There are many side chapels and statues of both religious and Chilean historical interest.
Valparaiso
This historic coastal city offers a feast for the eyes, hinted at by its nicknames "San Francisco of the South" and "Jewel of the Pacific.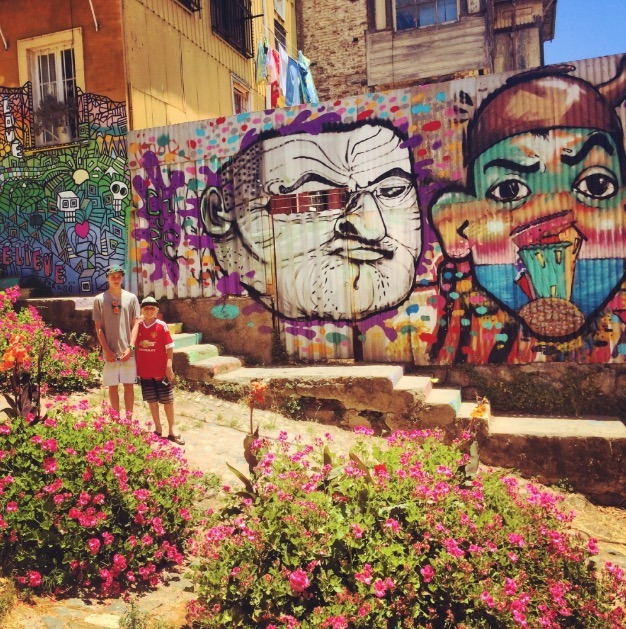 Valparaíso is a port city on Chile's coast known for its steep funiculars and colorful, clifftop homes.  We drove 70 miles from Santiago to spend the day in this gorgeous and colorful community.

It's a refreshing change of pace from the city of Santiago, and Valparaiso is known for its artistic vibe and vibrant street scene.

A UNESCO world heritage site, Valparaiso's maze of narrow streets filled with galleries, bars and restaurants are simply charming.  There is row upon row of brightly painted 19th-century mansions precariously clinging to the hills overlooking the sea.
Wine Tasting in Chile
You don't have to venture far out of Santiago to sample some of Chile's famous red wine.  You can quite easily drive yourself to one of the many amazing wineries just outside of Santiago for a day tasting delicious wine.  Aside from tasting fantastic wines, you can watch the farmers pluck, sort and harvest grapes, and see how it is bottled.  Many wineries have delicious restaurants on site too and they are family friendly.
Mercado Central de Santiago
Fishing is a major industry in Chile as one of the major exporters of fish and seafood in the world.
The Chilean sea is considered among the most productive marine ecosystems in the world.  We were told the best Chilean seafood in Santiago was at the Mercado Central.  The Mercado Central is one of those places you must visit in Santiago. It's a place to eat as well as pick up fresh fish.   Locals go early, get their fresh fish and prepare meals at home, while tourists walk around taking pictures and admiring the fresh fish. There are several fish stands surrounding the outer edges of the market and we stopped for the most delicious lunch.

Barrio Brasil (Santiago)
Spend a few hours wandering aimless around Barrio Brasil to see the crumbling colonial facades of old Barrio, an impressive local art market and some of Santiago's most imaginative graffiti murals.  There are plenty of cool parks and cafes to make it the perfect place to rest.
Easter Island
Santiago is one of only two places you can fly to Easter Island.  Easter Island is over 1,200 miles away from the closest inhabited island, and 2,180 miles (6 hour flight) from Chile, the nearest continent.  Easter Island is home to more than 800 Moai Statues created by the early Rapa Nui people.

Have you been to Chile and what are your favorite spots?