We recently travelled around Morocco with our family.  We started in Casablanca and Fez, then drove to Marrakesh across the Atlas Mountains, stopping to camp in the Sahara Desert along the way.  Our stay in Fez was interesting, however there are things I have to share so you can decide if this city is for you.
Fez is Morocco's oldest Imperial City and is ranked as a UNESCO World Heritage Site and houses the oldest university in the world. Nestled in the maze of medieval streets, the vibrant colors, smells, and sounds of this sprawling pedestrian city are a feast for all senses.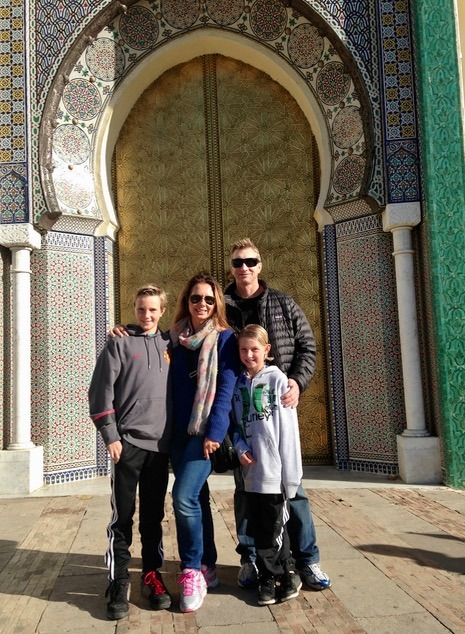 The city lies in between two mountain ranges, the Rif Mountains and the Middle Atlas Mountains, which keep the city a pleasant temperature year-round.
Morocco's reputation as a difficult destination for women precedes itself for a reason. Wandering around the Medina we could feel the stares and we attracted tons of attention from faux guides and children wanting money.  Each time we turned down a side street, pulled out a map, or took a scenic photograph, a nearby vendor would pounce and badger us.
We felt on 'high alert' at all times, so it wasn't particularly relaxing, and that heightened when we saw two youths attack an older Moroccan man to steal his messenger bag.  Fez, requires a thick skin and a watchful eye.  That said here are some tips.
Visit the Tanneries
Fez is famous for its leather, and traditional tanneries, and the way the leather is produced has barely changed since medieval times. There are two types of vats.  The 'primer' is a mix of pigeon poop and cow urine in one vat. This substance breaks down the skin, softens the skin, and removes any hair left behind.  The skins are laid out to dry in the hot sun and massive pots are filled with dyes made from turmeric, poppy, mint and indigo amongst other things. 
The skin is soaked until the right color is achieved and is hung to dry. The colored leather is sold to leather smiths to make everything from purses to shoes and belts.

The smell of the tanneries is overwhelming and we were given a mint sprig when we entered the tanneries, otherwise known as the "Moroccan gas mask…." and boy did we need it!
Wander the Medina
The Fez Medina is a fantastic place to get lost. There are endless opportunities to taste the local foods, see the crafts and see things you wish you could unsee (hello camel head on a pole)!
However, be sure to stay safe. If you get a bad feeling from a vendor or feel you are being treated unfairly, politely decline and walk away.  Shops in the Medina start to close around 9:30pm so you want to be sure you are close to the gates before then as they turn out the lights.
Once the lights go out, the narrow winding streets become even more of a nightmare to navigate, and can be quite intimidating.  Definitely not a comfortable feeling.
Haggle for souvenirs
Haggling is a way of life in Morocco, and the store owners expect it. They happily haggle in different languages, with a calculator, or a piece of paper to write down the negotiations.

We were told by our guide to typically start at a quarter of the price offered and work from there.  This is a favorite activity for the boys… they have contests with each other to see who can get the best deal on a certain item.  Great life skill!

Hire a reputable guide
The old Medina is a winding maze.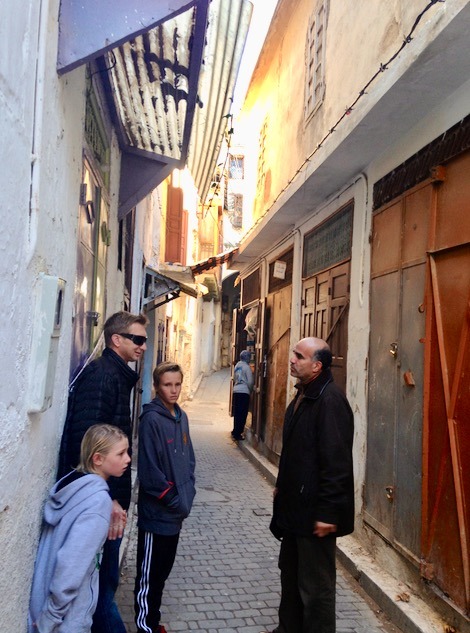 Even with our reputable guide we found ourselves sometimes lost.  Having a native, reputable guide is essential as Fez is not someplace I'd recommend "getting lost",  especially with children.
Try to Avoid Street Harassment
This was my least favorite part of the Moroccan culture here.  We experienced women being treated definitely secondary to men, and I personally felt uncomfortable with the  cat-calling, people obviously speaking about me in their native language, leering, and men standing too close in my personal space.  I think most women would prefer to move freely in the public space without such blatant disrespect, and I was tense and 'on guard' the whole time we were there.

I didn't feel  I was in any real physical danger in Fez…. partly due to the fact I was with three boys and a paid guide, and partly because I'm a black belt and know that I could kick someones ass who tried any funny business.  🙂 But the petty crime and harassment required us to stay on guard more so than other countries.

Here are some tips to stay as safe as possible in Fez:
Don't walk alone at night.   Always walk in well-lit busy areas, and be extra careful walking at night. There are many twisted roads and people seem to pop out of doorways in the Medina. Petty crime is rampant, especially against tourists.
Don't walk alone if you're a woman .  Western women attract lots of unwarranted attention from men, and while I'm not suggesting all Moroccan men are bad, I am saying that the attention is relentless and I would not want to be alone in a dark alley.
Dress conservatively.  Morocco is a conservative Muslim country, and it's not appropriate to wear skimpy clothing. (see point two above!)  Keep your arms, shoulders, and legs covered to avoid any unwanted attention (as much as possible anyway) and conform to local cultural behaviour.
Do not wear nice jewelry.  Theft is common in Fez and we saw two people being robbed in petty theft incidents.  Don't even tempt it, it's not worth it.
Lock your passport in a safe at all times.  There is no need to carry around your passport, and since muggings and pickpockets are common, why risk a nightmare.  Take the minimum belongings you'll need when you leave your hotel and lock everything else of value away in your hotel safe.
Look out for scams.  If someone asks you into their shop for tea, they will try to get you to buy something. Unless you are interested in what they are selling or offering, do not enter or accept their 'gifts.'   Also do not let someone put henna on your hand, once it is there, they will try to say you bought it and demand money from you. Say "no thank-you" politely and walk away.
Refuse help from 'tour guides' on the streets.  Locals, and especially children will say "no money"… but they definitely want your money. They will try to take you to their shops and ask for money for their service. Be firm and say no. If they start walking with you and you engage, they will be nice to you, then quickly turn to bullying you for money to pay for their 'services'!
While this is good advice for any country, we felt Morocco was more intense than other destinations.  We received a staggering amount of unwanted attention, to the point where we were unable to relax and enjoy our surroundings. It takes a ton of energy to always be on your guard.
So to conclude, we all left Fez with a bad taste in our mouths and stressed out.  Definitely not what we look for in a vacation, and will probably not go back any time soon.
Have you been to Fez?  If so did you experience similar feelings?