Tokyo is one of the cleanest cities we have ever visited and is very safe with a low crime rate.  We had the chance to spend a few days in Tokyo on the tail end of an adventure in China.  After traveling China and Tibet, the cleanliness and order of Tokyo was very much appreciated. This huge city with about 9 million people, has an unexpected traditional side. Considering the size, the city is super clean, tidy, and filled with polite, formal, and respectful people.
Enjoy the toilets
Funny story: When we first arrived at the Park Hyatt Hotel (Yes the one from the movie 'Lost In Translation'), we were shown to our  rooms.


The boys had a room next to ours.  After enjoying the warm shower and snacks in our room, Tom and I went next door to see what the boys were up to.

We found Seabass in his robe on the bed, and heard strange noises coming from the bathroom.  I knocked and asked Julian what was going on and he said, "Mom, this toilet is the best thing EVER!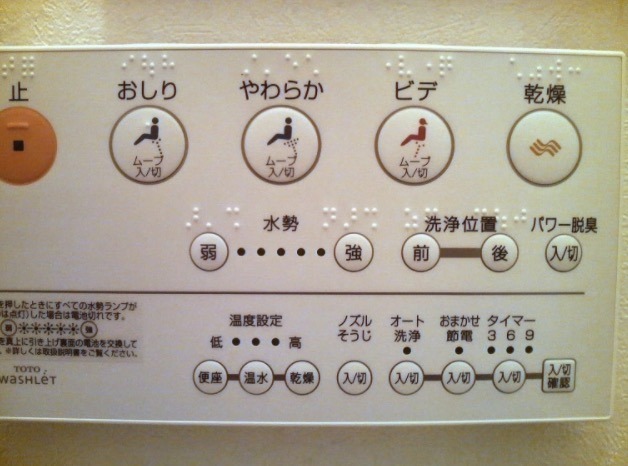 It massages my butt, I can heat the seat, it sprays water in different directions and I'm having the best toilet experience ever.  I can't read the instructions so I'm just pressing every button. Can you bring me my book please."  Ha…. that kid just cracks me up!

 2.  Harajuku Takeshita-dori
If you visit Tokyo you have to visit this crazy place.  People of all ages dress up as Anime characters and walk the street having the time of their life.  Harajuku Takeshita-dori is lined with cute, colorful and interesting shops, and there are literally a hundred Japanese crepe and ice-cream shops.

It's super fun to wander, shop, people watch and enjoy the delicious desserts. The explosion of colors and Anime is like nothing we've ever seen.
3.  Golden Street in Shinjuku
Golden Gai
 is a fascinating area to explore, but it only really comes alive at night.  This area consists of a few blocks of teeny tiny bars…. when I say tiny, some only will seat 10 people!  Each bar has a different vibe, and many only serve regulars or locals, and luckily we were with our Japanese friend to share a fun night on the town!
The bars really come to life after 11pm.  It looks as though it's a dodgy area, but it's hip, fun, and filled with Japanese celebrities (not that I'd recognize any of them).  It's seriously like being in a Japanese movie.
4.  Ginza and Shinjuku Districts
The Ginza and Shinjuku Districts are popular upscale shopping areas of Tokyo, filled with electronic stores, boutiques, restaurants and coffeehouses.  The Ginza District is considered one of the most expensive, elegant, and luxury streets in the world.
5.  Tsukiji Fish Market, Tokyo
We woke up at 4.30 am (yes you read that correctly) to make our way to the Tsukijo Fish Market to see the huge fish being auctioned off. The actual auction takes place daily around 5am and only 120 people are allowed in (free) to witness sales that are then shipped to the best restaurants in the world.

This is the largest wholesale fish market in Japan.  The market's opening hours are 3:30am to 6:00am and even getting up at 4.30am, we were too late to see the Tuna Auction.  The sights, the sounds and the smells were a full sensory overload.

We spent a couple of hours wandering the aisles checking out merchants preparing and selling every kind of seafood imaginable, watched the vendors clamoring for attention promoting their products and negotiating with customers.  We savored the smell of fresh seafood (truth:  some of it didn't smell so great to me)!
There are many small restaurants selling seafood fresh from the ocean, around the outskirts of the market.  We found the perfect place to stop for breakfast and were rewarded with the freshest sushi we have ever tasted!   It's exciting, it's fun, and it's free!

6.  Meiji Shrine
The beautiful and peaceful Meiji Shrine is found in the heart of Tokyo in Shibuya, and is dedicated to the deified spirits of Emperor Meiji and his wife, Empress Shōken.
The shrine is located in a park and when you arrive it's a lovely walk down a cool path beneath thick trees, creating a calming, peaceful environment.
The shrine and surrounding gardens are stunning, and we were lucky enough to see a traditional Japanese wedding during our visit.

We paid 500 yen each for wooden blocks to write prayers on and hang them with the others.

When we entered the park we quickly forgot we were in the heart of a huge, bustling city, and were quite surprised how quiet and peaceful the park and gardens were.
We definitely felt as though we needed more time in Tokyo and we barely had a taste of all Tokyo has to offer, and we'll certainly visit again sometime soon.