We couldn't wait to visit Ho Chi Minh City ,Vietnam.  There's the food obvi, but the vast differences in culture in the different cities were so interesting to us, and it was our first time visiting a communist country.

Oh and did I mention the currency is called the Dong?  We may have had many juvenile conversations asking for more 'Dong'. (yes I do have the humor of a 13 year old boy)!
We started our travels in the southern city of Ho Chi Minh (Saigon as it was formerly known), and slowly worked our way up to Hanoi and Halong Bay. Ho Chi Minh City is the largest and most vibrant city in Vietnam located in the south, and it has a French Colonial vibe. You don't have to be in the country long before you see the scars from the Vietnam War.

We quickly discovered that 40 years later, Vietnam is still deeply divided over the war, and the communist propaganda is a constant reminder of the current deep feelings surrounding the war.
Visit the Cu Chi Tunnels
If you really want to understand what the Americans were up against during the Vietnamese War, you must visit the Cu Chi tunnels.  We decided to forgo the big tourist group visit to the tunnels, and instead hopped in taxis with three friends we met (we then referred to ourselves as 'The Family of Seven') to explore on our own.
We stopped along the way for refreshments consisting of $2 Pho and 50c beers, and hired a local guide to give us a personal tour of the tunnels.

The Cu Chi tunnels are a huge network of underground tunnels located in the Cu Chi District of Ho Chi Minh City (Saigon). They consist of 155 miles of tunnels and chambers.
At any given time, thousands of Viet Cong troops would live inside these tunnels, only emerging at night to surprise attack the Americans, tend to crops or gather more supplies. At various points during the war, the Viet Cong would live underground for months at a time, not even seeing daylight.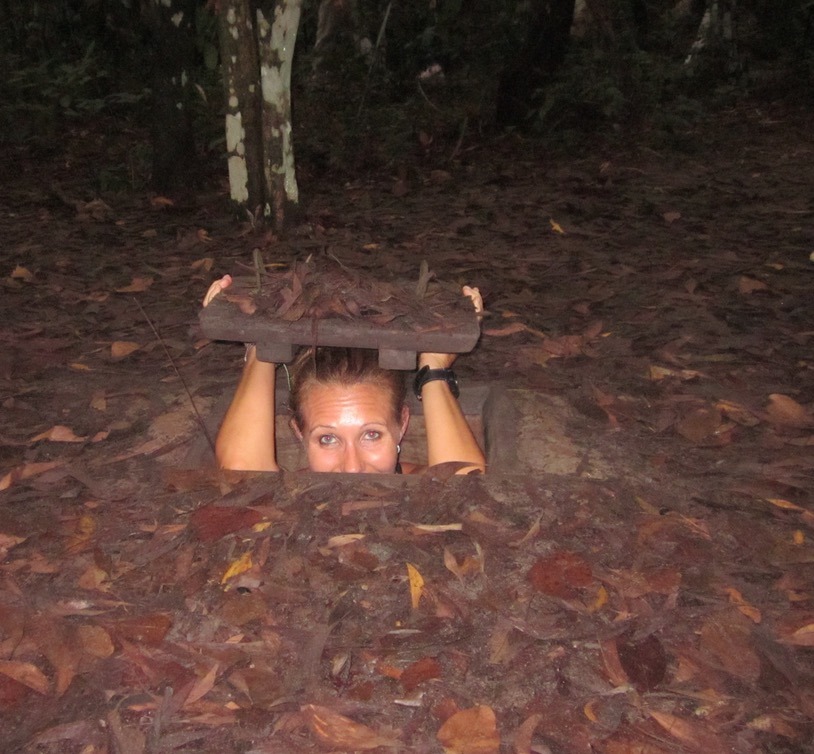 We were able to actually walk through certain parts of the tunnels.  I was super nervous going in as I hoisted myself through a teeny opening in the ground, covered in leaves.  I lowered myself down about 15 feet underground to the deep stairs and narrow entrance.  It was a bit scary for someone who was slightly claustrophobic, but I took deep breaths, tried to take my mind to my happy place, and climbed in.

The boys and the rest of our group followed.  The tunnels are incredibly narrow, and the ones we passed through had been widened for easier access. There is one original tunnel we walked through that was 35 inches x 16 inches!
I'm not gonna lie, it was a freaking nightmare down there, and it was hard not to panic as you were immersed in darkness crawling on your hands and knees through a tiny tunnel.  Seeing the various booby-traps used by the VietCong was eye opening and it was quite frightening to think they were used on humans during this lengthy war.
There's also a gun range outside where Tom was able to shoot an AK-47.
I'd highly recommend visiting, however if you are claustrophobic in the slightest, it will be very very tough for you.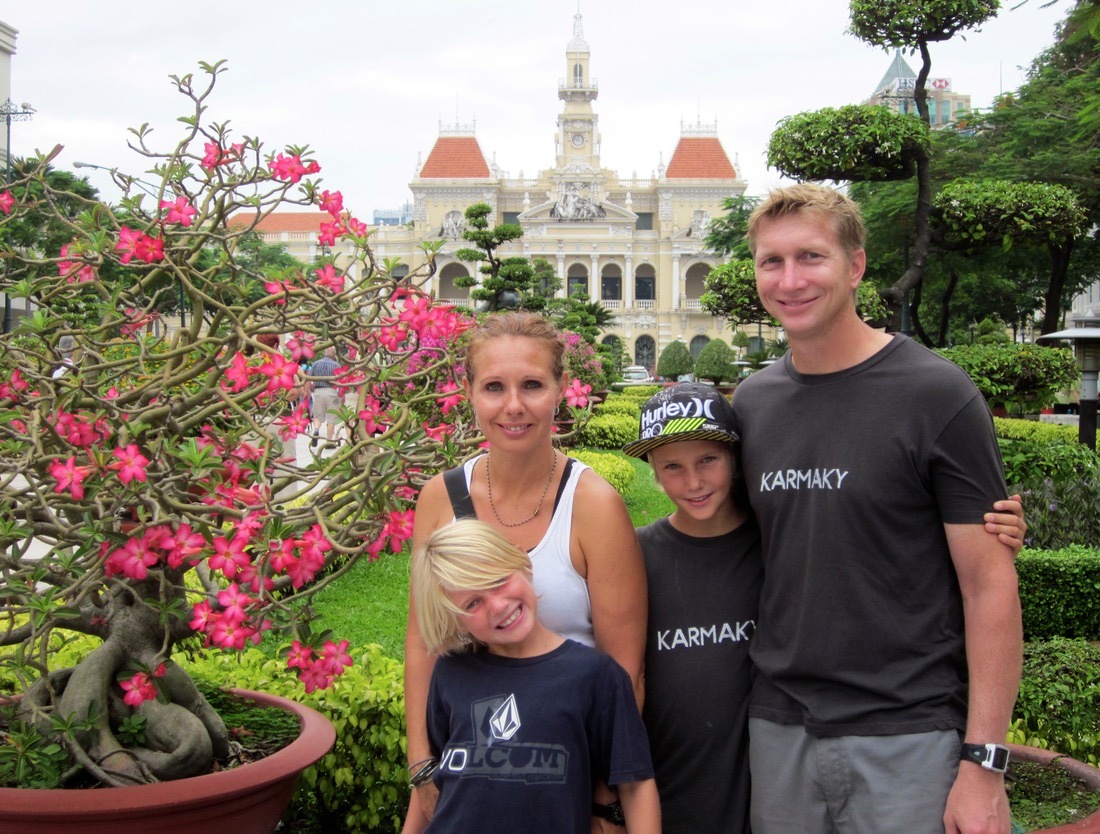 Wander Around Ho Chi Minh City Hall
Ho Chi Minh City Hall or Saigon City Hall was built in a French colonial style for the city of Saigon (back in the day). It was renamed after 1975 as Ho Chi Minh City People's Committee when the war ended.  The traffic is insane around the square (and in most of Ho Chi Minh actually), however he we found this a peaceful place to sit and watch the world go by.
There are restaurants and cafes framing the gardens, and a statue of Ho Chi Minh in the garden.  This building is another excellent example of the French colonial architecture in Ho Chi Minh City.
Explore Independence Palace
The Independence Palace is also known as the Reunification Palace, and made its mark in history in 1975 when a tank belonging to the North Vietnamese Army crashed through its main gate.  This signified the end of the Vietnam War.
Sample the local food and beer
Food and drink in Vietnam is insanely inexpensive.  Our family of four would typically spend no more than $10 per meal, which included spring roll appetizers, beer (think 50c beers everywhere), cokes and dessert.   In fact we really had to try hard to spend $10 per meal.  Pho is the Vietnamese national dish, and is a noodle soup consisting of broth, rice noodles called bánh phở, a few herbs, and meat, primarily made with either beef or chicken.  
We had a hard time walking more than a block or two without smelling the next pho restaurant or market, and we ate Pho every day we were in Vietnam.
Visit The War Remnants Museum 
This museum was one we all were excited to visit in Saigon.  It's fascinating when visiting museums in Vietnam, to see the one-sided version of events, and the selection of photographs and displays used.  They definitely fall into propaganda territory.

Vivid propaganda posters are sold in the stores and are posted on the streets, and it's a solemn reminder of the damage that was done during the war.
Did you visit any places we missed in Ho Chi Minh?  Please leave in comments below.