Oh South Africa… you stole our hearts.  We were so fortunate to spend just over a week exploring Cape Town on the tail end of a stunning safari.  We flew on a little hopper plane from Limpopo airport to Cape Town, picked up our rental car, and headed for the Protea Hotel on the Wharf.
After tons of preparation and research, we had lots we wanted to see and needed to cram everything in!  Here are the things we loved about Cape Town with our kids in no particular order!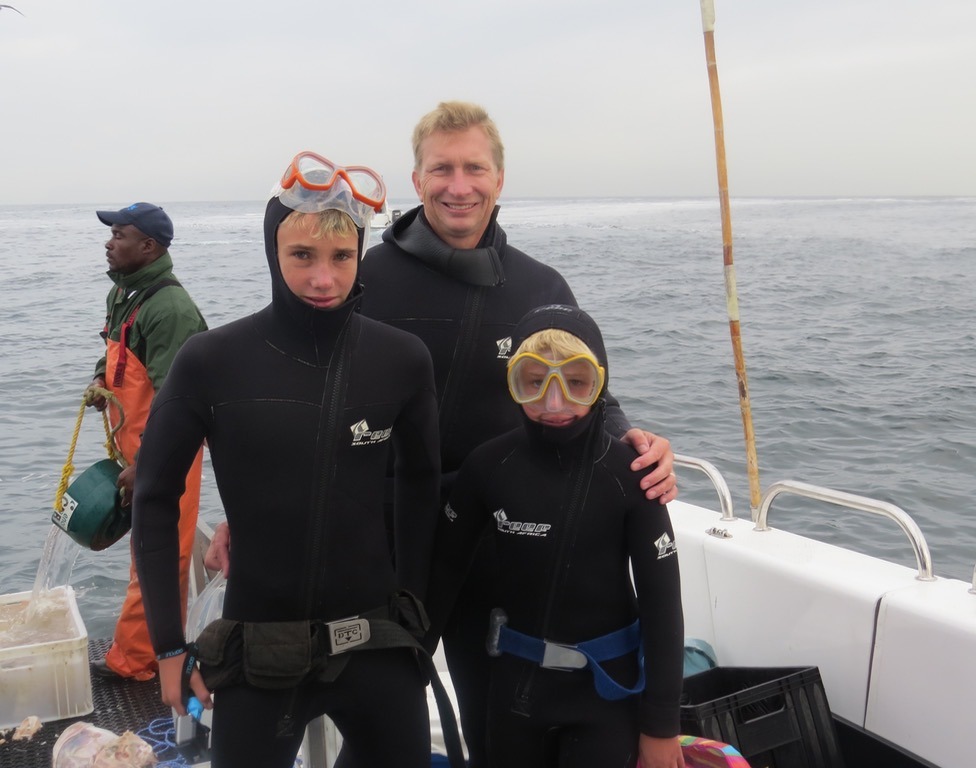 Shark Cage Diving in Simons Town
Both boys wanted to do it so desperately, yet the mom voice in my head said "are you f-ing crazy?" Regardless, at our family meeting, I was unanimously outvoted, and we had shark cage diving as a line item on our itinerary (gulp).  We (they) felt if we were in South Africa, we just HAD to take this opportunity as this is where most of the shark footage for shark week is taken.
This was a complete bucket list experience for us all, and to experience this as a family was incredible… was it scary as heck…. YES!
Would I do it again? Probs not… but I'm so glad I took the plunge into the ice cold bay in Simon's Town, South Africa.  Read about the complete experience here.
Check Out The Penguins At Boulder Beach
After Shark Cage diving we headed to Boulders Beach, to see hundreds of African penguins in their natural habitat.  It was the cutest thing ever, although the smell was quite ripe!


We saw these sneaky little fellows as we were walking down to the beach! 

Hike The Cape of Good Hope and Cape Point
It was about a 2 hour drive from our hotel in Cape Town to the Cape of Good Hope.  However the drive was simply stunning, and we stopped at lots of little towns on the way.


This was quite a challenging hike, but the stunning views from every angle made it so worth it. 
We were fortunate to be there on a clear day, and could see across the whole cape.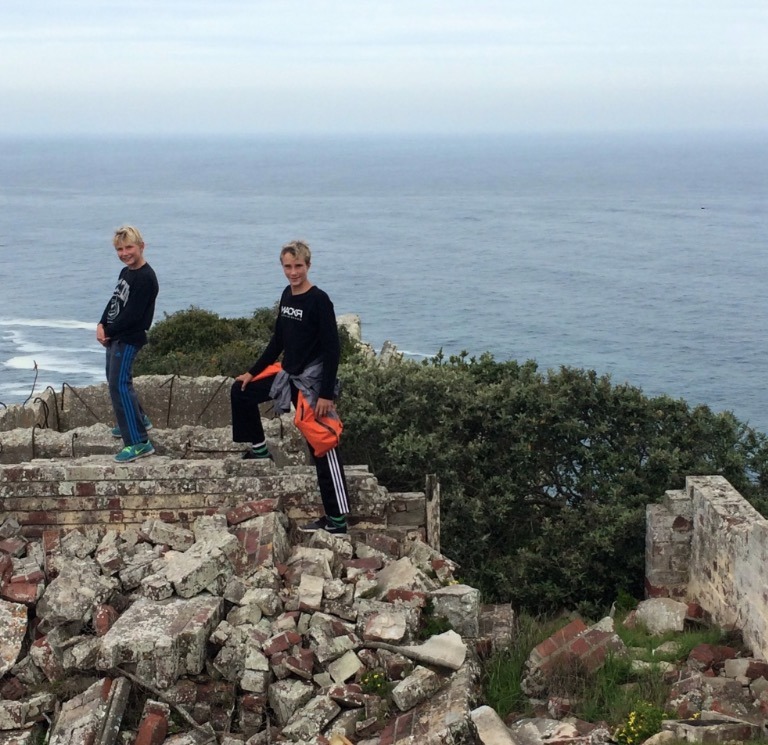 We were at the end of the world. Literally. The southern most tip of Africa! 
Chapman's Peak Drive
We drove the sketchy cliff hanger of a road, Chapman's Peak Drive, on our way back to Cape Town. This road is about 500 meters above sea level and has a sheer drop into the ocean below.

Chapman's Peak Drive is a 9km route from Hout Bay to Noordhoek full of hairpin bends, sheer drops, and is widely regarded as one of the most scenic stretches of road anywhere in the world.
The sun, fog, height and narrow roads with no barriers, are definitely not for the faint hearted of drivers!


You probably wouldn't want to have a tire blow out on this road either!  Hot Hubby is a pretty seasoned driver, but even he was sweating a little on this road with the sun shining into his eyes.  One wrong move and we were all gone.

Visit a Township
We spent a day visiting the Langa Township. Langa is one of many areas in South Africa that was designated for black Africans before the apartheid. Townships in South Africa are usually underdeveloped segregated urban areas that were reserved for non-whites until the end of the apartheid.
Under apartheid, black South Africans were forced to live in these townships that were built as far away as possible from the city centers, and were very run-down.
This lady cooks sheep heads all day to sell. She shared with us that the tongue and the cheeks are the best part, but Jules didn't want to try her free sample! 😉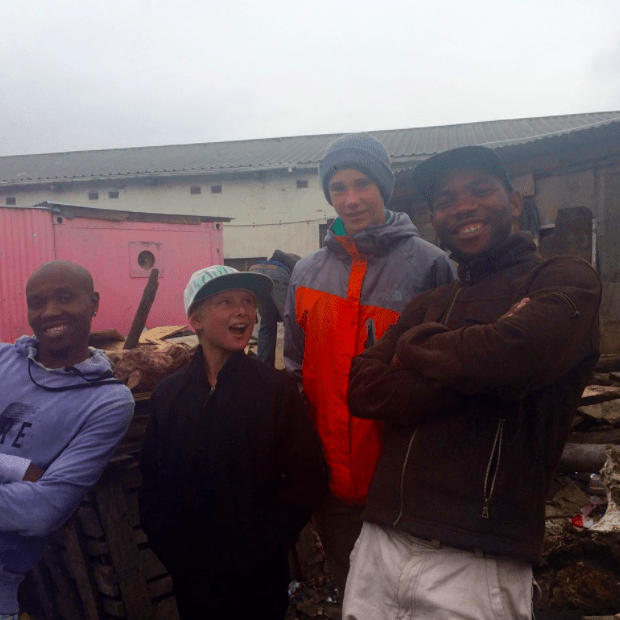 The boys played soccer with some local kids and we gave them all of Julian's clothes from his bags and left him with one outfit to fly home in!  We try and do this when we travel, and it was fun to see the African boys in Hermosa Beach t-shirts!


They played with a flat ball and the goal posts were two rocks in the road. No private coaches, matching back packs, or turf fields here… but these kids were so good and so happy.

This is why it's important to us to travel with the boys and raise global children.  For this brief moment in time, it's just a bunch of kids hanging out together doing what kids do. I spent time chatting with their mom in her 10 x 10 room that her family of 4 shares with another family.  For that hour it was just two mom's, with the same worries and concerns, talking proudly about their kids.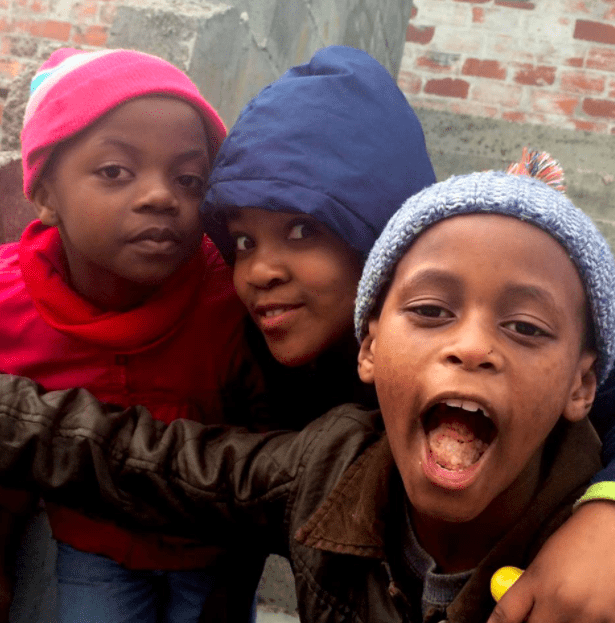 I always want to bring home each and every sweet face with me… seriously, those faces get me every time!
Wine tasting in Stellenbosch
Stellenbosch is about a 45 minute drive from the Cape Town Wharf area, and you seriously feel as though you are in a different country.
There are rolling hills, stunning vineyards, mountains from every view, and great places to grab some food.  We visited 
Blaauwklippen Vineyards  and spent the afternoon sampling delicious wines and tapas.  It is seriously one of the most picturesque settings in the Cape.
Wander Around The Cape Town Street Life
We felt safe and comfortable the whole time we were in Cape Town.  We found the people to be welcoming and as curious about us as we were about them.  We wandered through local food and craft markets, art districts and found many local restaurants to sample the delicious local food.
District Six is a residential area where over 60,000 of its inhabitants were forcibly removed by the apartheid regime when it was declared a "whites only" area. It was empowering to take the boys here to learn the history of District Six, learn about Nelson Mandela, and for all of us to understand the apartheid a little more.
Wander around Victoria Wharf
Victoria Wharf is the shopping hub of the Victoria & Alfred Waterfront. The mall is a series of huge warehouses that have been converted into super hip shops and restaurants.  There are tons of opportunities to buy African arts and crafts from local artists, and the many restaurants will definitely not disappoint with the many food options available.
The fog is so crazy in Cape Town… you never know when it will roll in or roll out!
Climb 

Table Mountain National Park
We drove to Table Mountain on a clear (ish) day, and since the cable car was closed until the fog cleared, we decided to hike up the mountain. 
Important to note that the cable car that takes you up to the top of the mountain is often closed due to the fog.  I would recommend you check with your hotel whether the cable car is running before you make the 40 minute drive to the entrance.
The cable car opened up as we were halfway up the mountain… figures!
Why would we take the easy way up?
  

We hiked up via Platteklip Gorge

.
Hanging out on the edge of the world! The views were incredible!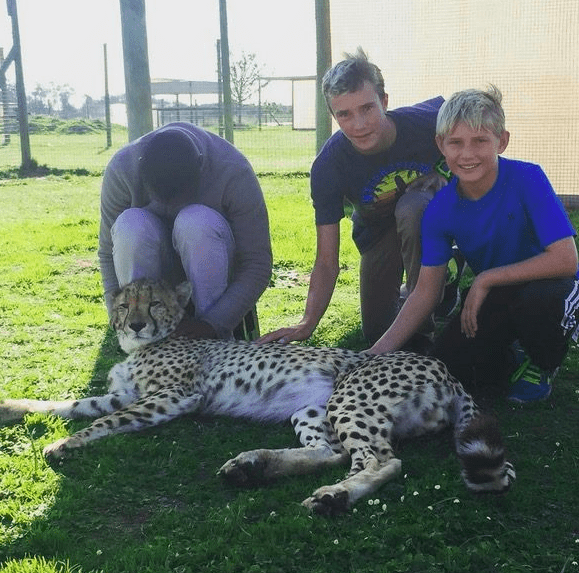 Visit the Cheetah Rehabilitation Center
We had a few hours to kill before our loooooong 32 hour journey back to Los Angeles, so we stopped to visit the Cheetah rehabilitation center which was fairly close to the airport.  The boys learned how cheetah's live, and were able to get up close and personal with them.
We LOVED Cape Town, and cannot wait to go back.  The cool vibe, gorgeous people, beautiful countryside and amazing culture stole our hearts.
What are your favorite things to do in Cape Town?