Iceland is definitely having a 'moment' right now, and we were thrilled to spend the holidays there this year.  We wanted to explore the natural terrain, of course try to see the Northern Lights and southern part of the country, but we also wanted to  enjoy and explore Reykjavik.
I think we planned our trip perfectly with a couple of days in Reykjavik on the front end to celebrate Christmas and get over jet-lag, and then after our fantastic 5 day adventure into the middle of Iceland, we spent two nights in a gorgeous apartment in the city center to celebrate New Years Eve before flying home.

Here are our top tips for enjoying this gorgeous city.
Relax, Unwind and Visit The Blue Lagoon
Our direct flight from Los Angeles arrived at Keflavik airport at 5am.  The airport is fairly close to the Blue Lagoon, so we grabbed breakfast at the airport, and headed to the Blue Lagoon as it opened at 8am.


We stored our luggage (which was very easy), changed into bathing suits (again clean and spacious changing rooms), and after the mandatory shower (probably a good thing based upon the amount of tourists passing through daily) we entered the lagoon.  The Blue Lagoon is a very special natural phenomenon, and consists of a geothermal lagoon containing minerals, algae and silica.  The blue color comes from the way the silica reflects sunlight.
The boys loved it, I loved it, and we relaxed and napped for a few hours.  We swam to the Silica bar for our mud face mask, hit the swim up bar for a refreshing smoothie, and then headed to the waterfall for a firm shoulder and neck massage.  We also spent time in the warm 'relaxation area' where we napped on rocking chairs.
Important to note the Blue Lagoon has a maximum capacity each day, so it's important you arrange your visit prior to landing in Iceland so you are not disappointed.  After a few hours we were clean, rested, relaxed, and ready to head to our hotel in Reykjavik to celebrate Christmas Eve.
Hallgrimskirkja Church
This beautiful church proudly stands on a small hill overlooking the city center of Reykjavik, and is visible from almost any point in the city.  Our apartment was situated directly behind  Hallgrimskirkja, and it was a great landmark for finding our way back after sightseeing in the city. The church is an incredible feat of construction.  We were so fortunate to attend Christmas Eve mass, and listening to the beautiful choir sing Christmas carols in Icelandic was something we'll never forget!
One of the most striking parts of the church is the organ, which is the largest musical instrument in Iceland.  This is also the epicenter for fireworks on New Year's Eve, and locals and tourist gather in the square around the church to celebrate.
Enjoy the Icelandic Cuisine
Icelandic food is very fresh and the most popular dishes include: lamb, potatoes, fish, and other seafood. A lot of seafood.  Breakfast each day consisted of coffee, fresh juice, rye bread, fresh fruit, cheese, meats, cucumber and smoked salmon.  It was heaven!
There's no shortage of restaurants to choose from in Reykjavik, and we enjoyed the most incredible evening at Food Cellar Matarkjallarinn.  This cosy restaurant is located in a 160 year old building in the centre of Reykjavík and was one of the best dinners we ate on our trip, and a fantastic finale to a fabulous week in Iceland.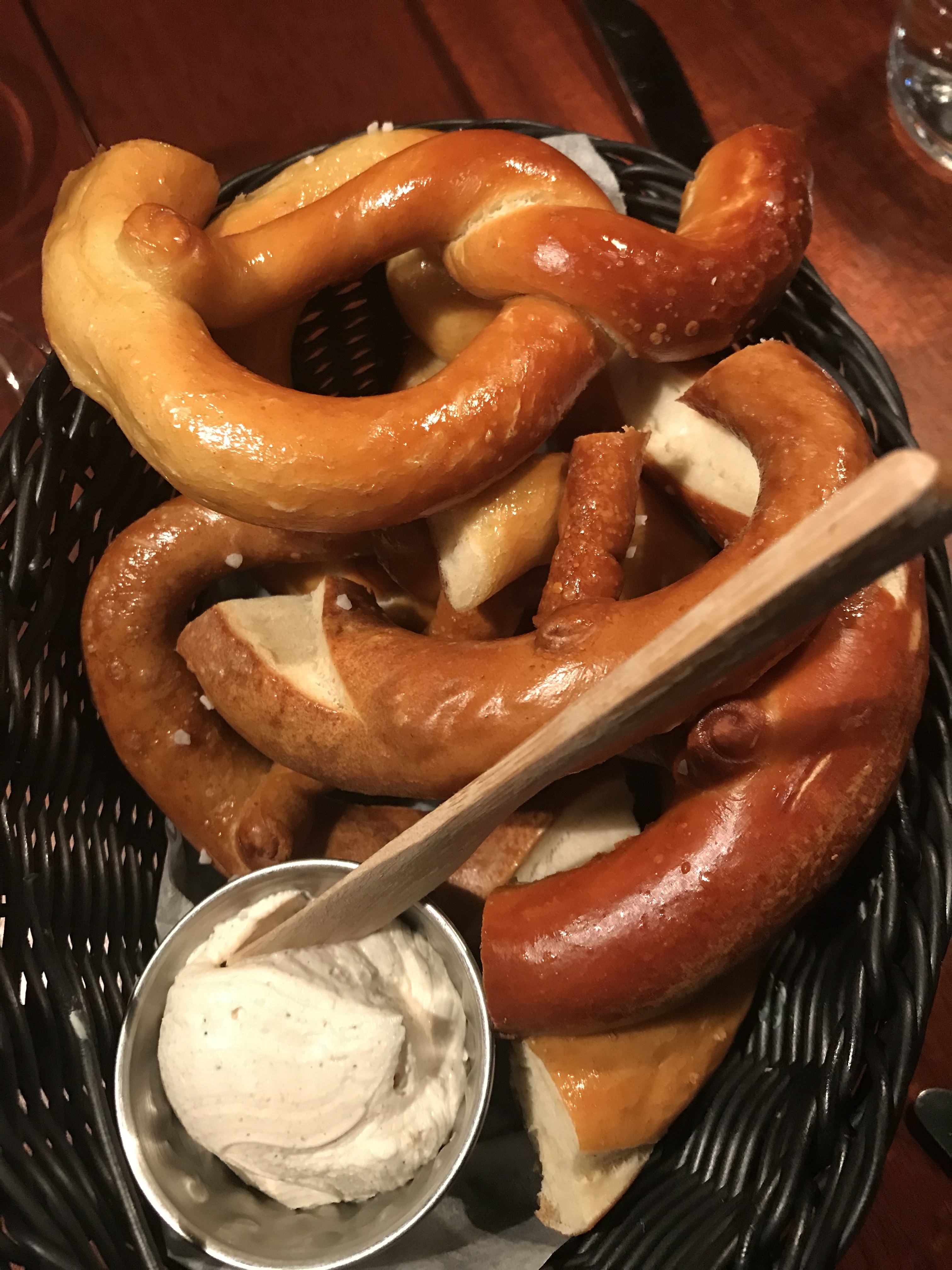 You know the food is going to be good when the waiter brings out homemade fresh chewy pretzels with an incredible spread.
Food Cellar is apparently very well-known for their cocktails, and we started with their Black Frog Cocktail (look at the cute frog on top of my drink!) so we could try Brennivín (Icelandic Schnapps known as "Black Death"!) We loved it!  They also have an extensive wine list, and we ordered a lovely Sauvignon Blanc to enjoy with dinner.
We chose to order from their set menus.  We ordered the 'Seafood menu' and started with the most incredible fish soup appetizer, (the seafood is actually cooked separately and then bisque is poured over it at the table), followed by a main of flaky wolf fish and cod cheeks – delicious.
Julian chose the 'Surf and Turf' menu, and started with a delicious slow-cooked cod dish, followed by steak, lamb, pork and langoustine.  The presentation and service were top-notch and the food was simply incredible.
Live piano music played throughout the evening and the energy in the restaurant was vibrant and happy. We sat in a covered area with a view of the piano, away from the crowds, and soaked in the culture and the ambiance. The restaurant is elegant and sophisticated, yet casual and comfy.  The perfect combo for our family!  I would highly recommend you seek this place out when you are in Reykjavik.
The other traditional seafood restaurant we ate was Messinn, which is again in the heart of Reykjavik.  Messinn is an icelandic seafood restaurant which specializes in fresh fish everyday for lunch and dinner, in a cozy and warm atmosphere.

We arrived at this adorable restaurant, and spent the evening enjoying their traditional 'Fish Pan' dishes of salted cod, plaice and salmon (yes we all LOVE seafood)!  The service was fantastic and the drinks were fantastic. Since there are so many choices to eat in Reykjavik, we were thrilled to find these two amazing spots that were perfect for our hungry family, and the boys gave both places two thumbs up!
The Sun Voyager
This beautiful sculpture of a Viking ship is located by the ocean in the city center of Reykjavik.  Jon Gunnar Arnason created this piece to symbolize the Viking past of Icelanders, and also represents a Viking ship sailing off into the sunset.  From the sculpture you have a lovely view over the sea and the snowcapped mountains.
The Old Harbor
It was lovely to wander around the old harbor, to see quaint ships and restaurants.  This is also where you'd take out boats for whale watching.  The area is filled with excellent seafood restaurants, cafes and galleries.  The atmosphere is fresh, the air is crisp and salty, and there are plenty of interesting activities to check out.
Wander around the City
One of the best ways to experience the beautiful city of Reykjavik is simply to wander around.
We stumbled upon fun artwork on buildings, a punk rock museum, a penis museum, and beautiful sculptures.
It's also the perfect time to try another famous Icelandic food,  the hot dog, or "pylsur."


They are made with lamb and typically served with sweet brown mustard ("pylsusinnep"), ketchup, raw onions, crunchy deep-fried onions.  We tried them, and I'm sad to report, we were not blown away by them.  Sorry, I know this will be unpopular with my Icelandic readers! 🙂
Celebrate New Years in Reykjavik
New Year's Eve in Iceland has gained quite a reputation over the past few years. Countless articles have declared Iceland, especially, Reykjavík, one of the top destinations to ring in the new year.
New Years Eve in Rekjavik, Iceland
We were excited to see what all the fuss was about, and we were blown away (pardon the pun) by this extraordinary experience. Traditionally Icelanders start the evening with a family dinner, followed by a trip to a local bonfire.  Then from about 10pm onwards, locals and tourists alike, gather with their store bought fireworks for the most incredible firework display.  There are no official firework displays in the city, and this night is very much created by the people of Reykjavik who collectively do an amazing job with the pyrotechnics and celebrations.  We only witnessed a few dodgy fireworks that took a sharp left instead of shooting straight into the air (I may have been shot in the butt by a firework that backfired behind us…), but nothing serious.
The church square was a beautiful backdrop to watch the firework display and it was a very memorable way to welcome 2018!
The next morning, we packed our bags and our memories, and prepared for the 8 hour flight back to Los Angeles.
We LOVED our trip to Iceland, and would highly recommend this trip for families and adventure travelers.
{Disclosure: This post is sponsored, however all opinions and views are 100% my own.}