A Safari in Africa is one of those bucket list trips, so you want to be sure you do it right.  But where do you start?  There are so many tour operators, game reserves and articles on the internet, that frankly it can be downright overwhelming.
Traveling to Africa with kids adds a whole other level of planning as you consider when to go, what is the season, what country to visit, where to stay, what's best for kids, health, safety, and cost etc… the list is endless.
We've had this on our bucket list for years, and decided to wait until both boys were above 12 years old.  For us it just seemed to be the magical age of independence, stamina, curiosity and knowledge, and for many tour operators, that's the age they'll take children.
We opted to travel South Africa in August (their winter) for our first safari, as we wanted to spend time exploring Cape Town too.   After much research, we decided it was worth spending extra money to visit a private game reserve.  It's important to understand the difference between a private game reserve and a national park, such as Kruger National Park.
A national park is run by the government and they mainly offer self catering and lower level accommodation. You typically use your own vehicle for game drives, you have to stick to the main roads, and the accommodation is fenced which means you don't have animals roaming throughout the camps.  Also you are not allowed to drive between sunset and sunrise.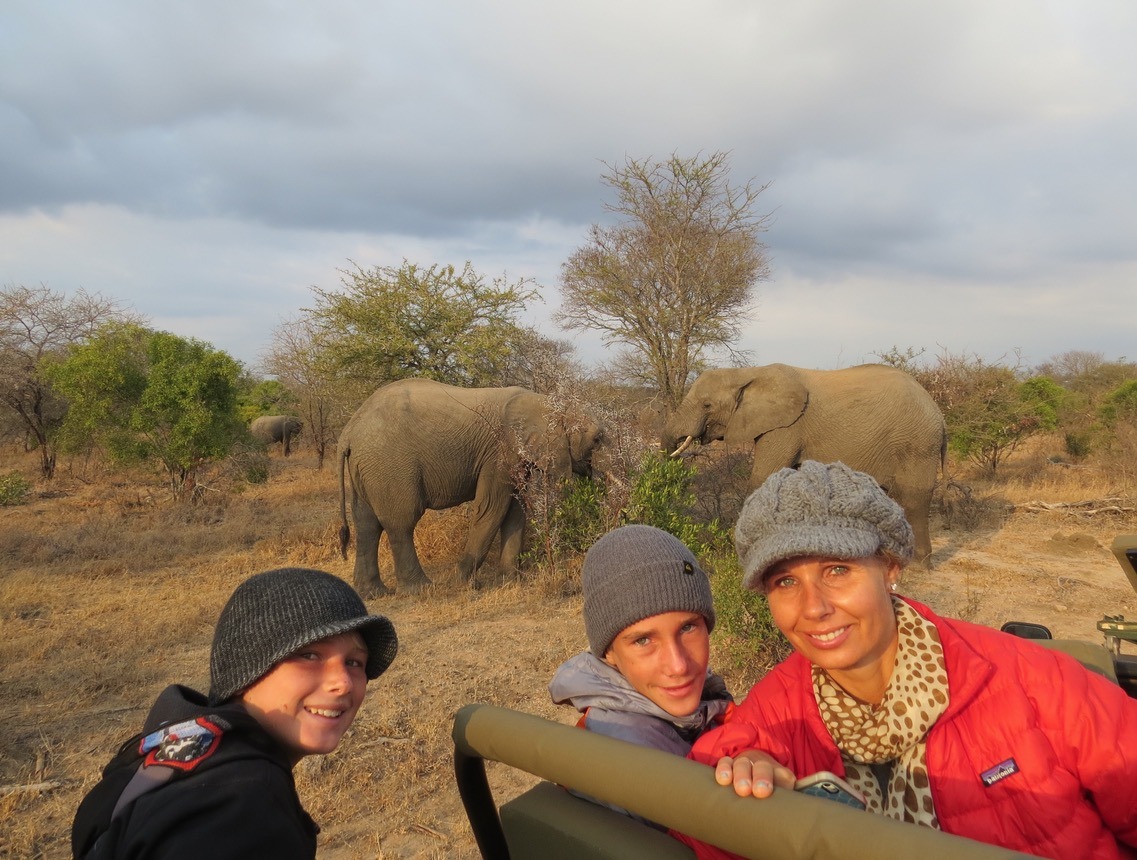 In a private game reserve you are not usually allowed to drive around in your own vehicle, game drives take place twice daily (usually sunrise and sunset when the animals are most active) in an open safari vehicle, with an experienced ranger and tracker. Private camps are typically on a full-board basis with all meals and game drives included.
More importantly, camps within private game reserves are usually not fenced which means the animals can roam freely throughout the property.
Our first stop was GomoGomo lodge after landing at the tiny  Hoedspruit Airport about 45 minutes away.  This is a private and intimate lodge, situated in the Klaserie Private Nature Reserve,  overlooking a watering hole, where amongst other animals we saw elephant, leopard and impala.  We were able to see the 'Big 5' thanks to our extremely knowledgeable ranger and tracker who worked extra hard listening to the radio and communicating with other guides as to where the animals were. Because of this we were able to see lions eating a giraffe kill and even the elusive leopard!
The staff were attentive and the food was amazing. We had a private vehicle for our family each day, so it was lovely to eat with other guests under the stars around the campfire, and share stories of our game drives.
We were woken at 5.30am each morning for our early game drive.  We started the day with coffee and rusks, and it was freezing cold since it's winter in Africa in August!  
This is 6am, and we had to wait for a family of elephants to cross as they were not too thrilled we interrupted their morning tree eating!
This one was getting quite protective of his family and was posturing with us a little. We were safe, and the guides knew exactly what to do. We basically needed to sit out the stand off, not back down, and wait for him to calm down!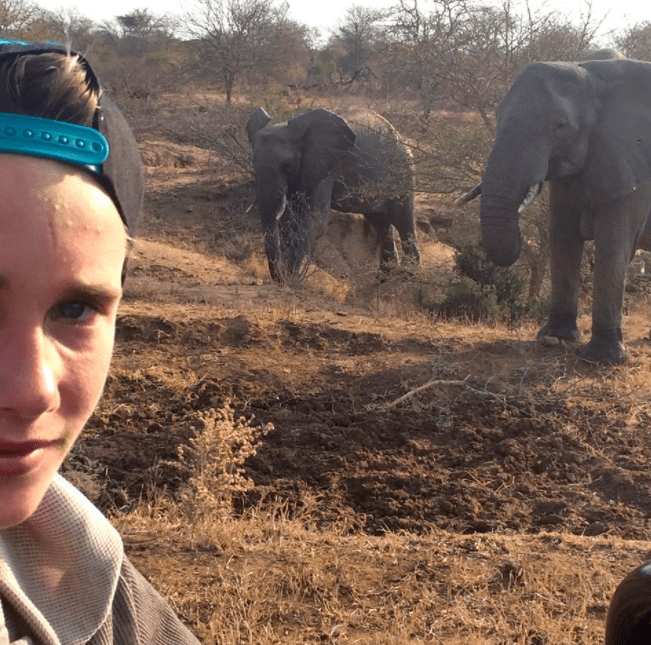 Julian wanted to take a selfie with every animal we saw!
This looks fake, but we were literally four feet from this gorgeous elephant!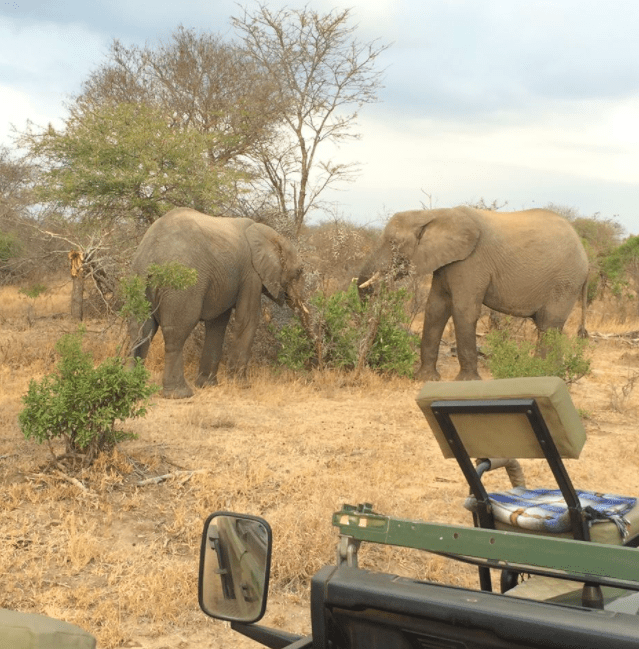 We set up for morning coffee with the giraffes… they didn't bother us one bit!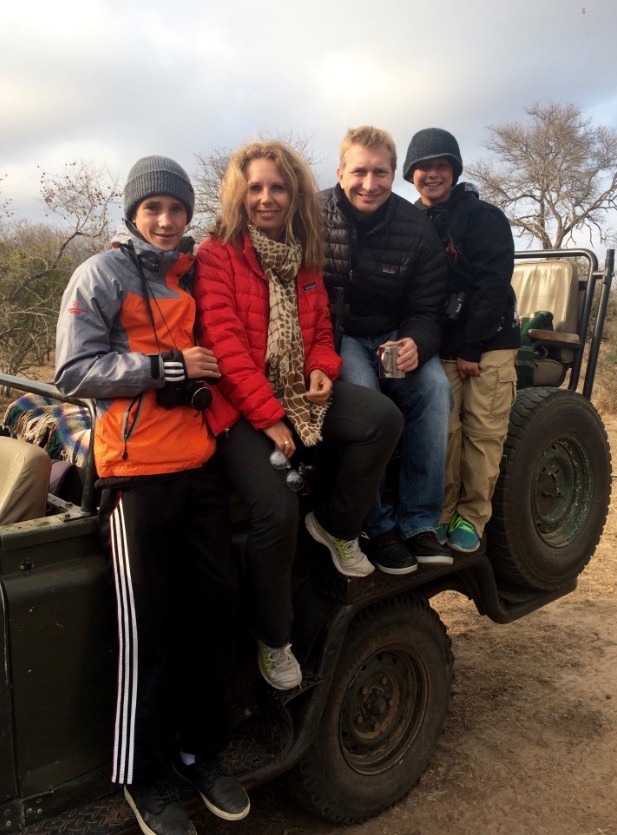 Enjoying a cup of coffee, out of a camp mug, on the front of a jeep, is an experience we will never forget.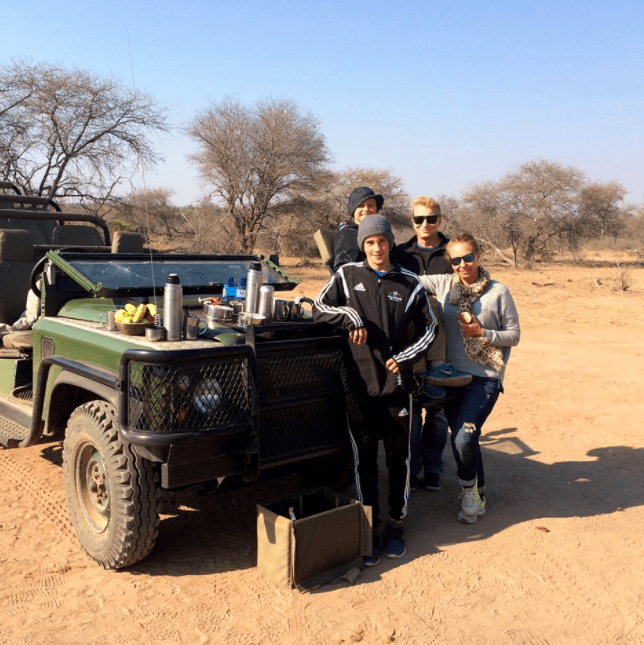 Our lodge was on a watering hole. A crocodile lived in the water, and we'd sit and watch the various animals stop by and take a drink…. avoiding Mr. Crocodile of course!
We were not allowed to post pictures on social media when we saw rhinos, as there's a huge problem with poachers.  They follow GPS posts on social media from  tourists in the parks, to locate and hurt rhinos. Poaching beautiful endangered animals completely disgusts me, even more having spent time up close and personal with them in their home.
How could anyone want to harm these majestic animals!?!?!
The Timbavati Game Reserve is on the north of the Sabi-Sands Private Game Reserve on the western edge of Kruger National Park, and is known for it's famous white lions.  This was our second stop.
Again we were fortunate to see all of the 'Big Five'.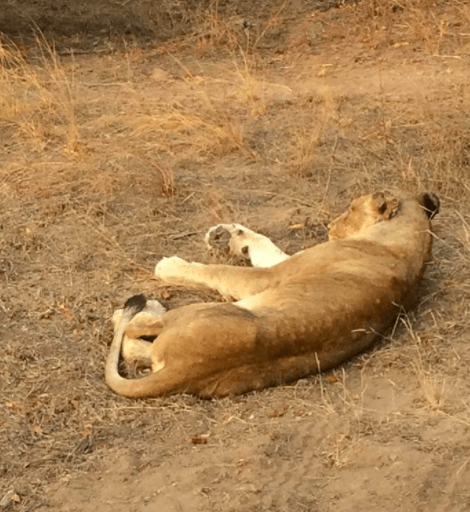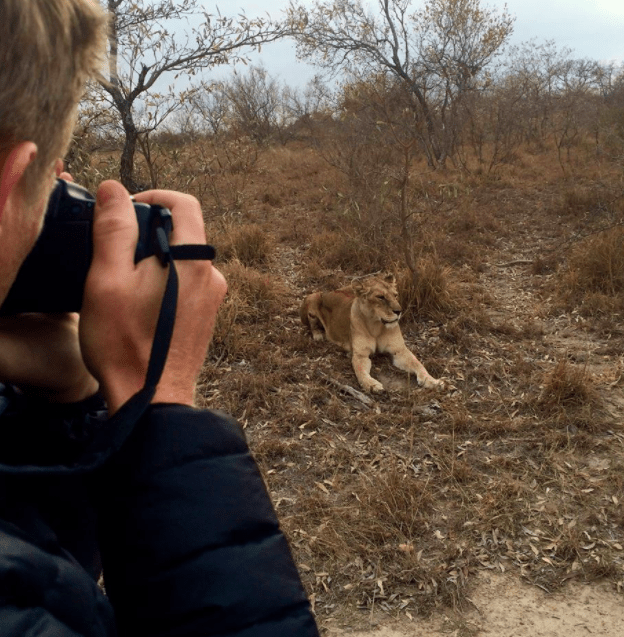 During evening game drives, 'sundowners' were served. We basically stopped for a happy hour and light snack, and often would meet other vehicles to share stories and sightings!
We tracked this leopard for ages, and finally when we found him, he practically jumped into the vehicle with us!
Not gonna lie, I was very very nervous being feet away from lions in an open vehicle. The sounds and smells are incredible, and when he turns his gaze on you and narrows his eyes, it's a little unnerving.
Our ranger assured us that he can read the animals, and knows when they are too unhappy to have us around…. We were literally five feet away.  This family of lions were all protecting their giraffe kill. They would chase away the lurking hyenas who got too close.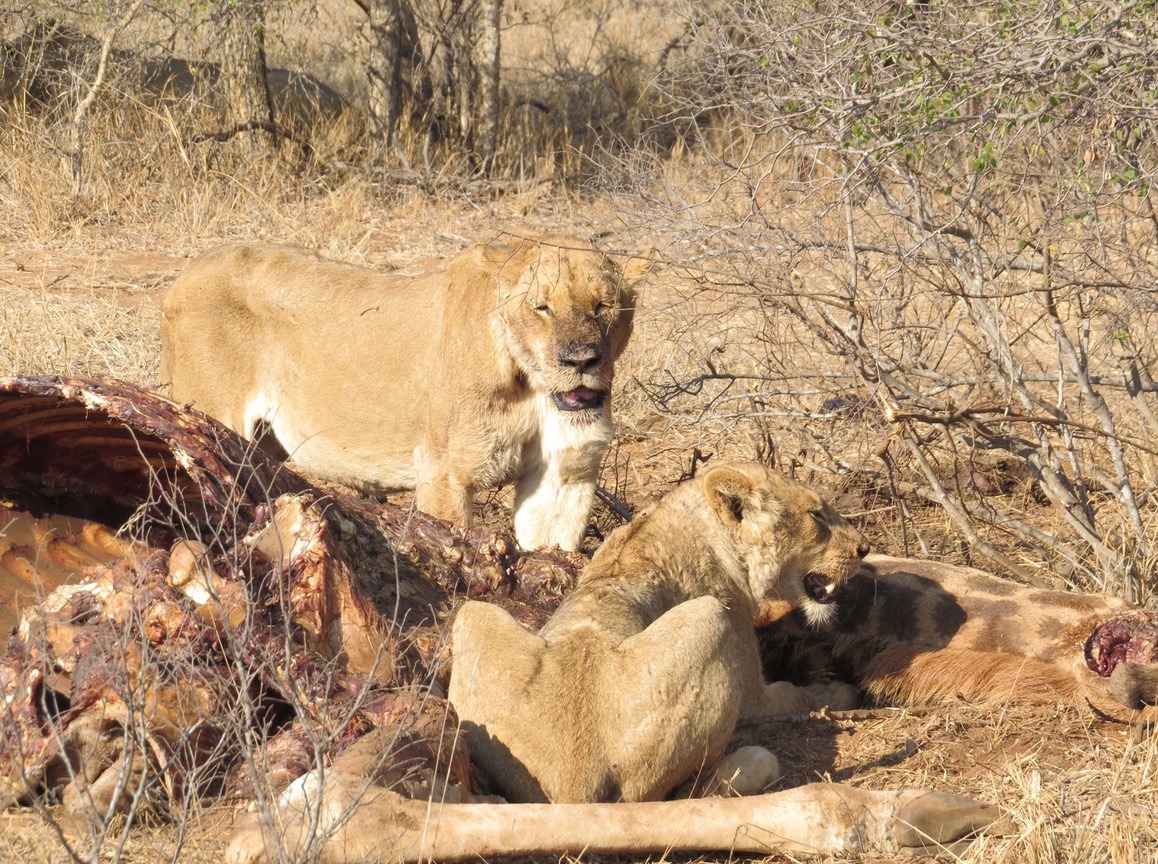 The lions made a kill, and we were able to see them eat their poor giraffe. It seems so barbaric, but it's amazing to see the circle of life. The lions kill the giraffe, the hyenas are circling waiting for the lions to finish, the hyenas eat the bones, and the vultures are flying around waiting to finish up anything that's left. It's incredible to see this with your own eyes, smell the meat, hear the teeth of the lions chewing on bones etc… pictures can never do this experience justice.
It's pretty rare to see a hippo out of water, and we were fortunate to see one… although he wouldn't turn around and say cheese for the camera!
Zebra Crossing! haha…. we had fun with this joke the whole time! 
Julian was stoked to be able to spend some time in the tracker seat at the front of the vehicle! He didn't find many animals, but had a great time trying!
Our ranger was fantastic with the boys, and completely made our experience as special as he could!
Look out, Momma's taken control of the safari! It was so much fun driving the Landrover, although once we saw animals, I quickly moved over and let our ranger navigate us through the pack!
We enjoyed incredible sunrises and sunsets each day.
One morning we ran into a pack of hyenas. Their teeth up close were huge, and despite looking cute and cuddly, our ranger said they'd eat us down to the bone in 5 minutes!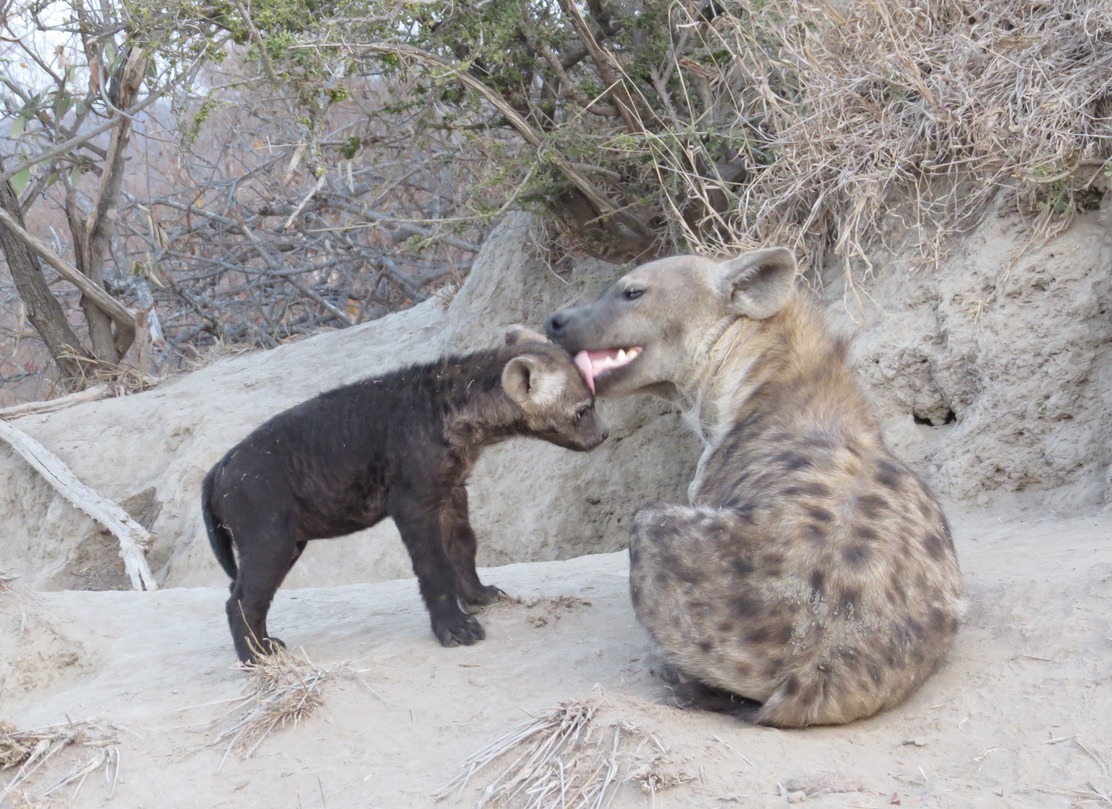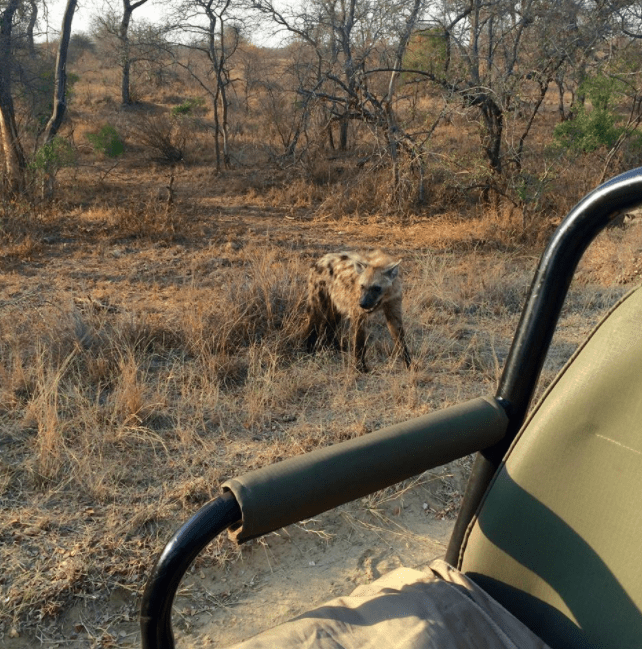 We were never bothered any time by the animals, and they are quite used to game vehicles and just seem to mind their own business as long as we don't bother them!
After the most amazing adventure exploring the bush, it was time to say goodbye, pack and head to our next adventure.
After spending a week trying to spot the very elusive and rare white lion, we were so incredibly excited to see one on our way out of the camp!  I mean, can you believe our luck??   There are only believed to be about 300 left in the world, and these cubs were born in 2014.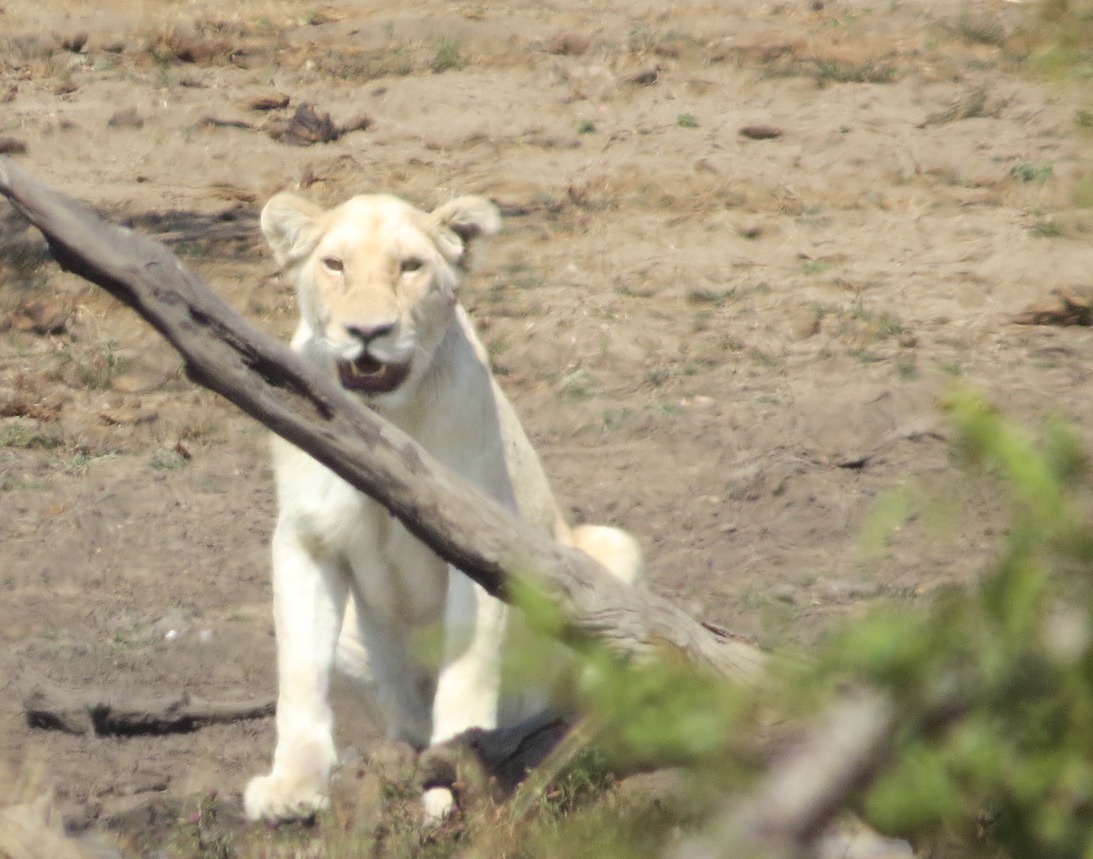 We headed to the little airport, our hearts filled with magical adventures, and walked the 'security line' onto the tiny air strip to catch the flight to Cape Town!
Has an African safari been on your family bucket list?  We absolutely loved our magical trip and we're already planning our next one.  What country in Africa should we visit next?  Any tips?