Xian is a great place to spend a weekend.  It's only 4.5 hours by train from Beijing or a short 1 hour flight. Xi'an is located in north central China, and is on many lists as a 'Must Visit' city in China.  We travelled with medical grade masks and absolutely needed them in Xi'an, as the air quality is very poor.  Xi'an is also known for dust storms in the spring and early summer.

1. Bicycle On The Xian City Wall
The Xi'an City Wall is one of the oldest, largest, and best preserved city walls in China, and was built more than 600 years ago in the Ming Dynasty.
It's quite impressive and measures about 14 kilometers around, 12 meters high and was built with earth, quicklime, and glutinous rice extract.  The walls were once built to protect the city and the Ming dynasty emperor and they have excellent views of the surrounding areas.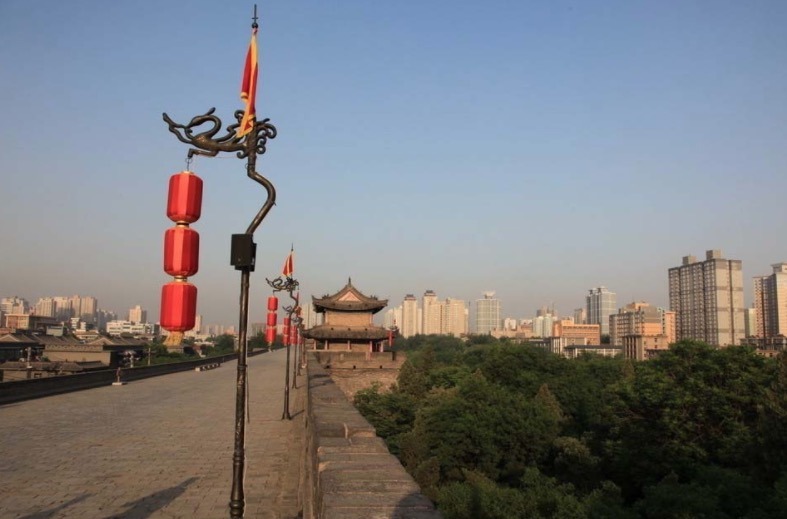 The best way to see the wall is by bike.  We rented bikes at one of the four towers, and were allowed to cycle on the wall, which is about 15 meters wide.  It was amazing to view the city from this angle and we saw the very distinct areas of Xi'an from the past filled with lavish pagodas, and the high-rise modern buildings of the present and future.
It is highly recommended to wear protective face masks, as the air quality in Xi'an is very poor.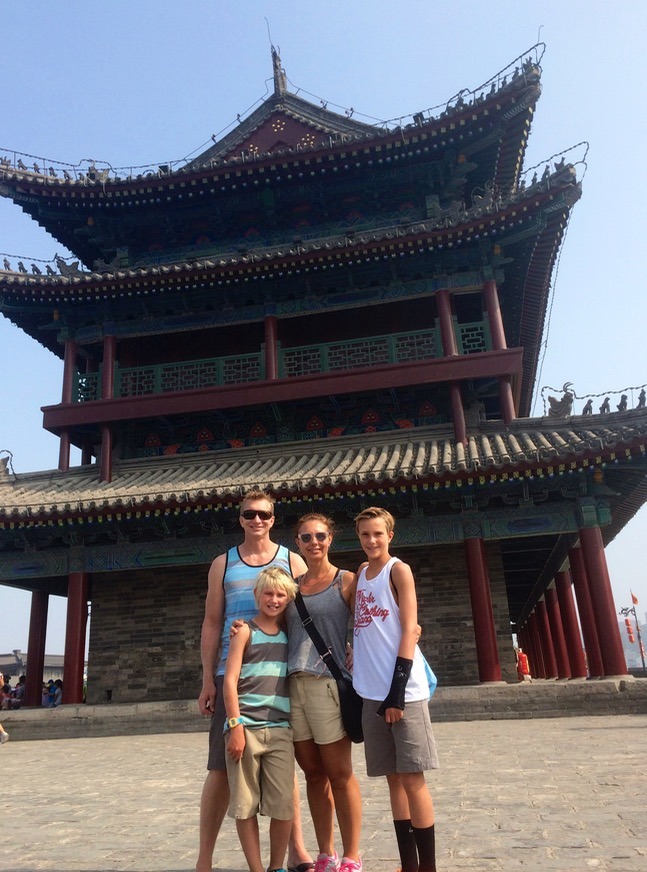 2. Visit The Terracotta Warriors Museum
The morning is the best time to visit the Terracotta Warriors Museum, and it takes about an hour by car from the city of Xi'an to reach.
We were there in August, and it was over 100 degrees and incredibly hot at 10am, so it was even more important to visit in the morning while it was still somewhat cool.
 The Terracotta Warriors were discovered by a group of Shaanxi farmers from the local Yang in 1974 while digging a well.
This UNESCO World Heritage site has more than 8,000 terracotta warriors, horses, and around 10,000 bronze weapons.  Archaeologists are using digital scanning techniques to help the excavation in Xi'an, and continue to unearth new pieces.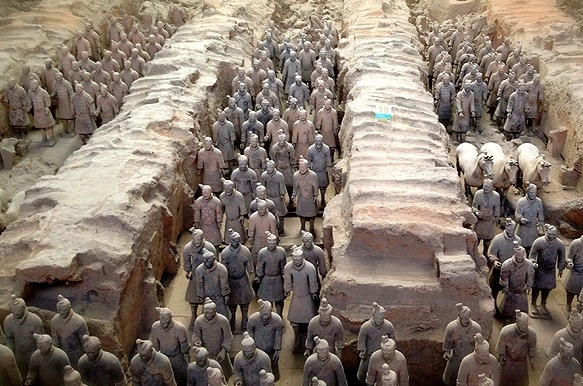 The army stands in three exhibition pits, and what is particularly fascinating is that each warrior was individually designed and has different facial characteristics.  They also vary in height according to their roles, with the tallest being the generals.
3. Sample Xian Cuisine
Being near the central part of China, Xi'an is a mecca for many of the great Chinese cuisines, and restaurants in Xi'an range from Cantonese to spicy Sichuan styles.

Dumplings, noodles, lamb kebabs and spicy sichuan bean dishes were some of our favorites.
4. Visit The Big Wild Goose Pagoda
The Big Wild Goose Pagoda is the most symbolic structure in Xi'an and is worth an afternoon visit.
The top of the pagoda provides a great view of the whole old town. The Pagoda was really beautiful and sat on peaceful grounds filled with interesting people.
The 110,000-square-meter plaza at the foot of the pagoda is where locals go for free public entertainment such as Tai Chi and chess. Elderly and young Xi'anese practice calligraphy with oversize brushes during the summer evenings.
5. Learn Chinese Calligraphy
We took a calligraphy class to learn the art of Chinese painting and shared a lesson in basic calligraphy.
It was good fun trying to write in Chinese and this was another aspect of chinese culture we found ourselves fascinated by. The demonstrations were interesting for us all and we enjoyed the different exhibits of calligraphy works from renowned Chinese figures.
Have you ever visited Xi'an or planning to visit?  Leave a comment below to let me know what you thought.