Cambodia…what an incredible place.  Filled with the most amazing people, rich culture and beautiful cities.  We were originally going to fly from Phnom Penh to Siem Reap, but we wanted to see more of Cambodia and decided to drive instead, and we are so grateful we did. Click here to read about that drive.  We saw parts of Cambodia we would have never seen from a plane.  We passed through flooded rice paddies, houses standing precariously on stilts, and insect markets.
After an 8 hour journey, we pulled into Siem Reap.  Siem Reap is a  fascinating blend of beauty and culture, yet it's still clear you are in a third world country when you see the potted dirt roads, dust, non-existent sidewalks, and regular power outages.  Siem Reap receives millions of visitors each year and is the home to one of the most amazing wonders of the world: Angkor Wat.
1. See The Sunrise At Angkor Wat
Angkor Wat is the largest and most well-known of all Angkor temples. It's on every traveler's bucket list and is so special it's even featured on Cambodia's flag!


We woke at sunrise and took a tuk tuk to the temple.  No words can describe the beauty of Angkor Wat, its like going back in time.  There is a LOT of walking and climbing  involved to explore the temples completely, but it is so worth it.
Our local guide explained the history and various carvings in the stonework, and it was incredibly helpful as we wandered around the different temples.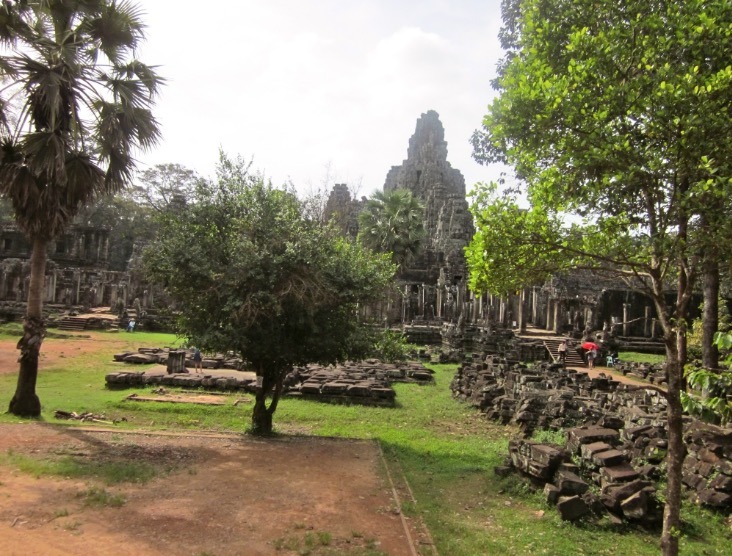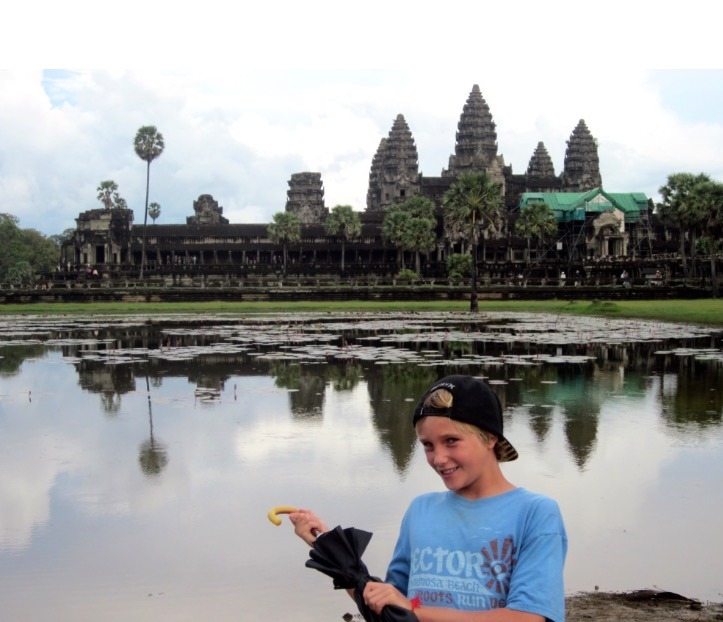 It's important to remember to bring plenty of water and a hat.  For the last climb to the very top temple (the steepest, but a must-do for the views), there is a long line as only a limited number of people are allowed up at one time.

You also need to wear clothing that covers your shoulders, and skirts and shorts must reach the knees, otherwise you may be refused entry.
Along with tourists, the temple is filled with wild monkeys roaming around the ruins and many monks on spiritual retreats.

2. Find Ta Prohm (The Tomb Raider Temple)
The Tomb Raider Temple or Ta Prohm is located close to the main Angkor Wat temples.

To find Ta Prohm, you must wander through narrow uneven walkways and over tree roots.  It can get crowded so it's better to visit earlier in the day, and I'd definitely recommend you use a local guide.
It was built in the Khmer style in 1187 AD, and what is amazing about this temple complex, is seeing the jungle completely growing into the temple.  Huge trees have invaded the temple and are sucking it down into the jungle.  It's an amazing sight.

Ta Prohm was made famous by the popular movie 'Tomb Raider'. It's amazing to see the power of nature!
3. View Angkor Thom By Elephant
Taking an elephant around the temples is a great way get a different view of the temples.
The elephant has served many kings and queens when traveling to and from the temples, and they even helped construct the temples.
The boys loved every minute.  The view from up high was incredible, we saw lots of monkeys, and to their delight, they were even able to spot humping monkeys!  😉
4. Find The Terrace Of Elephants
The Terrace of the elephants is located in the Royal Square of Angkor Thom.
It was used as a giant viewing stand for public ceremonies and served as a base for the king's grand audience hall.  As the name suggests, The Terrace of the Elephants is carved with lots of beautiful elephants.
5. Hop on a Tuk-Tuk
Wherever you go in Siem Reap, tuk tuks will be waiting for you. Open air, noisy, exciting and a little scary, however if you need to take a short trip anywhere you must take a tuk tuk! Don't worry about getting lost, the tuk tuk drivers know the roads inside and out!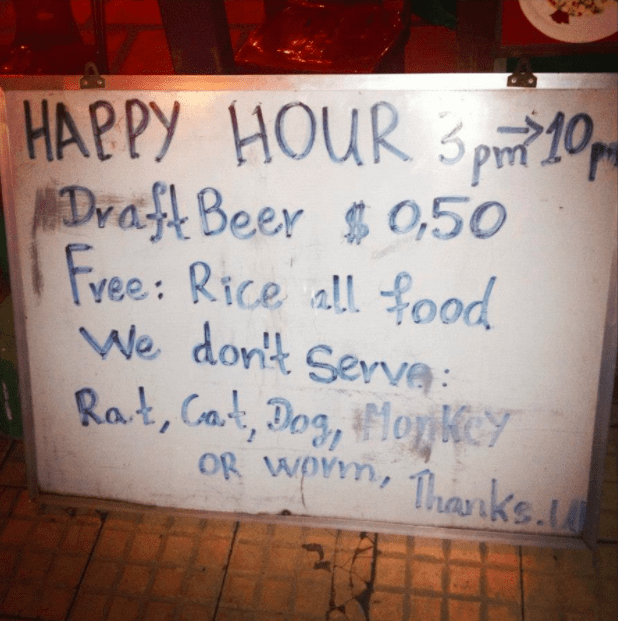 6. Haggle At The Angkor Night Market
The Angkor night market is an area filled with stalls, handicrafts, fake watches, local food, pubs and Cambodian souvenirs.  This is THE place to shop for all souvenirs, but remember to haggle.
We decided to get a family massage, the boys were giddy as it was their first ever massage.  Since it was $3 per person which included a beer (score! Hot Hubby and I drank theirs too!) we figured it was worth the splurge.

7. Cambodia: Find A Way To Give Back
There were countless times we wanted to cry during the time we were in Cambodia.  The poverty is truly heartbreaking.  One of our most special experiences was taking a tuk tuk out to an orphanage school that is operated by one of our friends.
Many orphanages in Cambodia are tourist traps and money-makers, swindling well-meaning tourists, so it's important to do your research before you go.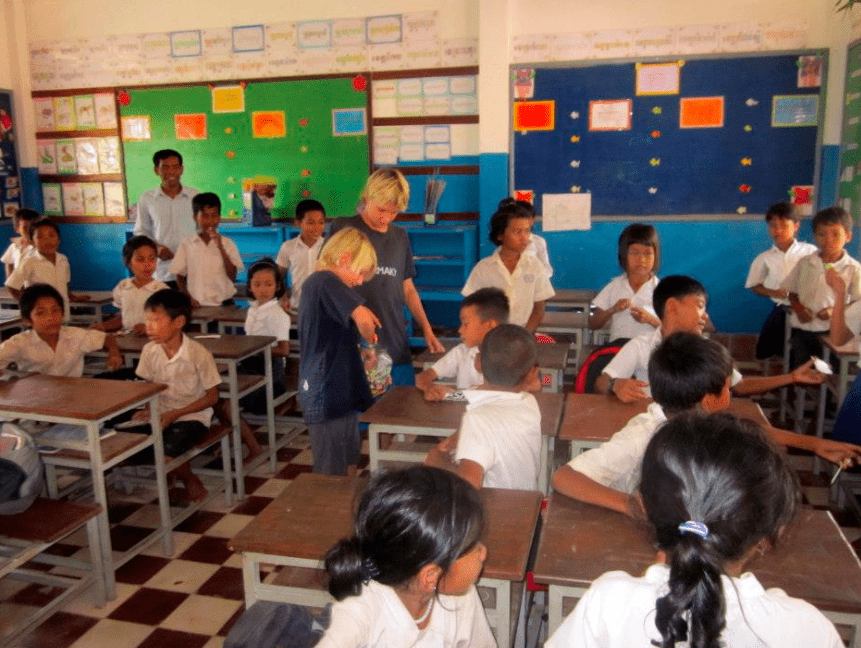 We were fortunate to spend an afternoon with these gorgeous children at their orphanage school and we sat in classes, taught them English, and fed them lunch.  It was pure luck my children were born into a wealthy western country, and it is important to us they realize that.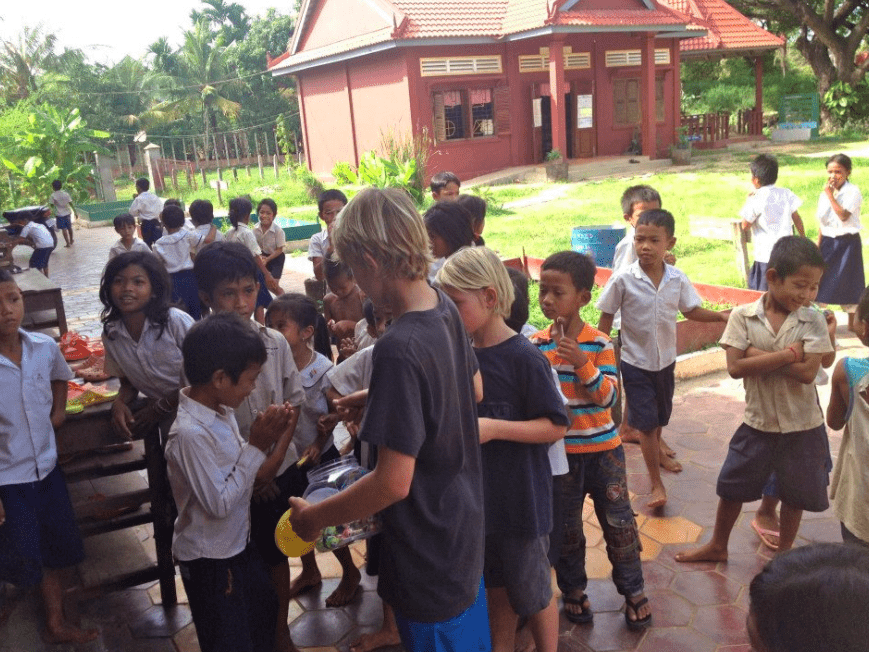 All children and people matter, regardless of where they live.  These children are in need of educational tools and other material items, but most of all they are in need of care, smiles, friendship and compassion.  This was truly one of the best days ever for our family.
Have you ever been to Angkor Wat?  What was your favorite part?