Spoiler alert… marriage is hard.  Very hard. Hot Hubby and I celebrate 20 years of marriage this month. TWENTY FREAKING YEARS! Which is kind of a big deal, especially in this day and age. 
We began reflecting on our journey of dating, pregnancies (mine not his), raising kids, travel, breast cancer, job stress, buying homes, starting companies, failing companies, death… not to mention the energy it takes to raise children, and we realized 20 years of marriage felt like a huge milestone that most definitely needed celebrating.
It's never a 'good' time to get away without the boys, and there's always a reason 'not' to leave real life, but it's also really really good for the soul.  We spent 36 hours together. Without kids. In a hotel.  Solo. No little humans in our room. Did I mention the without kids part?
We realized after years of focusing all our energy almost exclusively on the needs of two small humans, we forgot what life is like on the other side.
I would longingly gaze at those gorgeous couples sipping cocktails outside a hip bar at 4pm in the afternoon (they ALWAYS have great hair, skin and clothes), and try to remember what it felt like to be 'those people.'  So we decided to be 'those people.'  Sure, date night is great, but more often than not it ends at 9:30pm, with both of us falling asleep on the couch, physically and mentally exhausted, or getting caught up in something super sexy like debating the extra charges on the most recent phone bill or checking to see if a new dentist is on our health plan.
Living in Los Angeles, we have fantastic options, and we decided to visit our ultimate favorite place.  Terranea Resort is a gem hidden just outside the busy LA area, nestled on the cliffs of Palos Verdes overlooking the Pacific Ocean.
We chose Terranea for a few reasons:
We didn't want to waste valuable time traveling (It's only twenty minutes from Hermosa Beach).
We have visited many times and have ALWAYS had the most relaxing time.  They treat you like royalty from the moment you arrive, when your car is whisked away and you are sipping your champagne greeting.
It feels as though you are in Kauai (honestly, you are so isolated on this gorgeous clifftop).  It's hard not to be relaxed amongst the hiking trails, patios, and fire pits on the sprawling grounds.  And there is always a spectacular view of the ocean, cliffs, sea creatures, ships, and Catalina Island.
We wanted to be near (ish) to home… just in case.
We arrived with huge smiles and a small overnight bag.  We were immediately greeted with chilled champagne, and given keys to our ocean view room.  It would have been weird if I hugged the guy, but I really wanted to hug him when he opened the door to our pristine white sanctuary for the next 36 hours, the breeze wafted by, and we had the most amazing view of the Pacific Ocean.
We could sit on our patio and watch the ships, planes, birds, rabbits, dolphins and whales go by.
We were both hungry, and after slipping into bathing suits, we stopped at Catalina Kitchen for a delicious lunch.  We sat on the patio with our chilled wine, overlooking the ocean and the cliffs, and we soaked in the moment.

After lunch we decide to set up camp at Cielo Point, which is the adult only pool.  We love darling, squealing, splashing children… honestly we really do… except when we don't have ours! 🙂   We spent an afternoon laying in a couple's pool bed, shaded by umbrellas, looking out over the ocean, enjoying the breeze, sipping cocktails. After a couple of hours relaxing in 80 degree sunshine, we headed back to our room and opened a cold bottle of champagne, to take care of some work.  (For the record, I'd prefer my working conditions to always have an ice-cold bottle of fine champagne on-hand!)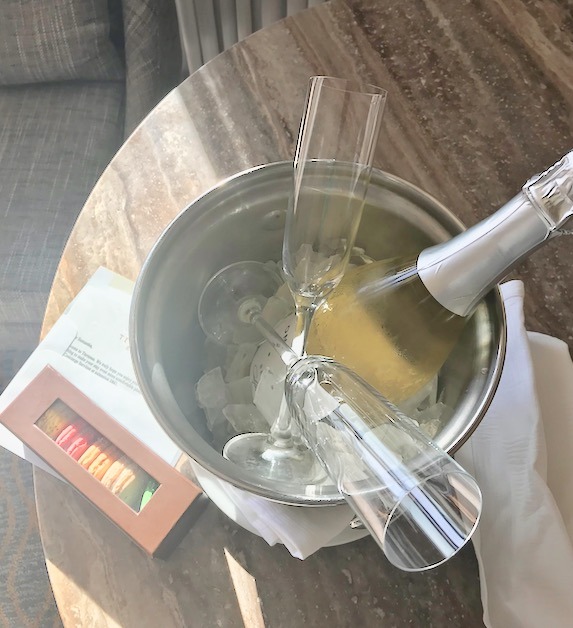 For dinner we decided to eat at Bashi, and enjoy sushi, korean food, and delicious cocktails (note the theme here!)  The food was delicious and the cocktails were even better.  We talked, joked, laughed, and then I remembered… Hot Hubby is really funny… and handsome… and interesting.  And it's so weird, he became more funny the more cocktails we shared!
I wish I could write about how we drank into the night, went dancing, and stayed up until 2am contemplating life.  However, in the spirit of honesty, we headed back to our room shortly after dinner. I took a bath, Hot Hubby watched the Champions League soccer game, and we enjoyed the solitude. I caught up on emails, and we drank a peaty scotch on the rocks.  And it was perfect.
The next morning, after phoning the boys to make sure they were still breathing and planning to go to school,  we took a beautiful hike around the property, worked for a couple of hours, ate a lovely breakfast, and prepared to check out.  Alas, we had to head back to reality.
Terranea has always been a fantastic getaway for us, and it is the PERFECT getaway or 'staycation' from the Los Angeles madness.
Reflecting on our 36 hours away, here's what we discovered:
I'm a fun person. I really am. When I'm not telling people to 'hurry up and get your shoes on', or around smelly farting boys testing my every last nerve, bickering about the nutritional value of a cheese stick… I'm really really fun!
We have things to talk about other than the boys. Of course we spent a fair amount of time discussing them, but we were able to move onto other topics and talk about other things. Instead of exchanging short, sharp instructions, via a to-do list for each child, with the precision and detail of a small military operation, we  focused on each other, and we actually enjoyed it.
Hot Hubby and I like each other.  It was wonderful, I'm not gonna lie. Just being together, and remembering who we are together, and feeling like we're on the same team again.
I like myself a little more when I'm not parenting.  I'm just a bit more enjoyable to be around when I'm not constantly telling someone to stop fighting, asking if that's 'tattling' or 'telling', or trying not to stab myself in the eyes as I take a deep breath and calmly explain why it's important we brush our teeth every morning for about the 6000th freaking time!
Did we miss the boys? Of course we did!  They're adorable, and hilarious, and fun to be around. But we were fine, and so were they. They are the best things that ever happened to us, and I couldn't wait to get home and see their sweet dirty faces, and dirty teeth from not brushing properly (again!)
Our marriage has not always been easy.  That's the truth.  And although our marriage is far from perfect, Hot Hubby and I are still married (at least at the time of publishing this 😉 )  Who knows what the future will hold.  I hope we can be an example not of a perfect marriage, but of a couple who values our vows, and puts in the the work through sickness and in health, for better or for worse.
Cheers to the next 20 years!
{Disclosure: This post is sponsored, however all opinions and views are 100% my own.}