We recently spent 7 days on Oahu, Hawaii  (Or do I say "in" Oahu? The whole island thing is complicated!)  Oahu is part of the Hawaiian island chain, and home to the capital, Honolulu. Consequently with that comes lots of traffic, congestion, parking difficulties, lots of people and lots of sky-rise apartments and hotels.  Regardless, we found many cool and amazing spots, and many were off the beaten path.  Below are our best parts of Oahu, that are not necessarily on the tourist activity lists.
Eat from a Shrimp Truck
There are TONS of delicious food trucks on the side of the road leading to the North Shore to stop for food.  One of the more famous trucks is  Giovanni's Shrimp Truck. The shrimp industry is booming, and you can even visit shrimp farms.  We ordered the classic garlic and butter shrimp which consists of a dozen shrimp marinated in butter and fresh chopped garlic, and served with salad and rice drizzled with garlic butter. It was incredible!  The food trucks add to the charm and laid-back vibe of this part of Oahu.
Stay at Turtle Bay
We drove along the North Shore to Turtle Bay Resort, where we spent a couple of days.
Turtle Bay Resort was beautiful and had every amenity and comfort we could ask for!  Our peaceful room overlooked the ocean on the very tip of the island, and we enjoyed panoramic views. It was the perfect spot to sit with morning coffee, work though emails, and enjoy the solitude.
It's a far cry from Waikiki.  We snorkeled, surfed, ate by the pool and enjoyed the amazing on-site restaurants and peaceful surroundings.  It was lovely to escape the touristy stuff of Waikiki.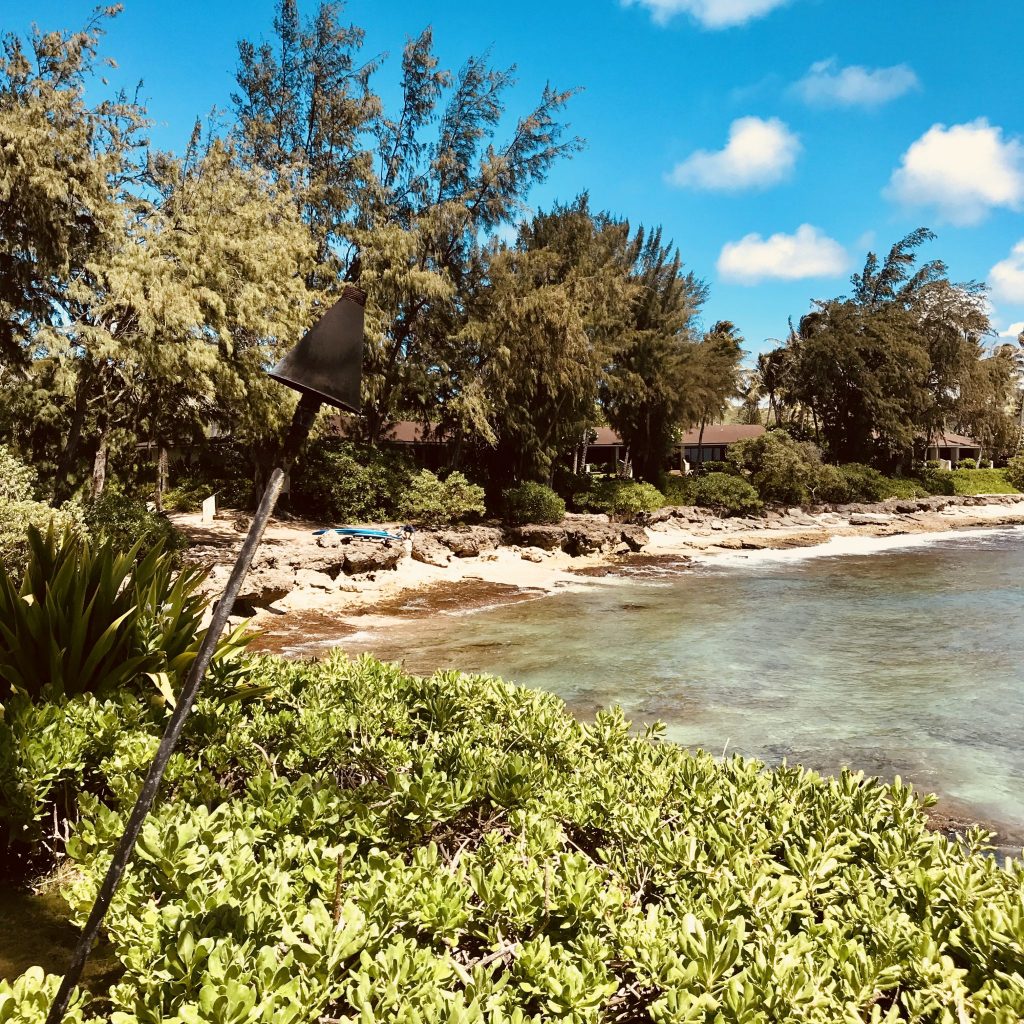 Drive along the North Shore
On our way to Turtle Bay Resort, we stopped to visit the famous North Shore beaches; Sunset Beach, Pipeline, and Waimea Bay.
Sebastian was on the quest for surf, however the waves during summer are less than ideal.  We didn't get to witness the epic waves you see in contests, so we settled for amazing sunsets, beaches, delicious food trucks, and quaint art galleries scattered along the North Shore.
Eat Matsumoto's shave ice
Shave ice is a popular dessert in Hawaii and it's pretty self explanatory.
It's made by shaving a block of ice into a bowl, and adding various flavored syrups that soaks into the ice.  We ate it most days and were on a quest to find the best shave ice on Oahu.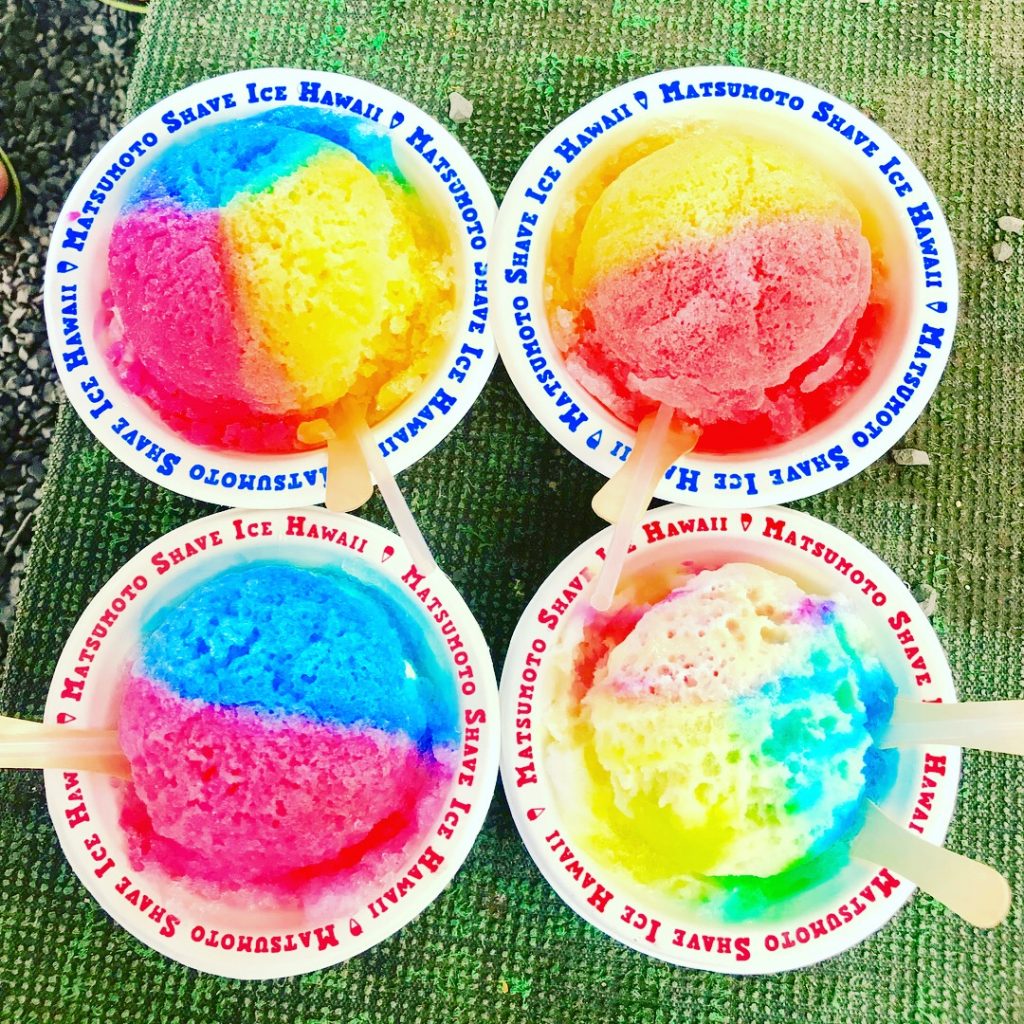 You can also add ice-cream or a "snow-cap' which is condensed milk drizzled over the top.  Soooo many people recommended we visit  Matsumoto , so we pulled into the town of Haleiwa to check it out. 
The line was insane, and while we didn't want to wait, we decided to suck it up to see what all of the fuss was about.  Verdict from Julian:  "This is the BEST shave ice I have ever tasted… it's epic!"
Visit Waikiki Beach
Eat Poke
Poke is very popular in Hawaii and for good reason: it's healthy, delicious and totally unique from place to place.  This cubed fish is eaten raw in a tasty sauce, or over a bowl of sushi rice.  Poke is quite trendy right now, and there are many variations (poke with pineapple and teriyaki sauce anyone!?!?) but I'd recommend starting with a classic version such as spicy tuna Poke or shoyu ahi (Poke with soy sauce) and serving it over a hot brown rice bowl with seaweed.
Hike Diamond Head
Diamond Head crater was created 300,000 years ago during a volcanic eruption.
The ash settled and today, Diamond Head State Monument is one of Oahu's most scenic hiking trails.  We made the mistake of walking from our hotel in Waikiki around the crater and up to the beginning of the trail at the crater floor.  And it was a loooooong and hot walk.   Many people drive to the crater floor and begin the 760 foot (almost straight uphill) hike from there to the top. 
We're all pretty fit and it took us about 45 minutes to hike to the top from the crater floor, and 30 minutes to hike back down.  We certainly earned our Mai Tai's that day!
Lanikai Beach
Lanikai Beach is consistently rated the best beach in Oahu. 
It's fairly easy to find on the East coast, but the challenging part is finding a place to park.  After we found our (slightly illegal) parking spot, we found a beach entrance nestled in between two houses and stepped onto the most beautiful beach we have ever seen. 
We were surrounded by miles of calm aqua blue water, and spent an afternoon feasting on the incredible scenery.
Drive around the island of Oahu
Living in California, we are fortunate to get plenty of beach time.  Since we were based in Waikiki Beach for this trip, we decided to drive around the island to check out the scenery. 
The drive is breathtaking and once you leave the city of Honolulu the traffic thins out.  It was such a pretty drive, and we all enjoyed the air-conditioning of the car since the temperatures outside were hot hot hot!
You'll notice I didn't put Pearl Harbor, the Dole Pineapple Plantation or Luau on this list… all good places to visit, but not what we were looking for in this vacation.  What are your favorite things to do in Oahu?
{Disclosure: This post is sponsored, however all opinions and views are 100% my own.}