Machu Picchu is one of the wonders of the world on every traveler's bucket list.  We found Peru truly magical, and regardless of whether or not you are a spiritual person, you will absolutely feel the magical energy and spirituality when sitting at the top. 
This quintessential city in the clouds was simply magnificent. We've all seen pictures on travel brochures and TV, but, as with so many wonders of the world, nothing can quite prepare you for being there in person. 
Here are 5 tips to consider when visiting Peru with children.
Allow time to acclimate to the altitude
Spend at least two days in Cusco to acclimate to the altitude before heading up to Aqua Caliente to visit Machu Picchu. When we arrived at 11,152 feet, we felt dreadful and light-headed for a good two days. 
We moved very very slowly around the steep city, trying to hydrate with water and coca tea to acclimate to the altitude.   The best option is to rest, hydrate, avoid alcohol and eat lightly. This can be tricky with children in tow,  but it can really make or break your holiday. Coca leaves are used to produce coca tea and are the most common way of consuming coca among tourists in Peru.
It's completely legal (unlike cocaine) and is believed to help prevent altitude sickness.
Bring small gifts to share with the local children  
One of the most heartwarming parts of traveling the world is seeing our children interact with local children from other countries.
They are easily able to overcome the language barrier, and regardless of social class, for that moment it's just a bunch of kids kicking a soccer ball, laughing at a joke, or sharing a lollipop. 
When we visited Peru, the 'silly bandz' craze was just hitting the US, and Julian filled his arm with silly bandz, and slowly introduced them to Peru, one kid at a time… they were a huge hit!  Surf and skate stickers always travel with us to hand out to young kids who will love them.
Enjoy the Llamas.   
Llamas are synonymous with Peruvian culture and we found them everywhere. 
Llamas are social animals and had no problems mingling with humans, although they spit when they are agitated or afraid, so look out for that!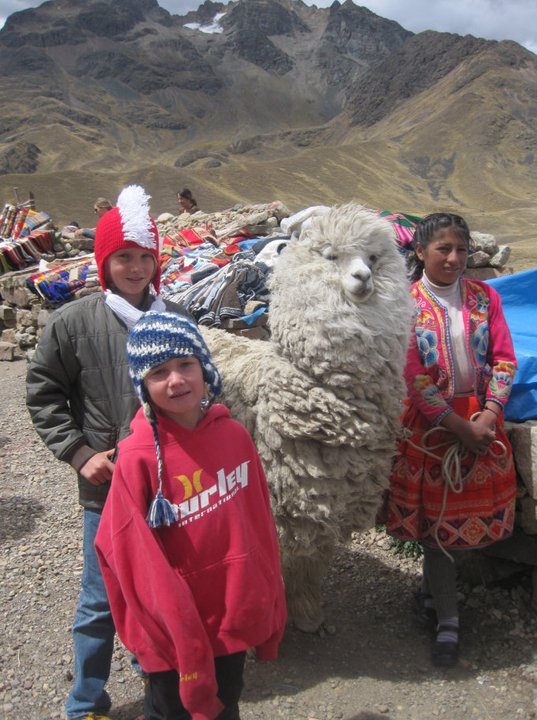 Take the train to Machu Picchu
While hiking the Inca Trail is on the bucket list of many travelers (and ours for that matter), we needed to be realistic about our situation. 
The most popular treks are 4 days or 2 days, and we decided that even the two-day hike would be too strenuous for the boys, (even if Dad is a sherpa and carries one on his back)!  We'll just have to go back another time to hike the Inca Trail.   We took the Peru Rail train from Cusco to Agua Caliente.  We then hopped on a bus to drive a hairpin bend road up to the entrance of the magical Inca site.
Soak it all in
Take a deep breath, soak in this amazing wonder of the world, and try and etch this moment into your mind forever.
There are no words to describe the sights, smells, and sounds when you finally reach the peak of Machu Picchu.  We were able to climb around all parts of the ruins, which surprised me.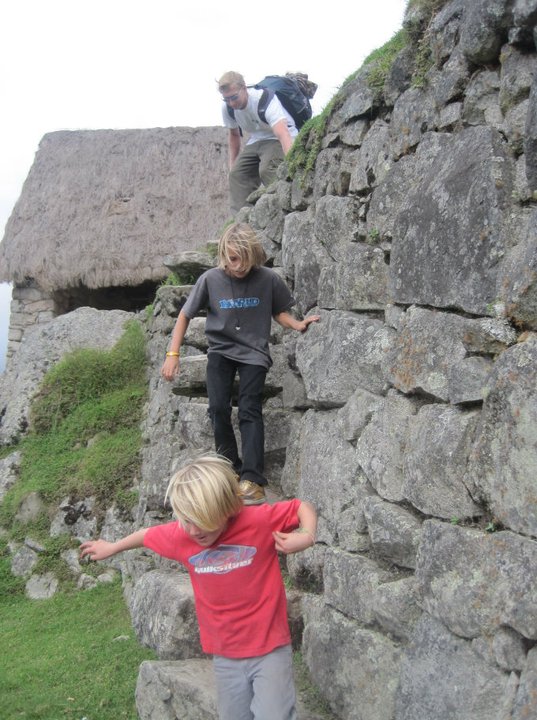 We spent the night in Aqua Caliente, at the Inketerra Hotel, and at 3 pm when most tour groups left to catch the train back to Cusco, we had the whole place to ourselves.
Is Machu Picchu on your travel list?  If so I'd suggest going sooner rather than later.  The Peruvian government is worried about its sustainability and pressure from Unesco have prompted them to introduce restrictions.  These include only allowing entry with an official tour guide, not allowing people to climb around the ruins, and limiting tourists to two entry periods during the day and enforcing the departure.
Have you been to Machu Picchu?  What was your favorite memory?