We travel on airlines often.  Hot Hubby is an American Airline Million Miler, and I'm pretty darn close myself.  In fact during Sebastian's second year of life we lived in Dublin for a year, and he flew 100,000 miles in one year!  However, airline travel with kids requires massive preparation and is rife with potential hiccups and worries.  Here are 9 airline travel tips to help you prepare, and reduce stress.  Because this can be stressful…believe me, I know!
Travel early in the day or late in the evening
The best chance of avoiding delays at takeoff and landing is to fly first thing in the morning.  There are fewer crowds, flights are often less expensive, and security lines can be shorter.  Depending on flight time and the time zone where you'll land, should determine the time you try to depart.  We also favor late evening flights.  At night everyone is tired and just wants to sleep, even the kids.  Our preference is to take long haul flights departing in the evening if possible.  That way we can hopefully kill at least 8 hours with take-off, a meal, maybe a movie, then sleep.  However evening flights are often more expensive, and are often late thanks to the domino effect of delays throughout the day.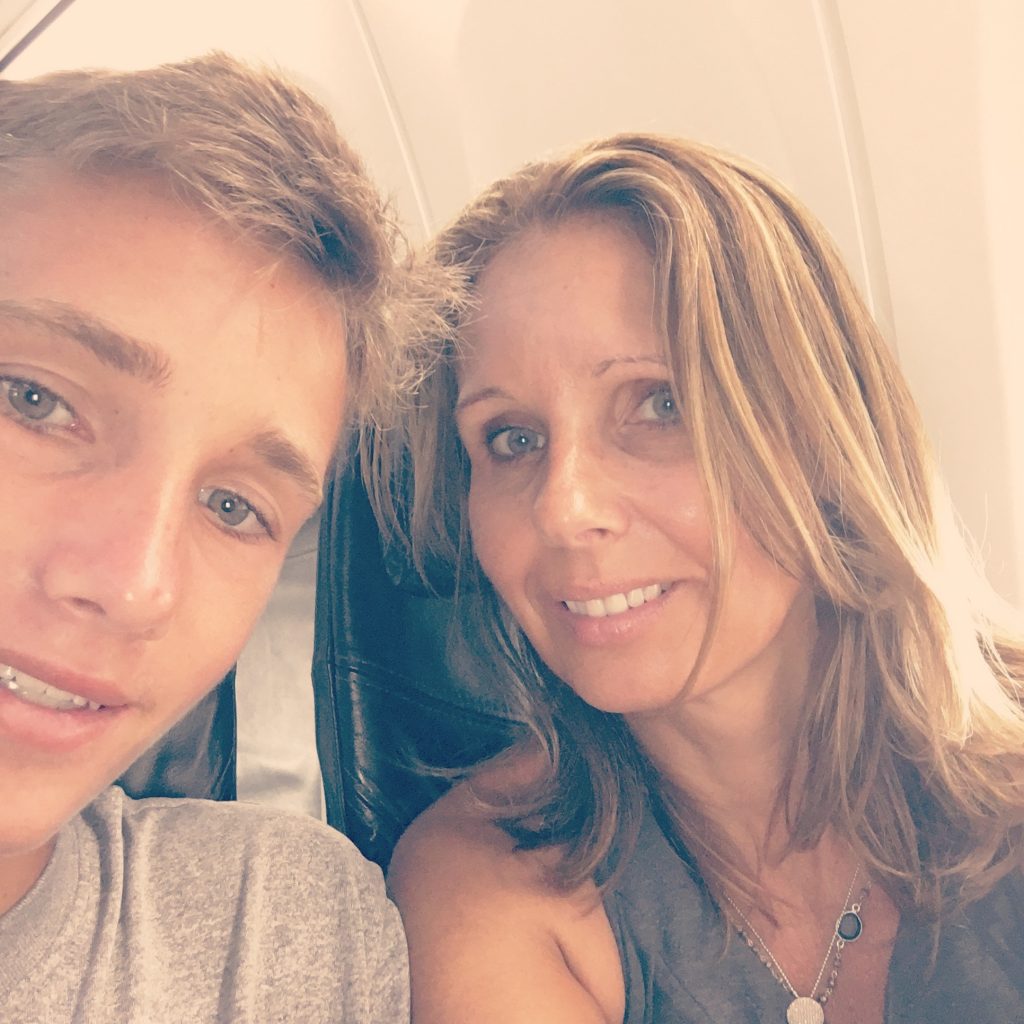 fly direct
Our first preference is always a direct flight, even if this means a 17 hour flight.  You see once we are on the plane, situated and content, we just try to suck it up and pass time.  Many people debate that indirect flights can 'break up' the journey, but for me that just ignites worry of luggage not making it to the final destination, missed connecting flights, and a higher probability of a problem during take-off and landing.
Pack a change of clothes for everyone in hand luggage
Think extra outfits are only for small children? Wrong. Always pack an extra set of clothes for you too!   We learned the hard way as we were about to board a 10hr flight from LAX to Dublin. I had the brilliant idea (as a new mom) to keep feeding Sebastian milk to make him sleepy for the flight.  Thirty minutes into the flight his head started spinning like the exorcist.  He projectile vomited sour milk all over me, himself, and everyone within a 3 feet radius. Needless to say I was not popular on this sold out flight. Because he vomited all over me and I didn't have a change of clothes, I landed in Dublin with an 'I Love Ireland' bright green t-shirt from duty free and a pair of free red tube socks from first class.   Not quite the look I was going for upon arrival. 🙂
leave plenty of time to get to and through airport
Running late is guaranteed to fire up my stress and anxiety.  I start to sweat, I get chippy, and my good mood and sense of humor plummets.  Always leave home with plenty of time to spare for unexpected hiccups.  Rushing through the airport with kids is not fun.  I'd much rather have an hour before the flight for a pre-flight cocktail with Hot Hubby,  then calmly walk to our gate. One of the easiest ways to minimize stress is online check-in.  All you'll need to do at the airport is drop off bags (if you aren't carrying on) and get through security.
Travel with Alcohol Wipes
Let's face it planes are gross.  There is simply no way a plane can be cleaned to my standards during a 15 minute turn around.  The boys roll their eyes when I whip out my Erin Condren well-kept wipes and swiftly clean off all of our surfaces, but for me it's self preservation.  I don't want to spend any vacation time with whining sick kids (or husbands for that matter), trying to find a doctor for an illness that could have been prevented.  This is not a guarantee for sick-free travel, but it sure as heck makes me feel a LOT better when I see the crud on those dirty wipes oozing with anti bacterial goodness after a good wipe.
Carry-On whenever possible
Even before airlines charged extra fees for checked bags, we always try to travel light. (Seriously, we each took a carry-on and small backpack for three weeks in England and Africa)!  Our traveling circus can move more quickly off the plane, through an airport, and since our luggage is with us at all times there's no risk of lost luggage.  This is especially useful when taking lots of flights.  Trade-offs are we have fewer clothing options, we wear the same clothes in our pictures (don't judge!), and I'm often hand-washing underwear in hotel bathrooms with hotel shower gel.  However there's something liberating about limited choices, and after-all, it's only temporary.
Always bring a soft warm sweatshirt on the plane
There's one thing you can count on: air-conditioning on the plane.  Once you're en route, the pilot will crank up that puppy, and if you're lucky (I jest), your seat mate might have it constantly blowing in your direction from above.  If you're dressed in light clothes, you'll get cold very quickly.  And gone are the days when flight attendants have extra blankets. You're pretty much on your own, so always have a soft warm sweatshirt you can use for warmth, a nice pillow, or a blanket if needed.  Neck pillows make falling asleep easier, and if you have light sleepers, it doesn't hurt to pack an eye mask and some earplugs to shut out distractions too.
Snacks, Snacks, Snacks
Regardless of when my boys last ate, they are always 'starving'.  I've learned through trial and error the most travel-friendly, and relatively healthy snacks that keep my boys happy.  Here's my list in no particular order:  clementine oranges (you must eat all of them if you are traveling internationally as you cannot bring fruit through customs), grapes, cherries, chips, granola bars, humus and pita bread, mini bag of carrots, Trader-Joes wraps, and gummy bears.  There's really no end to the rainbow of snacks that I can whip out at any given moment.
Plus, you never know what culinary delight the airline is going to serve, so we always like to be prepared.
Airline Travel: Use the In-Flight Entertainment
We limit screen time at home, but those beautiful screens on the seat-backs literally play an angelic fanfare when switched on.  They're sweet gifts from 'momma-heaven'.
Often our flights are 10+ hours (I think our longest ever flight was 17.5 hours from Abu Dhabi to LAX).  Here's how it typically goes…"Mom can I have sprite?"… me:  "Yes bud". "Mom, I'm just starting my fourth movie"… me:  "Cool bud".  You see momma is watching her freaking fourth movie too.  By herself.  With headphones on.  And a glass of free sauvignon blanc if I'm lucky!  Don't worry about headphone noise damaging their ears, or their vision being harmed sitting close to the screens… unless your kids have 17 hours of screen time on the reg, it's all good as long as they are happy.  Because when they're happy, YOU are happy!  😉
Being prepared is the biggest key to traveling with kids, then being able to pivot if when things don't go to plan!
What is your best travel tip with kids?