Halong Bay Vietnam is one of the more breathtaking places we have ever explored.  Halong Bay is about 150 kms from Hanoi, and is one of nature's most amazing natural wonders.  There's over 3,000 islands in the beautiful green/blue water, and over 1,000 have their own names. Many caves and grottos of all sizes and shapes are filled with small waterfalls, stalactites and stalagmites. 
1. Halong bay is famous for the scenic rock formations, and the 1997 James Bond film 'Tomorrow Never Dies' of course, and has been a popular destination for travelers in Vietnam for years.  This incredible UNESCO world heritage site also recently was named one of the New Seven Natural Wonders of the World  . Visiting this special place is a must for any visitor to Vietnam.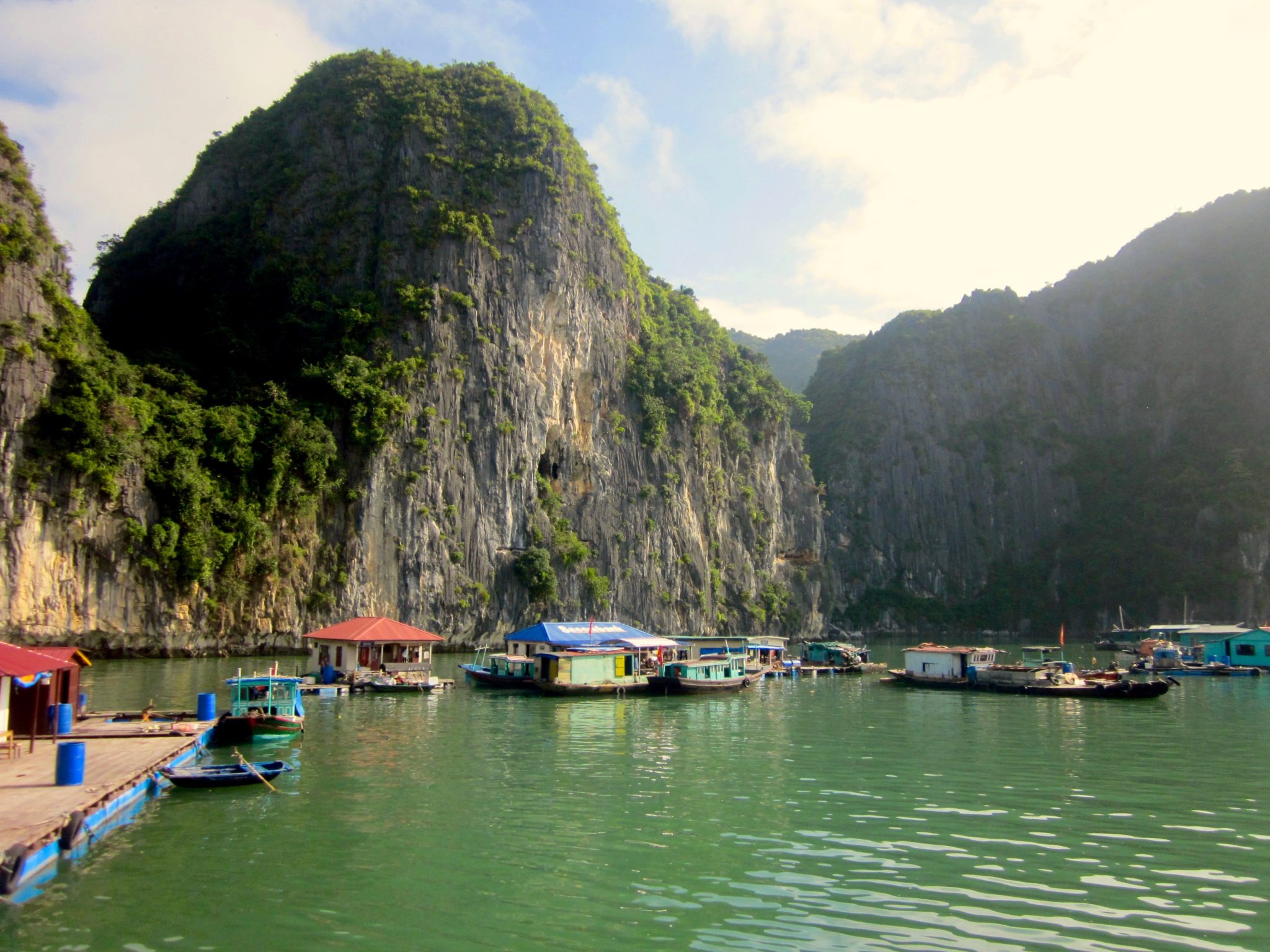 The whole area is surrounded by many small limestone islands and the water is typically calm.
2. Most of the islands and islets in Halong Bay are made of limestone which have spent  500 million years forming. The geological events over the last 1,000 years at Halong Bay include the advancing of the sea, strong erosion, and the raising of the bay area; these factors contribute to the pure blue/green heavily salted water.
There is a mystical and magical feeling at Halong Bay. Now,  Halong Bay is the result of this long process of geological evolution that has been influenced by so many factors.
Halong Bay has over 3,000 islands and islets in the bay. 
Some are topped by thick green jungle growth, and some of the islands are hollow, creating stunning caves to explore.
3.  Many of the islands have spectacular grottos you can explore, and are home to thousands of stalactites, stalagmites and interesting rock formations.
4. Halong bay is only about 33 feet deep, but the marine life is plentiful. About 1,000 species of marine life live in Halong Bay, and there are many fishermen and fisherwomen selling the freshest fish you have ever tasted. 
There's a floating restaurant at the pier where you choose your fresh seafood to be cooked to your preference, and served immediately.  Almost 2000 people live in fishing villages on boats or floating houses, that are sustained through fishing and marine resources.
5.  According to legend, the bay was created when the gods sent dragons to protect the Vietnamese from invaders. These dragons dropped jewels from their mouths into the bay, creating the islands and a barrier between the invading ships. Instead of returning to the heavens, the dragons allegedly dove into the bay to rest in the waters.  Halong Bay means "where the dragon descends into the sea."
Would you take your children to Halong Bay?