I competed in the 2016 Malibu Triathlon. I was asked to be part of a relay team by my fantastic reconstructive surgeon, who sponsored a team.  Each year her office has dedicated this event to the strong women their practice has been privileged to care for – all breast cancer survivors. These survivors inspire others with their courage, perseverance, and ability to remain positive as their bodies heal. (Yes, my doctors are angels sent from heaven!)  As I cycled through the rolling hills of Malibu for 25 miles, I had plenty of time to reflect on my two years of surgeries and treatments.  It became apparent to me that competing in the triathlon was an analogy for my cancer diagnosis and treatment.   Let me share why.
When I was diagnosed with breast cancer, the first couple of weeks were filled with anxiety, fear of the unknown, and apprehension.  Similarly, when I agreed to be the bike "leg" of our relay team, standing waiting for my swimmer to arrive and pass over the electronic chip to measure our time,  was filled with the same anxiety and fear of the unknown.  In fact, when I told my husband I was biking in the triathlon, his response was, "really?… but you're not a biker!" You see I'm not… in fact I didn't even have a bike as a child. Yet, I was assigned this leg of the relay, and rather than try to switch to be a runner where I'd be most comfortable, I decided to dig deep.
It was showtime!
Finally my swimmer finished her mile swim and handed me the chip.  I had my helmet on and was ready to race.  My heart was pumping and, since this was my first triathlon, I didn't know what to expect. For some reason I was able to put all my anxiety behind me and just start pedaling through the sea of bikers towards the beautiful course along the Pacific Ocean.  It was almost instinctual.  I experienced the same feeling when I finalized my treatment plan to attack my cancer. I had chosen my team of doctors after rounds of questions, interviews, and research, and scheduled my double mastectomy. In both instances I didn't know what to expect… yet I was able to get going and instinctively move through the process.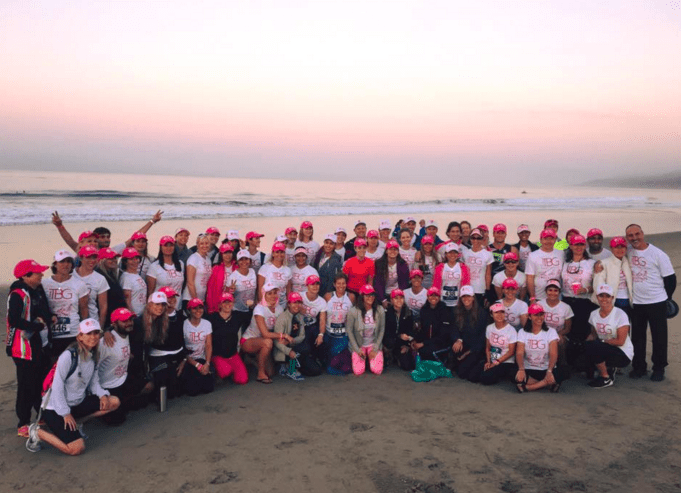 What if I can't do this?
At first, I was hesitant to shift gears. I didn't really want to pass people, and my stomach was swirling with the 'what-if's'.  What if I couldn't finish the race?  What if I got a flat and couldn't fix it? What if I fell and twisted my ankle? I mean how embarrassing would that be!?!  Those same feelings were racing around my head as I began preparing for my surgeries.  Outward facing I was positive and smiling, but inside I was terrified, running all of the 'what if' scenarios.  Is my will and living trust current?  Did I pay all of the bills?  Do the boys have enough underwear?  What if I die on the table? Did I stock enough food for them?  Should I write letters for their wedding day in case something goes horribly wrong? What if they find another tumor? You wouldn't believe the crazy stuff that popped into my head.
Oh…. I got this!
After the first few rolling hills, at about mile 6, I realized this was actually not too daunting. I began to settle comfortably into the ride, and knew I totally had this.  In fact, I began to shift gears, and suddenly it was ME saying 'on your left'… and passing people!    Same as the first big surgery. I'm not going to lie… it was a monster… but after the first few days, and I began to settle into my new normal, I also realized that I totally had this.  My boys were fine, my fantastic village rallied around us, and I was starting to heal.  Yay!
There were a couple of massive hills that caused me to shift gears a little higher and were quite challenging, but again… I dug deep and stayed the course. Before I knew it, I was at the halfway point! I had that same feeling after my third surgery.  I totally had this, I recovered as quickly as possible after each surgery, and our family was in this bizarre cancer rhythm now.  But more importantly,  I had my eye on the finish line.
The Malibu Triathlon was quite the challenge
The last 5 miles were challenging filled with hills, but I realized I was overtaking a LOT of people. Even those spandex wearing, fierce looking, seasoned cyclists riding funny looking aerodynamic bikes.   My inside voice was saying, "On your left beefcake… let this Warrior Goddess through… watch and learn!"  And when I reached the finish line, I felt strong, proud, and was filled with a massive sense of accomplishment.  Similarly when I was entering my fifth and final surgery of 2015, instead of feeling weak and frail, I felt stronger than ever.  I knew what to expect and what I needed to accomplish to cross the finish line.  And I could almost taste it.
My experience  was incredible, emotional, and life-changing.  My team had all been through so much physically and emotionally in the doctor's office and on the racecourse, and the gratitude and connection we felt was overwhelming. We shared this incredible energy and experience.  
To compete with the incredible doctors who saved my life, Dr. Kristi Funk and Dr. Tiffany Grunwald, was humbling and emotional.