I love holiday traditions and one of our family traditions is sending annual holiday cards to our friends and family.  I also love receiving photo cards each year from friends and family, and seeing how their kids have grown, etc.   Last year I was so impressed with Mpix, I decided to order our cards from them again this year.
I take tons of pictures all year long, and instead of having a formal family picture taken for our holiday cards, I like to use candid photographs that highlight our individual personalities and lifestyle.  But I always have trouble narrowing them down to one or two.  This year I did something different.  Instead of choosing just one or two pictures, I decided to look for a card with a collage of pictures.
I knew I wanted foil!  There are so many amazing options at Mpix and their website is super easy to navigate based on your preferences.  I sorted by foil pressed, modern, photo cards, and I quickly had some gorgeous selections narrowed down for me. When I saw the clean and modern Very Merry foil card, I knew it was the perfect card for us. It was simple, shiny and just what I wanted.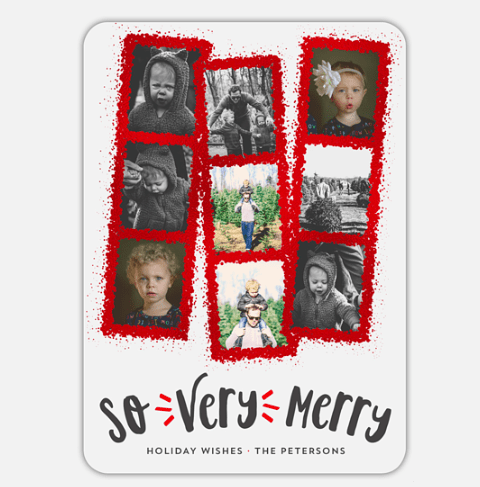 There are nine (yes you read that correctly) different foil and color options, and I opted for a classic black, white, and red foil.  The cards feel so luxurious and are printed with a unique process that presses real foil onto the front side of the cards.  I also chose to add rounded corners, which I personally think gives a stunning modern vibe too.
All of their cards come with standard white envelopes, but I added silver envelopes for just an extra $10!  What a deal!
I easily and quickly added black and white photographs, and the whole process was so simple. It literally took me 10 minutes to upload the photographs and personalize the text.
My order arrived about 5 days later in the most beautiful packaging.  I could not be more excited to mail these beauties out on December 1st!
Do you ever switch up the look of your holiday cards?