I'm going to go out on a limb here, and say everyone knows Jesus was born in Bethlehem on December 25th.  Regardless of your beliefs, religion and culture, this sacred place is the essence of Christmas. Since we'd be in Israel in December, we knew we had to experience this 'bucket-list' moment and head to Manger Square for Christmas Eve in Bethlehem, to attend midnight mass at the Church of the Nativity. Rental cars are not allowed into Palestinian Territory, and there are only two ways to enter: independently arriving from Jerusalem via bus to Rachel border crossing, crossing by foot, and taking a short 5-10 minutes taxi to the Church, OR you can enter with an organized tour.
After much research, we decided to take a tour, and found this experience to be both humbling and awe-inspiring… read why.
Where is Bethlehem?
Bethlehem is about five miles south of Jerusalem in the West Bank, and controlled by Palestine Authority. We carried our passports since we'd be crossing the border into Palestine Territories. I prefer to lock my passport in a safe when we travel, but we didn't have a choice. Thousands of Christian pilgrims from around the world gather in and around the Church of the Nativity in Bethlehem for Midnight Mass on Christmas Eve each year.
We stopped at Jerusalem en Route to Bethlehem
After leaving Tel Aviv, we drove to Jerusalem. We were able to stand on the Mount of Olives and take in the beautiful Jerusalem skyline.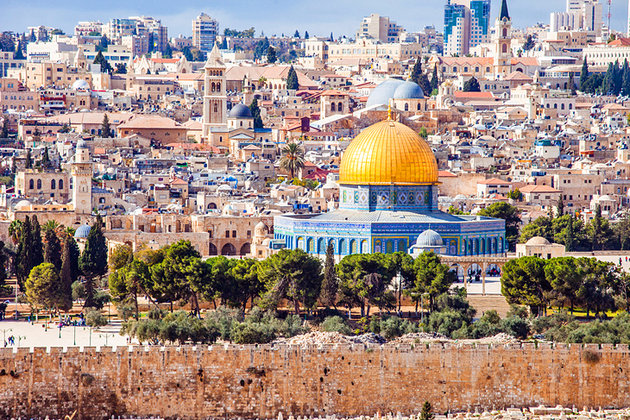 We drove past the Garden of Gethsemane, which is where Jesus often met with his disciples.  This is also where Jesus said his final prayers before his arrest. As we entered the Old City, we slowly walked the narrow streets that Jesus walked, passing many Stations of the Cross, arriving at the Church of the Holy Sepulchre.
According to the bible, Jesus was crucified on the cross and placed in a tomb, and this church was built over those places. It's easy to forget the reasons we celebrate Christmas.  I can hardly find the words to express how incredibly powerful it was to walk where Jesus walked and to stand where he was crucified on the cross.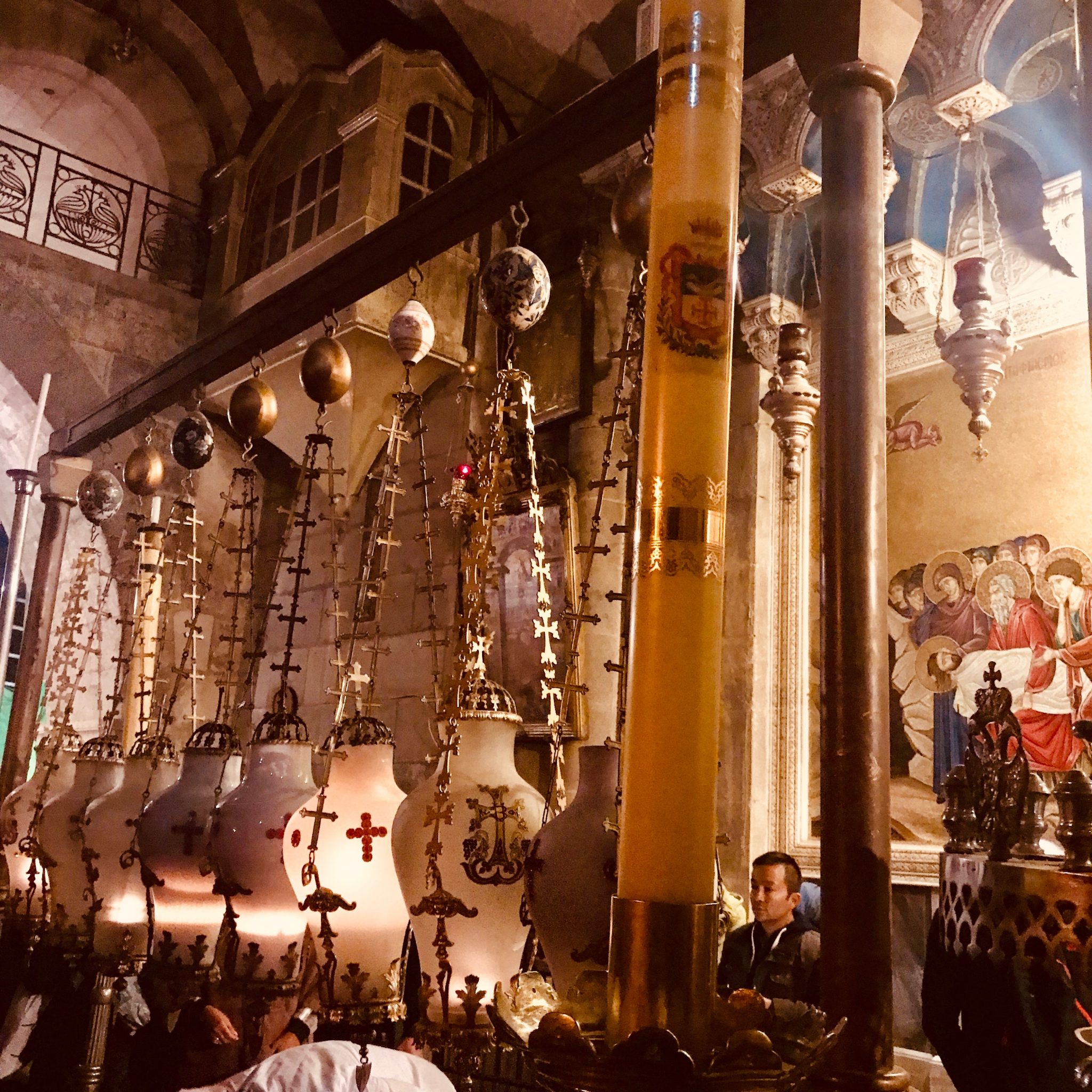 It was incredibly spiritual. But what struck us the most was the sight of people from all over the world praying over the stone where he was laid to be cleaned for his grave. The hysterical sobbing, gentle cleaning of the stone with cloths, and loud praying in every language imaginable was overwhelming. It was far too private to take photos or video, but is still sitting in our hearts.
Approaching Bethlehem
As we approached Bethlehem, we stopped at 'The Shepherd's field'. According to the bible, it was here where  shepherds were 'watching their sheep by night' on the eve of Jesus' birth and saw the bright star in the sky indicating His birth. We left the shepherd's field and drove towards Bethlehem.  The roads were windy, it was dark, and we approached the steepest road I have ever seen.  Literally the bus had the hardest time on this hill, and at one point we skidded backwards.  It was a little hairy, but we arrived safely.
Entering Bethlehem
We crossed the border checkpoint, entered Bethlehem, and immediately felt the excitement and Christmas spirit.
The whole city was decorated with twinkling lights. We were struck by people who had traveled from all corners of the globe to be here. We saw the beautiful Christmas tree and enjoyed drinks in a restaurant in Manager Square, while waiting for Midnight Mass. Although it was a clear night, the temperature dropped to around 8°C (about 40 degrees). Important to note we felt extremely safe and secure in this conflicted place.  However you do need to be VERY comfortable in Bethlehem, and in fact the whole of the Middle East, with smooth faced teenagers carrying semi-automatic weapons.
Church of the Nativity: Bethlehem
The Church of the Nativity is one of the most sacred Christian sites in the world since it's built on top of the land where Jesus was born. There's a dispute over who actually owns this sacred site, so the church is split into 3 sections: Eastern Orthodox, Armenian and Catholic. The exterior is a little underwhelming, but once inside, the church is breathtaking and we saw a long line of people waiting to enter the holy cave, and witness the birthplace of Jesus.
We descended the stairs in anticipation of this special place. The room was crowded, hot, and filled with devout believers from every religion waiting to kiss the sacred site. A fourteen-point silver star beneath the main altar marks the traditional spot of Jesus' birth. I have to be honest, my germophobia does not allow me to kiss these sorts of places (it was the same at the Blarney Stone in Ireland), but I could feel the spirituality in the room.
You can feel the magic in the air, and I became overwhelmed and teary in this special place. In the spirit of honesty, I have to confess I was a little distracted by the overpowering smell of body odor in this stuffy jam-packed cave (please don't send me hate email!)
Midnight Mass in Bethlehem
As we prepared for mass, we were surprised to see a motorcade arrive. We could hardly believe that Mahmood Abbas, the Palestinian President, arrived for Midnight Mass.  This was an experience of a lifetime… so spiritually enriching and overwhelming. To experience this sacred place with pilgrims who had traveled from all over the world is beyond words.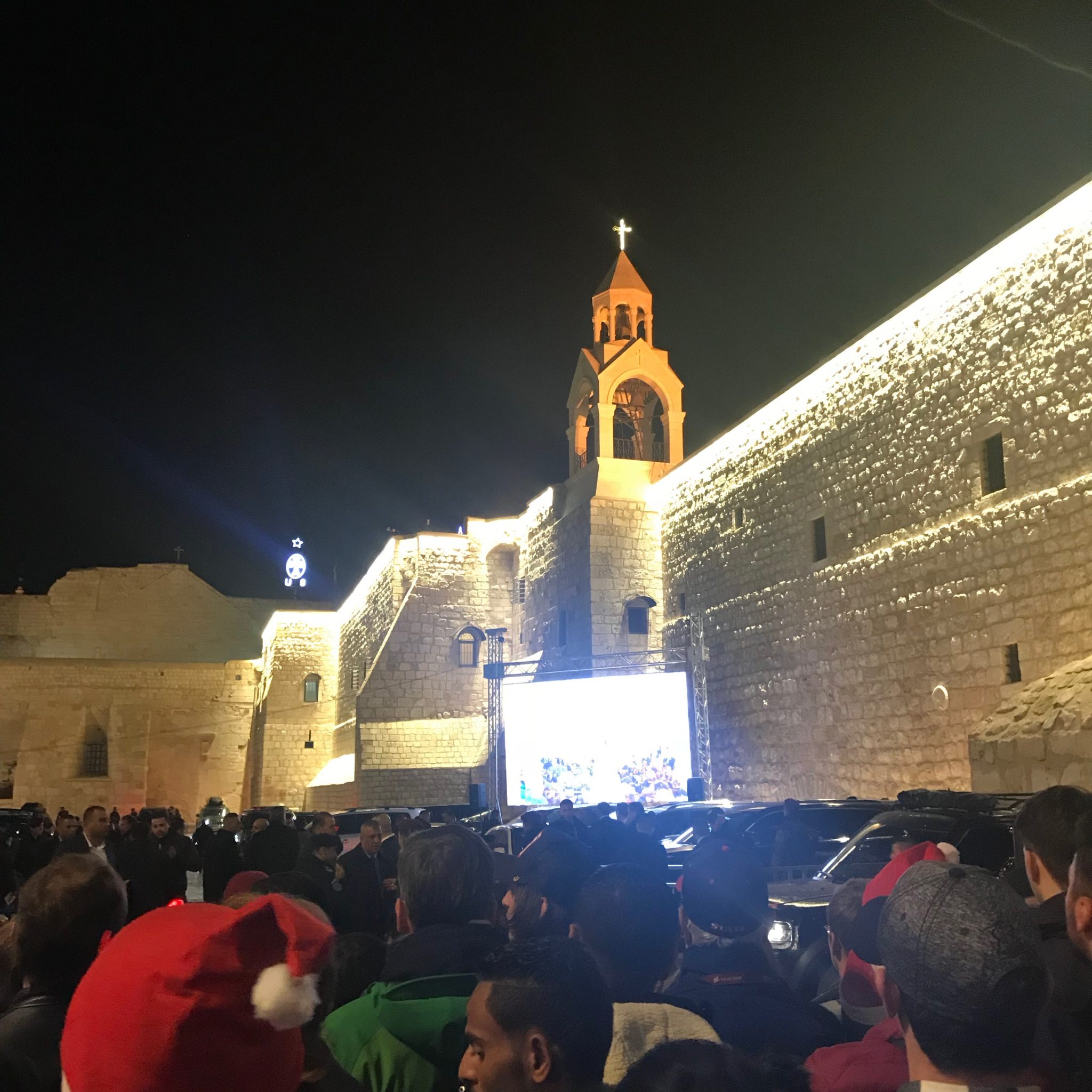 Tips for spending Christmas Eve in Bethlehem:
You must be completely prepared to politely answer questions from armed guards at any moment, and brushing shoulders with teens toting semi-automatic weapons.
You should still use your common sense like in any other city, but we felt very safe at all times during this visit.
The currency most commonly used in Bethlehem is New Israeli Shekels (NIS), the same as Israel.  You can use US dollars and Jordanian Dinars, but you're not likely to get a good exchange rate.
Almost everyone speaks English, so communicating was never a problem for us
Bethlehem is significantly less expensive than Israel since businesses in the West Bank pay much lower taxes.
 Bring small denominations of shekels for tips.
If you're visiting sacred sites, wear modest clothing (cover shoulders, knees and chest), and ladies bring a scarf to cover your head, so you don't have to borrow from the sacred sites (just thinking of this makes my head itch!)
This experience is still sitting with us, and these are my thoughts at this moment.  Have you been to Bethlehem?  Did you have these same feelings?
**This post is sponsored but all opinions are my own