Jerusalem is perhaps (in my humble opinion) the holiest city in the world for Jews, Muslims and Christians. 
It's seeping with history and staggeringly beautiful. Our visit to Jerusalem was peaceful, with no aggression, concerns, and was quite different from the images often portrayed in the media.
It's extremely powerful and profound to see and feel the deep spirituality from people of all faiths.
Some people might find the tight security unsettling (be prepared to see young people in uniform carrying semi-automatic weapons everywhere), but we didn't feel in danger at any point. We all felt extremely safe, even when four guards rushed past us baring their machine guns, and I saw Julian's little hand reach out.  I asked him, "Did you touch his gun?" and he sheepishly said… "yes… it was so close and I've never touched a gun."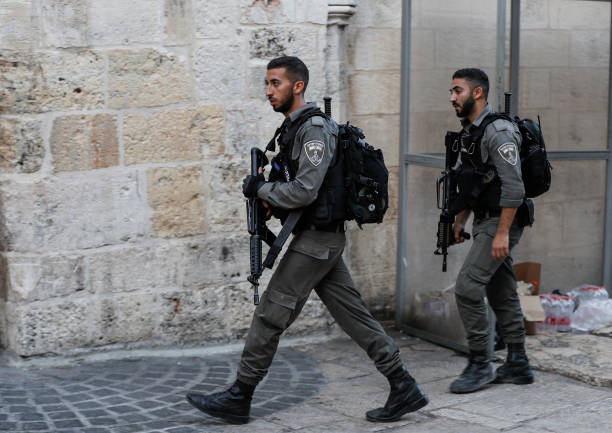 When dealing with security guards, it's important to be friendly and agreeable, follow directions without question, and respect those whose job it is to keep the peace in this difficult environment.  It was incredible to personally experience a place that is the focus of so much global interest.  Here are seven incredible things to experience in Jerusalem in no particular order.
1. Just wander around the Old City
The Old City is a square kilometer walled area within the modern city of Jerusalem divided into four very diverse quarters:
The Christian Quarter
The Jewish Quarter
The Muslim Quarter
The Armenian Quarter
We meandered through the alleys of each quarter, drank fresh pomegranate juice, ate the best falafels we've ever tasted, and soaked in the rich history of the Old City.
The Old City has many of Jerusalem's well-known sites, including the Western Wall, the Stations of the Cross, the Church of the Holy Sepulchre, and Temple Mount.
2. Temple Mount and The Dome of the Rock
Temple Mount is a large compound surrounded by retaining walls in the heart of Jerusalem, and can be reached by eleven gates. Ten of these gates are reserved for Muslims.
We couldn't enter the Mosque and the Shrine since we are not Muslim, but walking these holy grounds was still extremely moving.  The Dome of the Rock can be seen from most places in Jerusalem, and is a recognized symbol of Jerusalem. This holy shrine signifies the spot where the Prophet Muhammad is believed to have ascended into Heaven. Security is INCREDIBLY tight here, so be prepared for long lines and many questions.
3. Western Wall 
The Western Wall is the only remnant of the Jewish Temple that was destroyed centuries ago in 70 A.D. by the Romans.
It's considered one of the holiest of places for the Jewish faith, and is a place for prayer and solemnity. Millions of pilgrims (Jewish and non-Jewish) visit the Western Wall each year to pray, writing their wishes on small pieces of paper before placing them between the cracks in the stone for God to answer.
We had to go through strict security before entering the compound. Men and women have their own separate areas of the wall, and men must wear a yarmulke or a head covering. You wait in a line behind a person who has a spot on the wall until they are finished, then it's your turn to approach the wall and offer prayer.  You must not turn your back on the wall when you are finished, as it's symbolic for not turning your back on your prayer to God. instead you slowly walk away from the wall backwards when you are finished with prayer. As I stood waiting, the sight and sound of women gently touching the wall and wailing, handing their problems over to God, was extremely personal and I almost felt as though I was intruding.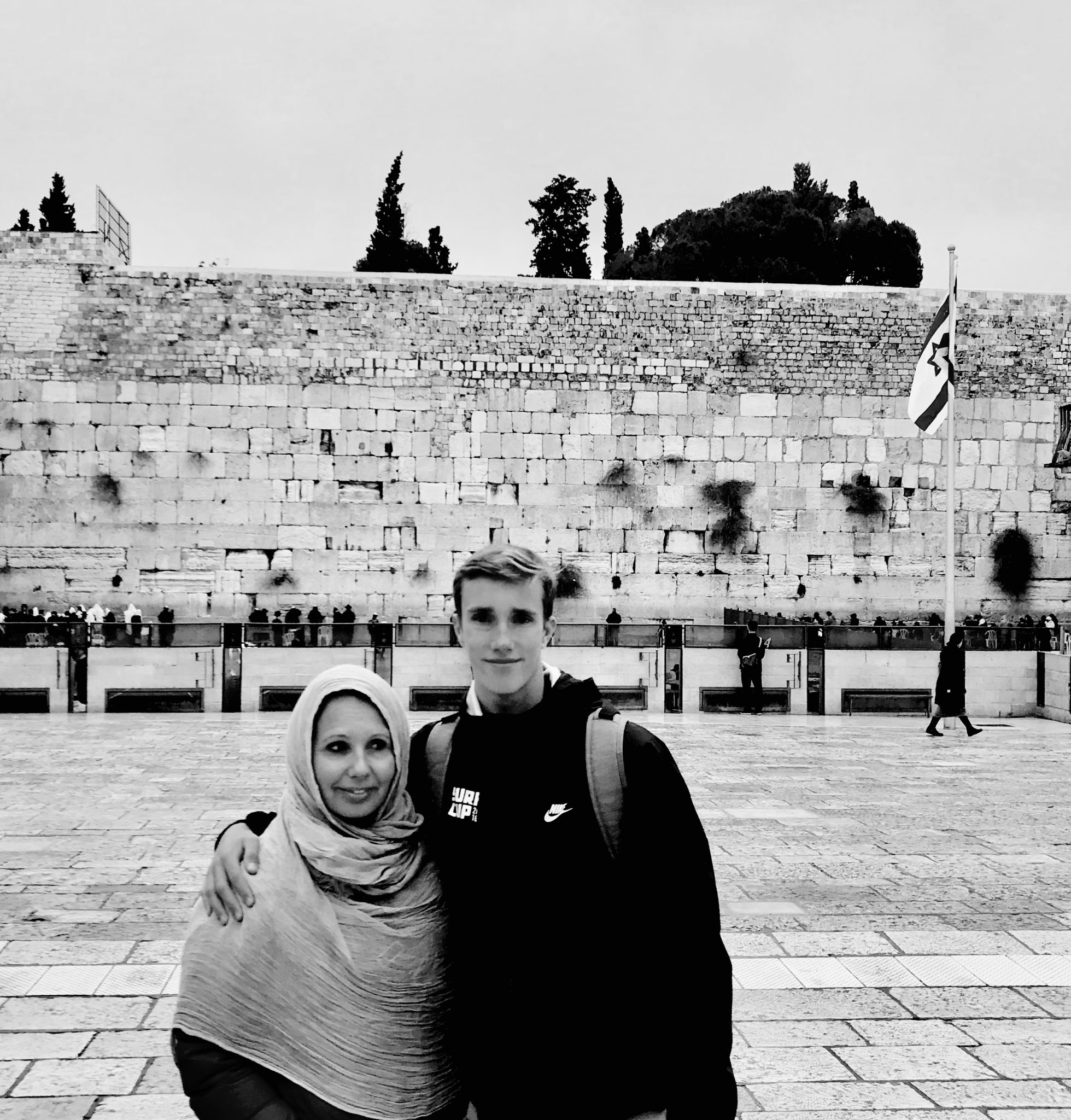 I suggest writing your prayer on a piece of paper to insert into the wall before you visit Jerusalem, if you choose. Modest dress is a requirement and perhaps bring your own scarf to cover your head to show respect.
4. Via Dolorosa
Via Dolorosa is believed to be the path Jesus walked, carrying His cross on the way to His crucifixion. There are 14 stations to the crucifixion, each marked with a medallion indicating the station in Roman numerals.
These 14 stations form a route ending at the Church of the Holy Sepulchre and pilgrims have walked this route for many years.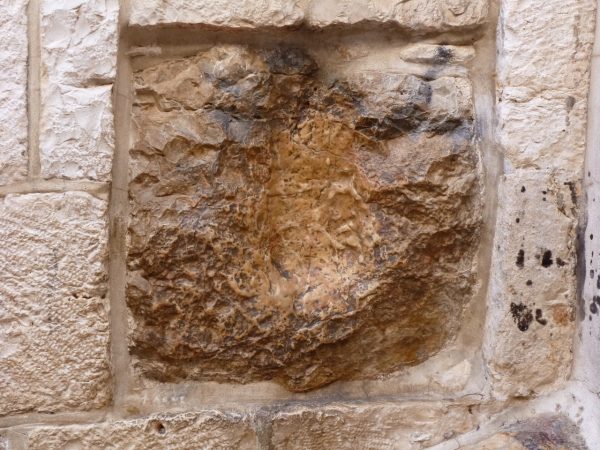 Via Dolorosa weaves through narrow alleys, and is tricky to walk because of the crowds and the shops. Some of the stations are clearly labeled, and some are hard to find. Regardless of your religious beliefs, these stations in the Church of the Holy Sepulcher are
extremely humbling
to view as we imagined Jesus walking this route to His death.
5. Church of the Holy Sepulchre
This church in the Old City of Jerusalem is the holiest Christian site in the world and is shared by five different Christian communities: Roman Catholic, Greek Orthodox, Coptic, Syrian Orthodox and Armenian.
This is the site marking Jesus' crucifixion and the tomb (sepulchre) where he was buried. We felt the deep religious significance as we gazed at the spot where Christ's body was prepared for burial; the Stone of Unction.  People were praying and sobbing in all languages, and some were gently wiping the stone with a soft cloth.  It was incredibly moving to witness.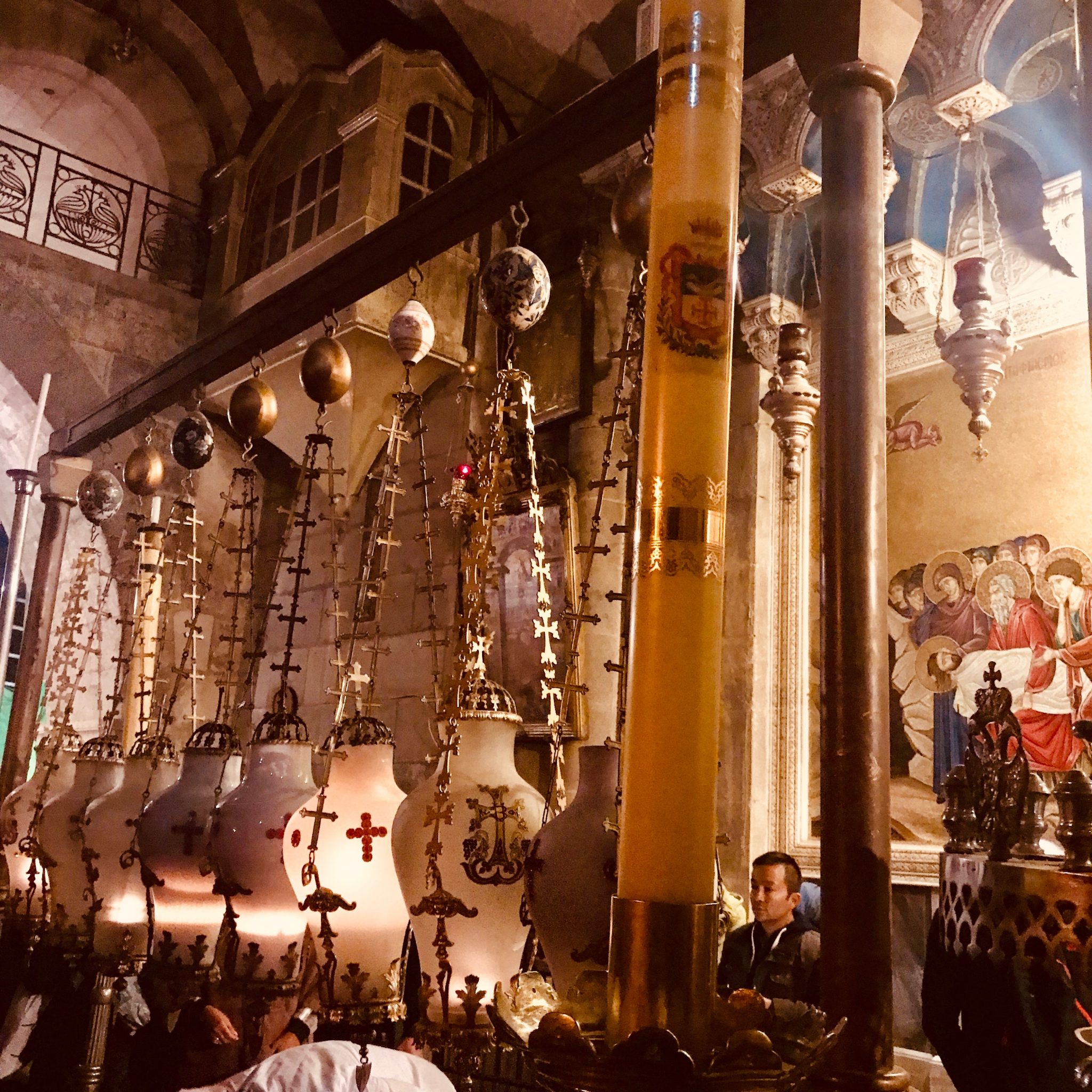 We climbed the narrow steps to the Calvary and site of the crucifixion.  This is the most lavishly decorated part of the Church.
6. Garden of Gethsemane
The garden is calm and peaceful, and has olive trees estimated at well over 1000 years old. This garden is where Jesus is said to have met with his disciples, and is where Jesus said his final prayers before his arrest.
7. Yad Vashem – World Holocaust Remembrance Center
Yad Vashem has indoor museums, outdoor monuments, exhibitions, memorial sites, gardens, and sculptures.  This center is devoted to preserving the memory of the Holocaust. The hollowed-out cavern with a single candle reflected by a series of mirrors commemorates the 1.5 million children killed.
♦♦♦♦♦♦♦♦♦♦♦♦♦♦♦♦♦♦♦♦♦♦♦♦♦♦♦♦♦♦♦♦♦♦♦♦♦♦♦♦♦♦♦♦♦♦♦♦♦♦♦♦♦♦♦♦♦♦♦♦♦♦♦♦♦♦♦♦♦♦♦♦♦♦♦
Tips for Traveling in Jerusalem
There is the highest security around these sites and we felt very safe at all times. Be prepared to see police everywhere carrying semi-automatic weapons.
Important to note there are many checkpoints at these sacred sites. You will have your bag and body searched many times.  Get used to it.
Dress appropriately i.e. covered up! Long trousers and long sleeves for men, and long skirts with hair full covered for women. Dress must be conservative and no religious symbols are allowed.
Men and Women cannot have physical contact on Temple Mount. You cannot hold hands, or even place a hand on a member of the opposite sex in conversation or you will be approached by security who will threaten to remove you from the property.
Non-Muslims are not allowed into the Mosques located on Temple Mount.
 Always check the times sites are open to non-Muslims. Sometimes if there are security concerns, entry can be denied at the last minute.
When dealing with security personnel, remain helpful and friendly at all times and follow directions without question.
It's helpful to have a tour guide when visiting Jerusalem and we chose to use TourIsrael.  The guide in Jerusalem was fantastic and knowledgeable, and we even stopped at the Dead Sea on the way back to Tel Aviv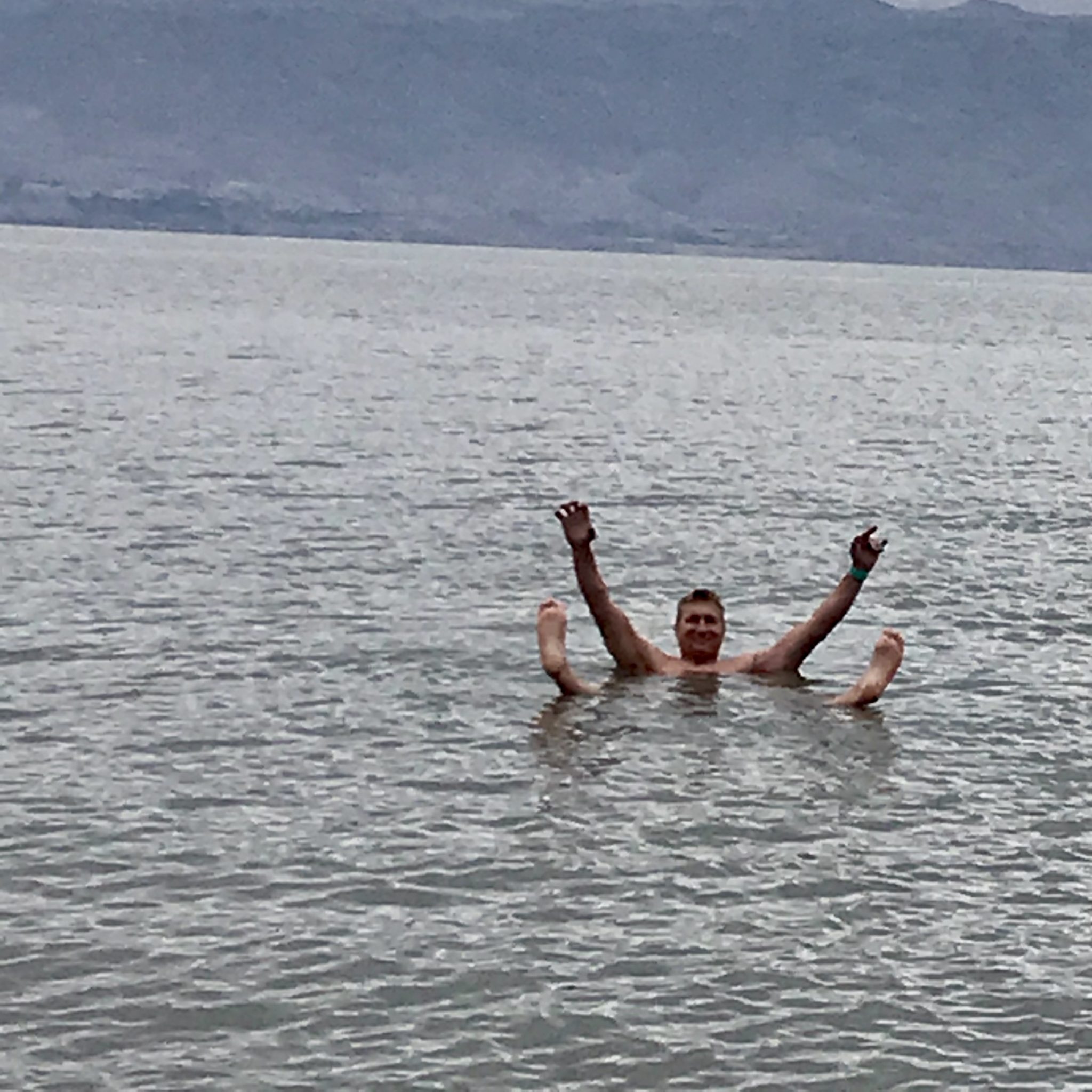 Regardless of your religious beliefs, Jerusalem is an incredibly humbling place filled with emotion, and we are forever changed for visiting.
** This post is sponsored however all opinions are my own**
Did you find this article helpful? Let me know by leaving a comment below and joining me on Instagram and Twitter!