Petra has been on our bucket list for years, but the timing never seemed quite right. There's NO doubt in our minds why Petra is considered one of the seven wonders of the modern world after our recent visit! 
We loved Petra! The pictures do not do it justice. Gorgeous. Impressive. I could go on and on. The site is much bigger than we expected. We spent two full days in Petra and hiked 15km a day, yet still didn't manage to see it all.
Petra is a Whole Entire City
Upon arrival at the ticket office in Petra, you are greeted by many Bedouins selling their guide services, and pretty much every souvenir you could imagine. It was a matter of minutes before Julian had proudly negotiated for a dagger with a carved serpent on the handle! (We'll get to what that meant crossing the border later 😉 )
As we studied the map we were given, we realized what a vast City this was. Petra is comprised of many areas, and not just the one building we see in the marketing materials. Some sites are quite difficult to reach if you're not physically fit and there are many offers to ride horses, donkeys or camels.
I strongly recommend walking because you see so much more, and we personally had a hard time with the way the animals were treated. It was heartbreaking to see the poor donkeys carrying tourists or families uphill. We could hear the animals breathing heavily and I'm concerned about animal welfare in general in these types of places. At dusk, all tourists need to leave Petra, and I certainly wouldn't want to be lost wandering around after dark!
Visit the Treasury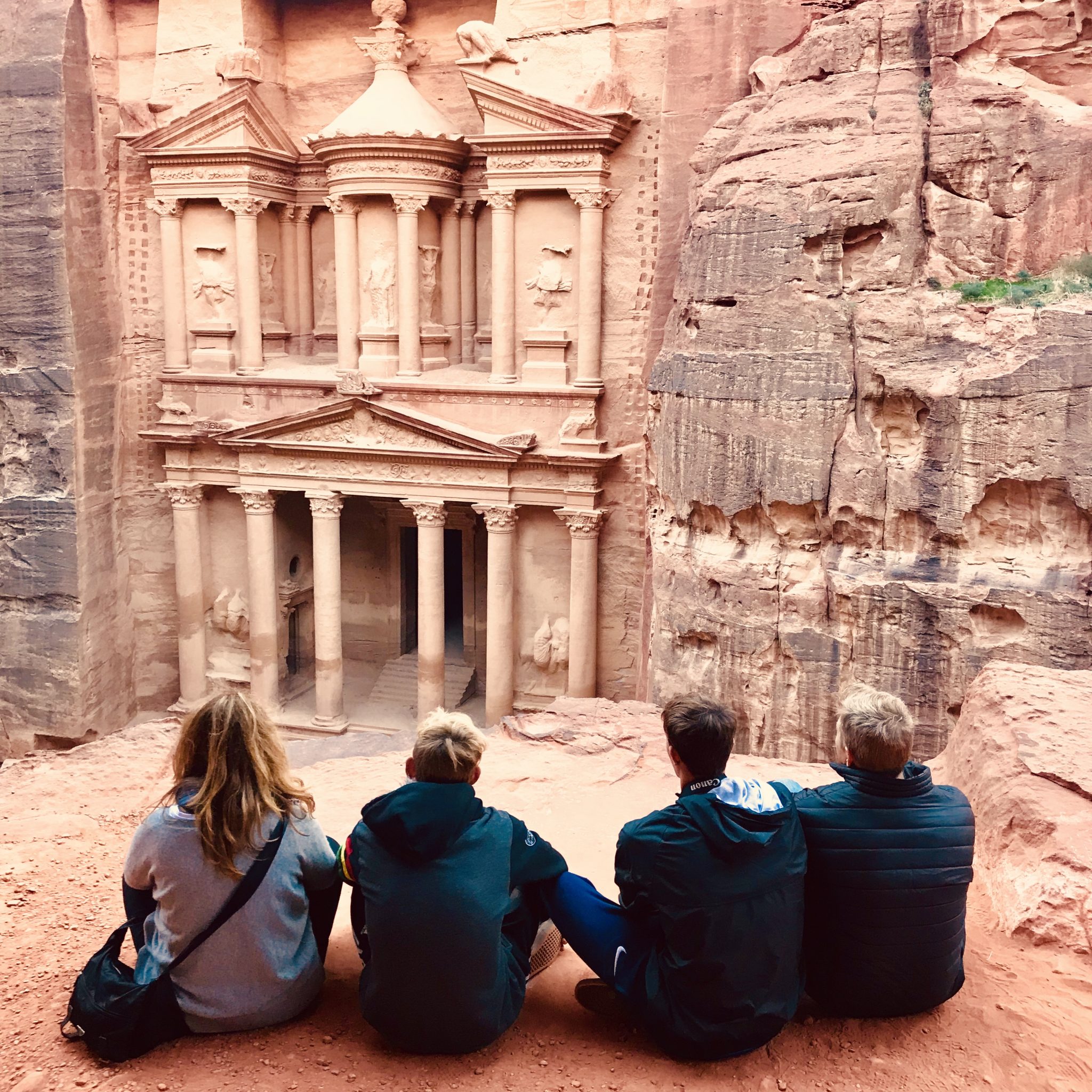 Petra's most famous monument is the Treasury. In fact many people think this one building is 'Petra'. The two-story facade is the first thing you see after walking about a mile from the entrance to the end of the canyon, or Siq.
Most people recognize it as the temple where Harrison Ford found the Holy Grail in "Indiana Jones and the Last Crusade." We walked about a mile from the visitor center to the Treasury building, and I'd suggest hiring a guide as there are many things to see along the way that you'd easily miss or not know why they are significant. Walking through the narrow canyons, we were greeted with one stunning vision after the next, the coloring in the canyon is jaw-dropping.
The day was beautiful, and we felt as though we were in our own private movie. Glimpsing the Treasury for the first time as we reached the end of the Siq was even more incredible than we imagined. 
Hike up to the Monastery
We decided we HAD to make the long trek to the Monastery.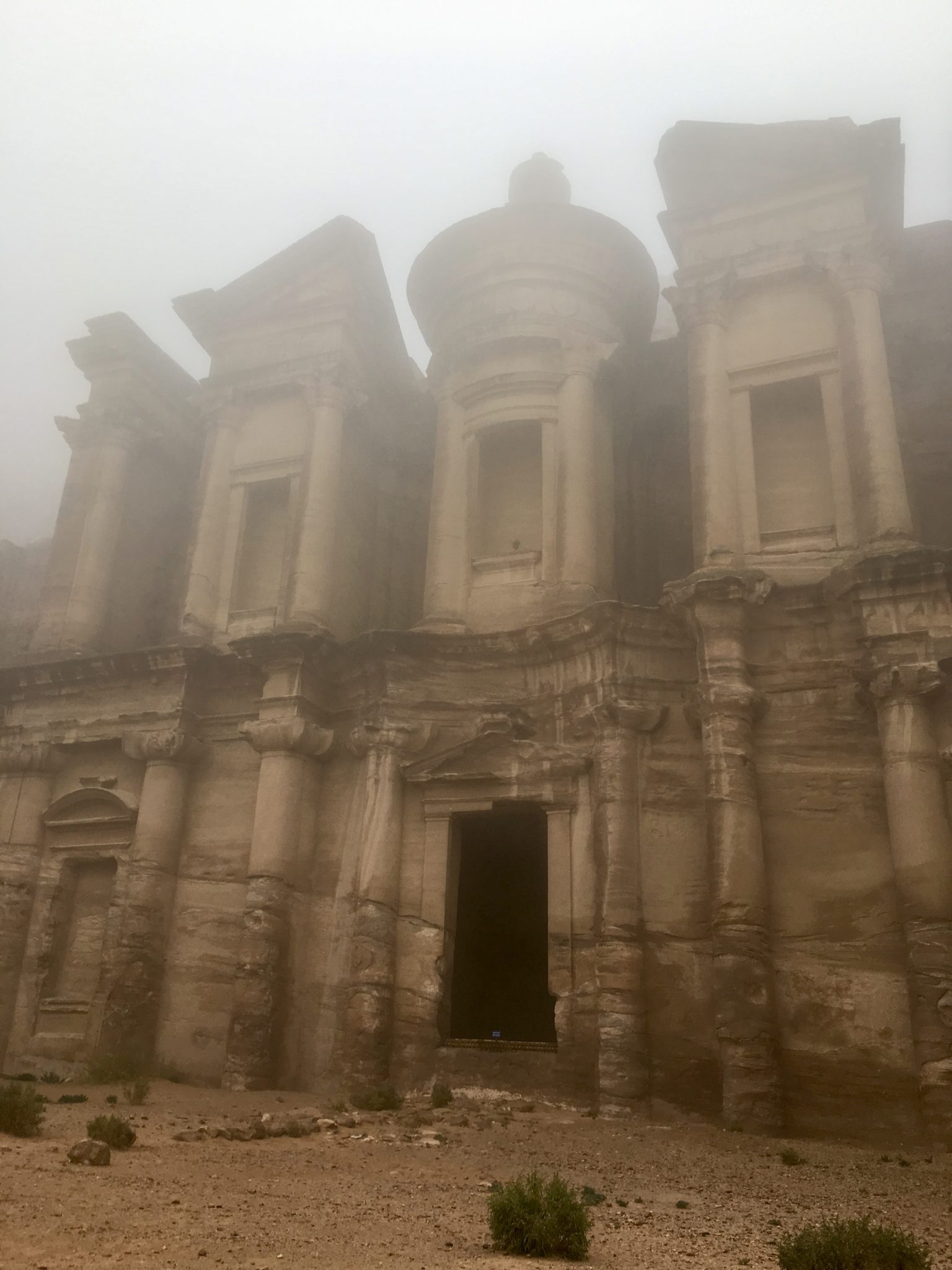 The Monastery is situated at the very far end of Petra. The hike from the entrance to the Monastery and back took us about 6 hours, and we were moving at a pretty brisk pace.
This included a few short breaks for pictures and snacks, but this was by far our toughest day of hiking. This time frame does not include any side climbs or cave exploring, just a straight walk from the entrance to the end and back. The walk to the Monastery was challenging, especially with 950 uneven steps, but we were rewarded with stunning views of Petra along the way.
When we arrived at the top, we saw a small cafe type thing facing us… and we all said "is that it????" But as we walked out past the steps we were greeted with the most stunning ancient architecture, that has to be seen to be believed. It seemed twice the size of the Treasury, and we sat and soaked in this Wonder.
Jordan is Safe
The Kingdom of Jordan is working hard to maintain the stability of their country and keep it a safe place for tourists. Jordan has a tough reputation because of its immediate neighbors (Syria, Iraq, Saudi Arabia and Israel.) I can only speak for our short time in Jordan, but we never felt unsafe or in danger.
We did heed government warnings and stay away from Syria etc., and we were not there for the recent demonstrations, but overall we found the Jordanians to be friendly, welcoming and grateful we were there. They rely on tourism, and with the instability in the Middle East, naturally many travelers are avoiding this area. Many of our friends thought we were completely insane for visiting Jordan, but we never felt unsafe or threatened during our time in Jordan. We felt the guides and the whole country is working hard to create a positive image of their country.
Learn about the Bedouins
Bedouins are the original natives of Jordan. They wandered across desert areas between Palestine, Jordan, Iraq and Saudi Arabia, and many considered Petra their home. In the 1980s, the Jordanian government relocated Bedouin tribes living in the caves of Petra, to a 'Bedouin village' just outside the City of Petra, and provided housing, electricity and running water.
Depending on who you ask, some people feel they were forced to leave their homes, and others feel they welcomed the relocation, gaining access to education and housing for their children.
Many Bedouins are fully dependent on tourism and as part of their relocation with the government, they are the only people allowed to sell souvenirs inside Petra. They are fascinating to chat with and are schooled in the art of the sale from birth! According to our guide, most of the Bedouins left Petra, however some refused eviction and remain living in caves inside Petra today.
8 Tips For Visiting Petra
Visiting Petra was an incredible experience. Here are few tips that will make your visit run smoothly:
1) If you want to buy scarfs or souvenirs don't buy it at the first few stops (Like Julian did!!!) The deeper into Petra's old city you walk, the more choice and negotiating power you have.
2) Always negotiate. Bedouins are master sales people, and 75% lower than the asking price is a good place to start your negotiations.
3) Bring some snacks before you enter Petra. The food inside is minimal, and you'll want to spend the full day exploring and avoid 'hangry' family members
4) You will be asked many times if you want to use their 'air-conditioned Ferrari' (donkey or camel), but I'd strongly suggest walking. The animals are not treated kindly, and you miss many things along the way if you are trying to balance on the back of a donkey.
5) Wear sturdy shoes that have good grip. There is lots of climbing and slippery steps to navigate, and a twisted ankle would be an absolute nightmare if you are 6 miles deep into Petra!
6) It's worth purchasing a two day ticket. It is 50 JD for one day and only 5JD extra for the second day. IMPORTANT to note you have to use the two day pass on consecutive days, and they asked to see pictures from day 1 before they'd let us into Petra for day 2! They don't want you selling your ticket to someone else.
7) During the low season the Petra visitor center closes at 5PM, so it's important that you arrive early in the day to maximize your time. 
8) Be sure to bring cash. You are able to use credit cards once inside Petra, but you will be charged an extra 10% for purchased using a credit card. And it's important to negotiate that and the currency you're negotiating in before you get to the payment!
9) Leaving Jordan with antiques is illegal, so when purchasing souvenirs, be sure they are replicas.  If they are authentic, be sure you have the correct paperwork.  We spent time with 'friendly Jordanian security' (I'm being sarcastic here… they were not so friendly towards us…) after they thought Julian's dagger was authentic.  He was thrilled and said "Mom, I told you it was a good one", but we were not excited about the delay and inspection of our bags with a fine tooth comb.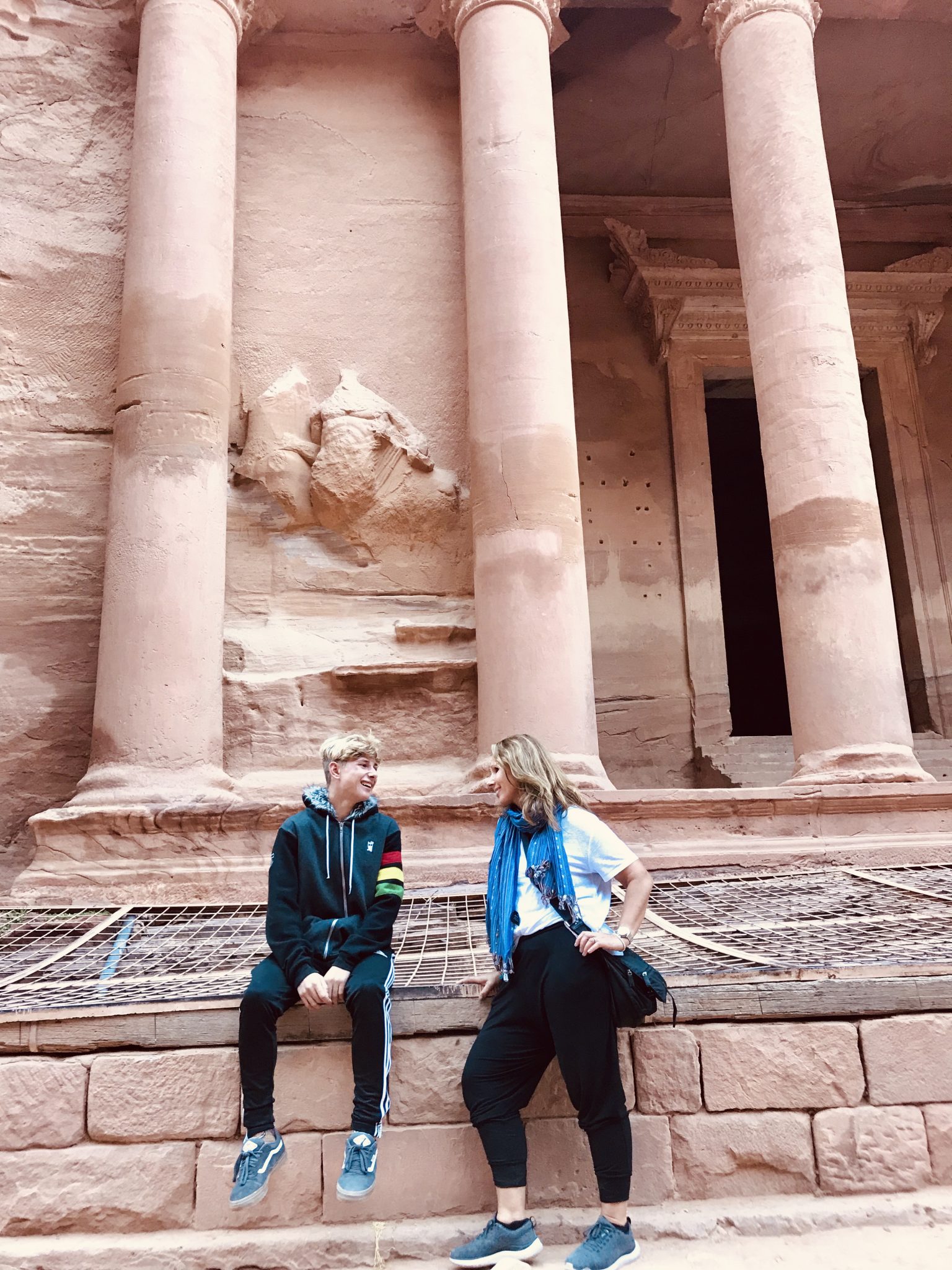 Did you find this article helpful? Let me know by leaving a comment below and joining me on Instagram and Twitter!