Mother's Day is my favorite holiday of the year. I love to receive homemade cards, breakfast in bed (although I do have to really really try hard not to think about the mess in the kitchen), and spend time with my gorgeous boys. Each year my boys work hard to show me just how much they love me with their Mother's Day gift and cards.
Choosing a Mother's Day gift for the woman who raised you, or other empowering mother figures in your life, is a way to show love and gratitude. It doesn't have to be stressful or expensive, but thoughtful and personal. Here are some of my favorite items every mom would love to receive.
*Some of these products may have been sent for consideration but all opinions are my own*
This delicate sterling silver bracelet from TinyTags is the most exquisite gift for mom and goes with absolutely everything. It's classic, timeless, and the laser engraved lower case font gives it such a modern feel. I absolutely love that my boys chose 'momma' for the personalization and I wear it every day with love.
The packaging is adorable and once I opened that classy brown box I couldn't wait to untie the ribbon. They are a great price, so put one on your gift list or treat yourself!
I absolutely love a glass of clean tequila over ice with lots and lots of fresh limes. Tequila makes me dance. Tequila makes me happy. It truly is my drink of choice, and seems to be having a moment right now. And for the record I'm not talking about those ghastly shots a la Tijuana where the guy comes up behind your chair with a whistle, and pours cheap ass tequila down your throat as your friends laugh, take pictures and hold the vomit bucket close… I'm talking about delicious, high quality, clean, sipping Angelisco Tequila.
Angelisco Tequila is a 100% natural, additive free, small batch tequila from The Highlands of Jalisco. It's proudly owned and operated by the Aceves family in Arandas with over 100 years of tradition in Tequila. Talk about the American dream… one of the partners, Hernan, left Mexico 14 years ago as a teenager so he could provide for his mother, brothers and sisters. He met five LA bartenders and they became partners. Today, they are all bilingual, Hernan is a US citizen, he built his mom a house, and they own a bar in LA called Cinco. Angelisco Tequila is their collective dream they are sharing with the world. I promise… you won't be disappointed when you try it, and… warning… it may even make you dance!
I cannot rave more about 'The Classic' walnut sunglasses from Wildwood Eyewear. The iconic classic style of these glasses makes them easy to wear. Each pair is hand finished out of natural, sustainably sourced walnut wood, is on-trend AND eco-friendly.
They are made from 100% FSC certified, sustainably sourced walnut wood and honestly look amazing on every single person in my family. They are my go-to sunglasses for every occasion. I especially love this model since the polarized lenses provide full UVA, UVB and UVC protection, in addition to reducing glare.
I adore 'truffle' anything, but I especially love truffle oil. I use it as a finishing oil on salads, pasta, pizza, popcorn… really anything I want to spruce up to taste decadent. I was thrilled to find the first all-natural truffle oil ever produced in the United States. It's made entirely from wild Oregon white truffles, harvested personally by award winning cookbook author, Jack Czarnecki.
Did you know most of the truffle oil on the market today has not been made with any actual truffles? It's important you purchase your truffle oil from a reliable source or carefully check the label. Oregon truffle oil is the only truffle oil currently sold in the USA containing domestically grown truffles and contains no chemicals of any kind. If mom's a truffle lover like me, she won't be disappointed.
There are so many subscription boxes around, but this one is ah-mazing… An Inside Crush delivers five on-trend pieces, thoughtfully selected to reflect the best of each season. I especially love the elegant cake stand in their spring box.
The gorgeous mango wood bottom cake stand is simple, understated, and perfect for any occasion. You can subscribe to An Inside Crush's subscription box on an annual basis or a seasonal basis, and it's the perfect gift for anyone who loves to keep their home on-trend and in-style.
A yoga mat is such a personal item. I LOVE the way Pravacana Mats combines art and yoga to bring your individual expression into your yoga practice. In addition to having many gorgeous mats to chose from, you can create your own to blend personal art, mantras, and more, with your practice.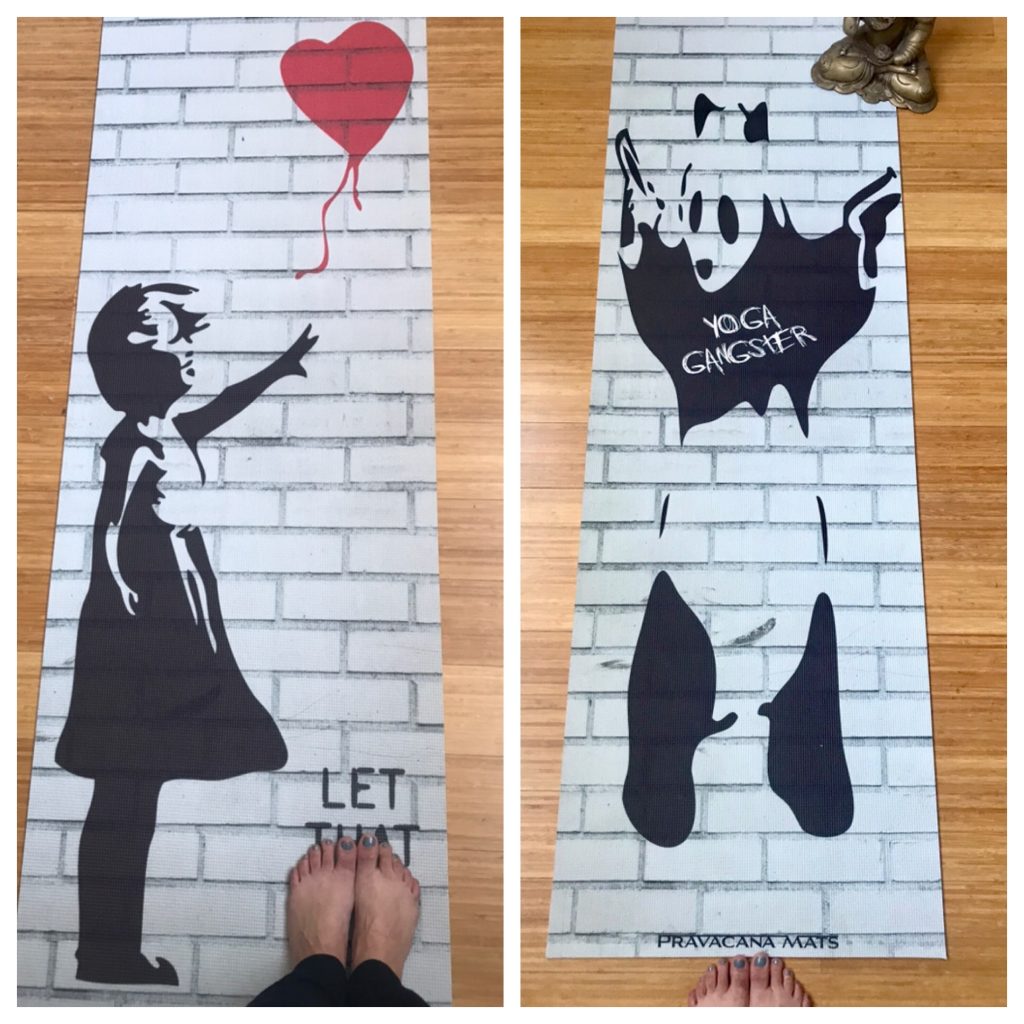 The mat grips your hands, feet AND the floor. It's the perfect Mother's Day gift for Mom to relax, recharge, and practice her yoga in style!
There's a lot going on in the world, and I feel the need now more than ever to meet the hate I am seeing with love. The Love is Stronger than Hate movement is inspired by people who believe we can reverse hate with love. Their apparel is a gentle reminder of the strong power of love. Mom will love this cozy, wide neck 'Love has no borders' sweatshirt as she proudly joins the movement.
AND, proceeds from each purchase provide hope and healing to communities impacted by tragedy through their Stars of HOPE®therapeutic arts program and New York Says Thank You Foundation.
The gorgeous Sloane bracelet by Jenny Bird is a statement piece. The perfect mix of classic, modern, and fun. I adore the chunky vibe, and the bracelet is surprisingly light-weight.
The Jenny Bird line can be found in over 500 stores worldwide, and online. I was giddy to find her pieces in the Knightsbridge Harvey Nichols. My favorite department store of all time! I love the antique vibe of the 14K gold-dipped brass version. Stunning and gorgeous!
Let's face it, mom's need their sleep. They are so busy taking care of everyone else, they often overlook their own comfort. This nightgown is an absolutely beautiful Mother's Day gift for mom. The gorgeous silk and satin is so luxurious and the delicate design flatters all body types.

Sometimes it's the simplest Mother's Day gifts that mean the most. Next time mom does something great for you, tell her. After all, moms should be recognized for all of the things they do each and every day.
Did you find this article helpful? Let me know by leaving a comment below and joining me on Instagram and Twitter!